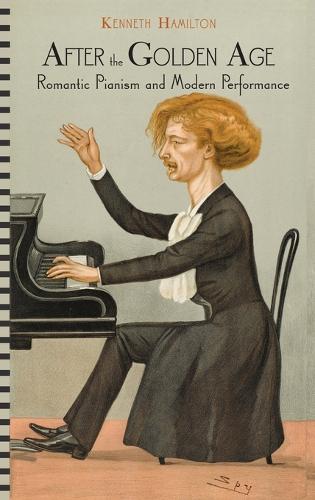 After the Golden Age: Romantic Pianism and Modern Performance (Hardback)
Kenneth Hamilton
(author)
Hardback
320

Pages / Published: 06/12/2007
Kenneth Hamilton's book engagingly and lucidly dissects the oft-invoked myth of a Great Tradition, or Golden Age of Pianism. It is written both for players and for members of their audiences by a pianist who believes that scholarship and readability can go hand-in-hand. Hamilton discusses in meticulous yet lively detail the performance-style of great pianists from Liszt to Paderewski, and delves into the far-from-inevitable development of the piano recital. He entertainingly recounts how classical concerts evolved from exuberant, sometimes riotous events into the formal, funereal trotting out of predictable pieces they can be today, how an often unhistorical "respect for the score" began to replace pianists' improvisations and adaptations, and how the clinical custom arose that an audience should be seen and not heard. Pianists will find food for thought here on their repertoire and the traditions of its performance. Hamilton chronicles why pianists of the past did not always begin a piece with the first note of the score, nor end with the last. He emphasizes that anxiety over wrong notes is a relatively recent psychosis, and playing entirely from memory a relatively recent requirement. Audiences will encounter a vivid account of how drastically different are the recitals they attend compared to concerts of the past, and how their own role has diminished from noisily active participants in the concert experience to passive recipients of artistic benediction from the stage. They will discover when cowed listeners eventually stopped applauding between movements, and why they stopped talking loudly during them. The book's broad message proclaims that there is nothing divinely ordained about our own concert-practices, programming and piano-performance styles. Many aspects of the modern approach are unhistorical-some laudable, some merely ludicrous. They are also far removed from those fondly, if deceptively, remembered as constituting a Golden Age.
Publisher: Oxford University Press Inc
ISBN: 9780195178265
Number of pages: 320
Weight: 581 g
Dimensions: 243 x 165 x 24 mm
---
MEDIA REVIEWS
One can make too much of the handing down of great traditions of piano playing, as Kenneth Hamilton demonstrates in one of the best music books to be published in the last twelve months: his erudite, revealing and wittily subversive study of the Liszt-Paderewski years and the rather primmer world we inhabit today. * Richard Osborne, The Oldie *
the most irresistible music book I read this year...scholarly, but hilariously sarcastic * Damian Thompson, The Daily Telegraph, Christmas book choice *
jolly and entertaining...full of wit and interest, and written with passion...a delightful and instructive book * Charles Rosen, Times Literary Supplement *
Hamilton's healthy mixture of common sense, insightful arguments, and considerable experience as both scholar and pianist demonstrate just how far our current notions of performance etiquette, textual fidelity, and audience responsibility can be from those of practitioners a century or more removed. * Jonathan Kregor, Notes *
This is beyond doubt an important, if controversial book, befitting a new century and brilliantly argued * Malcolm Troup, Piano Journal *
After the Golden Age is written in a engaging and entertaining style, and it covers a wealth of material, making a major contribution to the study of performance style. Bluntly, it should be required reading for all piano literature classes, read by all serious students of the piano, and likewise by anyone interested in the ways performance styles and personalities intersect with the literature...[It] will probably retain its relevance for decades. * Jonathan Bellman, Journal of Musicological Research *
a revelatory analysis of musical interpretation... rarely can any new musicological treatise have been so densely crammed with jaw-dropping insights, or so enjoyable a guide to an alien mindset, as this one. * R.J.Stove, The University Bookman *
Since very many people share Kenneth Hamilton's fascination with the piano and its music, his skilful handling of so many sources of information to build up a lively picture of the world of the Romantic pianist will likewise fascinate a wide readership. And what a world that was, as Hamilton describes it! * Peter Williams, The Musical Times *
I hope Hamilton's eminently laudable contribution to the discourse has a seismic impact. His prose reads, for the most part, like silk: fizzing with humour, some timely sarcasm, and written through the perceptive eyes of one pianist evaluating another * David Trippett, 19th Century Music Review *
After the Golden Age is a provocative book in which Hamilton gives a virtuoso performance. * Daniel Gallagher, Ad Parnassum *
After the Golden Age is a lively reminder that classical music once passed for mass entertainment... * John Terauds, Toronto Star *
a deft, sympathetic account of the old-school virtuosos and their gaudy habits...Hamilton, an accomplished Scottish pianist, contrasts the showmanship of Liszt with the "sheer routine and funereal boredom" of many recitals he hears today * Alex Ross, The New Yorker *
a fascinating book * Christopher Morley, Birmingham Post *
This much-reviewed and best-selling book seeks out origins, through careful scholarly research, of many of the myths and stories handed down through generations of high-level pianists and their serious piano students... it inspires musical self-reflection * Stephanie McCallum, Musicology Australia *
One only has to read the preface of Kenneth Hamilton's After the Golden Age to know that the book will be beautifully written, informative, entertaining - and highly controversial. Mr Hamilton is a knowledgeable musician as well as a scholar...he states his facts and opinions brilliantly in an easy-going style. * Seymour Bernstein, Chamber Music Magazine *
brilliantly researched, beautifully written, and filled to the brim with amusing anecdotes (capped by the author's wry humour) * Stuart Isacoff, Symphony Magazine *
An impressive and thoroughly engrossing piece of scholarship. * Jeremy Nicholas, Gramophone *
An important new book by Kenneth Hamilton...His style is dryly witty, his scholarship immaculate-and his conclusions challenging. * Terry Teachout, Commentary Magazine *
After the Golden Age recounts the more arcane habits of historical pianism...Hamilton brings back what has been missing from concerts in these politically correct times - an unapologetic sense of fun. * Dr Chang Tou Liang, The Straits Times, Singapore *
Hamilton's book explores this almost mythical 'Golden Age of Pianism and the links between then and now...We shouldn't resurrect every idiosyncrasy, says Hamilton, but with period performance having become mainstream, surely it's also time for us to open our imagination to the more recent past? * Classic FM Magazine *
...unputdownable...Deftly, wittily, humorously, the author, himself an international pianist, traces the development of piano playing from Liszt to Paderewski and beyond with illuminating perception and detail...He also has the rare knack of expressing complexity with simplicity * Alexander Letvin, Piano Magazine *
this delightful book... concert-giving has changed enormously. The pianist and author Kenneth Hamilton is an ideal guide to the changes, his dry Scottish humour the perfect weapon with which to skewer egos and pomposity. * Susan Tomes, The Independent *
Kenneth Hamilton's excellent new Oxford history of romantic pianism * Norman Lebrecht, La Scena Musicale Online *
a wonderful book * James Fenton, The Guardian *
After the Golden Age is a cri de coeur, lamenting the loss of a passionate, individualistic, free-form performance style - Dionysus in the concert hall - and arguing for its reconsideration. For all that, Mr. Hamilton's own prose style is gentle and deft. * James F. Penrose, The Wall Street Journal *
This book is a tour de force, a milestone in the history of musical performance. Kenneth Hamilton's vivid, evocative prose admirably reflects the virtuoso character of his subject. He calls into question the very nature of music, while throwing down a series of challenges to today's performers. A truly magnificent achievement! * Colin Lawson, Director, Royal College of Music, London *
...a thoughtful, highly stimulating look at the golden age of pianism and its nineteenth-century exponents. Kenneth Hamilton wears his considerable scholarship lightly as he re-examines stylistic markers of the great pianists and argues cogently for their relevance to modern performers. * R. Larry Todd, Arts & Sciences Professor, Duke University, and author of Mendelssohn: A Life in Music *
A compelling and richly detailed volume. Kenneth Hamilton puts the 'golden age' of romantic pianists into broad historical perspective, shrewdly confronting issues over authenticity, 'grand manner', and continuity with the present. * William Weber, Professor of History, California State University, Long Beach *
Hamilton's delightful wit, narrative flair and wealth of anecdotes... * Pamela Margles, Wholenote Magazine *
a delightful book, which you should read * Bernard Holland The New York Times *
A very stimulating book...I recommend it to all who care about music, and all who perform music. * Henry Fogel, Arts Journal *
An interesting and insightful look into the nebulous and wide-ranging performance practices of the nineteenth-century * Timothy H. Lindeman, College Music Symposium *
Entertaining, informative and thought-provoking...After the Golden Age will engage every piano lover, professional and amateur, teacher and student, and everyone interested in the performance styles of that time. * Clara Levy, Music Educators' Journal *
a mesmerising history of Romantic pianism * Heather Macdonald, City Journal *
should be on a required reading list in all music schools and conservatories, required not only for piano students but for their teachers as well... an illuminating, refreshing, and entertaining book. * Vincent Lenti, ARSC Journal *
You may also be interested in...
Simply reserve online and pay at the counter when you collect. Available in shop from just two hours, subject to availability.
Thank you for your reservation
Your order is now being processed and we have sent a confirmation email to you at
When will my order be ready to collect?
Following the initial email, you will be contacted by the shop to confirm that your item is available for collection.
Call us on or send us an email at
Unfortunately there has been a problem with your order
Please try again or alternatively you can contact your chosen shop on or send us an email at