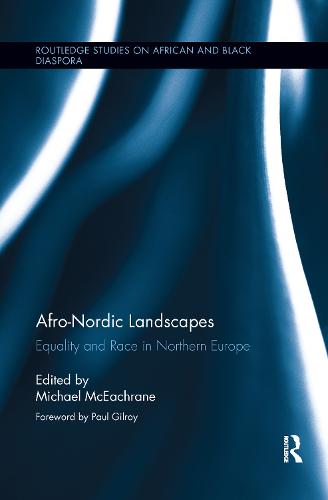 Afro-Nordic Landscapes: Equality and Race in Northern Europe (Paperback)
Michael McEachrane
(editor)
Paperback
Published: 26/08/2016
Afro-Nordic Landscapes: Equality and Race in Northern Europe challenges a view of Nordic societies as homogenously white, and as human rights champions that are so progressive that even the concept of race is deemed irrelevant to their societies. The book places African Diasporas, race and legacies of imperialism squarely in a Nordic context. How has a nation as peripheral as Iceland been shaped by an identity of being white? How do Black Norwegians challenge racially conscribed views of Norwegian nationhood? What does the history of jazz in Denmark say about the relation between its national identity and race? What is it like to be a mixed-race black Swedish woman? How have African Diasporans in Finland navigated issues of race and belonging? And what does the widespread denial of everyday racism in Nordic societies mean to Afro-Nordics?
This text is a must read for anyone interested in issues of race in the Nordic region and Europe writ large. As Paul Gilroy writes in his foreword, it is a book that "should be studied with care and profit inside the Nordic countries and also outside them by the broader international readership that has been established around the study of racism and 'critical race theory'."
Publisher: Taylor & Francis Ltd
ISBN: 9781138207110
Weight: 531 g
Dimensions: 229 x 152 mm
---
MEDIA REVIEWS
"This is a timely and important book. It should be studied with care and profit inside the Nordic countries and also outside them by the broader international readership that has been established around the study of racism and 'critical race theory'. For the Nordic world, this collective, polyvocal enterprise presents a unique opportunity. It can help to break the disabling patterns of denial, delusion and defensiveness produced by the problems which racism has created in societies that strongly resent the suggestion that they could ever have been tainted by anything so foul. That reaction-which reveals that those who give voice to it do not know what racism looks like-is itself a symptom."
- Paul Gilroy, Professor of American and English Literature at King's College London, author of The Black Atlantic: Modernity and Double Consciousness and Darker Than Blue: On the Moral Economies of Black Atlantic Culture
"Sophisticated, sharp, powerful anti-racism critique, breaking longstanding myths about Nordic countries. A fascinating blend of art, autobiography, scholarship and politics offers a wealth of lenses, tools and voices to access the experience of Afro-Nordic people. This timely cross-Nordic volume is a first in its kind, a useful educational source for everyone who wants to learn about race, racism and its denial in the Nordic countries."
- Philomena Essed, Professor of Critical Race, Gender and Leadership Studies at Antioch University, author of Clones, Fakes and Posthumans: Cultures of Replication and Understanding Everyday Racism: An Interdisciplinary Theory
"Michael McEachrane and the contributors to Afro-Nordic Landscapes provide a rare gift: an elegant, incisive analysis of `invisible' racism in and beyond Northern Europe. Through scholarship, commentary, and interviews, writers and artists decode violence and violation, making visible the resistance that frames dignity and rights. Afro-Nordic Landscapes shrinks a large world of racist-sexist denial by expanding a much smaller world of anti-racist intellectualism, one now infused with new perspectives."
- Joy James, Presidential Professor of the Humanities and Professor in Political Science at Williams College, author of Seeking the Beloved Community: A Feminist Race Reader and Shadowboxing: Representations of Black Feminist Politics
"The brave Afro-Nordic voices collected in this book challenge the comforting `exceptionalist' myths white Scandinavians continue to tell themselves about their supposed radical difference from the other European countries' past (and present) of white supremacy and anti-black racism. With uncompromising honesty, the book reveals the unwelcome truths behind Scandinavian white lies and collective self-delusions, in the process bringing to our political awareness a region of the international black diaspora too long neglected in the literature."
- Charles W. Mills, John Evans Professor of Moral and Intellectual Philosophy at Northwestern University, author of The Racial Contract and Blackness Visible: Essays on Philosophy and Race
"McEachrane's book deconstructs the mythology that Nordic countries are race-neutral, and less capricious to the African Diaspora. What emerges is a region in racial tumult, perhaps less visible to the outside, but still tortured by identity. W.E.B Dubois would recognize this problem today as he did a century ago."
- Makau W. Mutua, SUNY Distinguished Professor, Dean of the State, University of New York Buffalo Law School, author of Human Rights: A Political and Cultural Critique
You may also be interested in...
Simply reserve online and pay at the counter when you collect. Available in shop from just two hours, subject to availability.
Thank you for your reservation
Your order is now being processed and we have sent a confirmation email to you at
When will my order be ready to collect?
Following the initial email, you will be contacted by the shop to confirm that your item is available for collection.
Call us on or send us an email at
Unfortunately there has been a problem with your order
Please try again or alternatively you can contact your chosen shop on or send us an email at