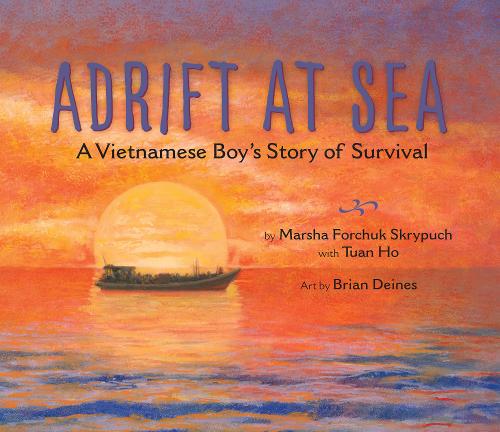 Paperback
40

Pages / Published: 14/04/2020
Now available in paperback, the first picture book to recount the dramatic true story of a refugee family's perilous escape from Vietnam
It is 1981. In the middle of the Pacific Ocean, a fishing boat overloaded with 60 Vietnamese refugees drifts. The motor has failed; the hull is leaking; the drinking water is nearly gone. This is the dramatic true story recounted by Tuan Ho, who was six years old when he, his mother, and two sisters dodged the bullets of Vietnam's military police for the perilous chance of boarding that boat.
Told to multi-award-winning author Marsha Forchuk Skrypuch and illustrated by the celebrated Brian Deines, Tuan's story has become Adrift At Sea, the first picture book to describe the flight of Vietnam's "Boat People" refugees.
Illustrated with sweeping oil paintings and complete with an expansive Author's Note, this non-fiction picture book is all the more important as the world responds to a new generation of refugees risking all on the open water for the chance at safety and a new life.
Publisher: Pajama Press
ISBN: 9781772781199
Number of pages: 40
Dimensions: 241 x 279 mm
---
MEDIA REVIEWS
About Adrift at Sea
2018 Forest of Reading Golden Oak Award Winner
2017 Cybils Award: Elementary/Middle Grade Non-Fiction finalist
2017 Children's Literature Roundtable of Canada Information Book Award Honour Book selection
2019 Louisiana Young Readers' Choice Award: Grade 3-5 shortlist
2017 Red Cedar Information Book Award shortlist
2018 The Booklist Reader "The Refugee Experience for Children and Young Adults" selection
2018 School Library Journal "Collaborating on High-Interest Topics | The Refugee Experience" selection
2018 Canadian School Libraries Journal: Resource Links Highlights: Refugees and Immigrants" selection
2017 Stacked Books "Monthly Giving: International Refugee Assistance Program" selection
2017 Canadian Children's Book Centre Best Books for Kids & Teens Starred Selection
2016 New England Children's Booksellers Advisory Council's Hot Titles selection
2016 Resource Links "The Year's Best" selection
"In this picture book for somewhat older readers, Ho narrates the story of his perilous escape from postwar Vietnam, in 1981, describing his pain at leaving behind loved ones and relief upon being rescued by an American aircraft carrier after six days adrift on the ocean. The text is terse and unembellished, leaving the images to capture the emotions through color and perspective-and they do so with compelling immediacy."-Booklist
"[A] remarkable tale of perseverance that involved attacks from soldiers, a broken boat at sea, and a trip that was intended to last four days but went horribly awry....This is a solid informational resource that can be used for introducing a refugee's experience."-School Library Journal
"[D]etailed authors' notes include history, photographs, and maps. The warm undertones in Deines' oil paintings evoke tropical Vietnam."-Kirkus Reviews
"Skrypuch uses one child's story to give moving insight into the experience of the many children who escaped war-ravaged Vietnam to start new lives....Deines's hazy oil paintings poignantly capture the family's physical ordeal and anguish during their perilous journey."-Publishers Weekly
"Tuan's dramatic story of survival comes alive in Skrypuch's capable hands. The heart-pounding action alone is enough to captivate readers, but Skrypuch also incorporates moments of great poignancy that add depth and emotion....Deines's accompanying artwork is achingly beautiful....That danger can exist amid such beauty is an important lesson to learn. That the human spirit can triumph under the most trying of conditions is even more important."-Quill & Quire
"The evocative text and powerful illustrations, painted with oils, enable readers to feel as though they, too, are refugees adrift at sea during this risky journey to freedom..."-ILA Literacy Daily, "War and Its Aftermath
"Filled with urgency, fear, and ultimately hope, Tuan's real-life odyssey proves to be an illuminating inspiration for all readers."-Smithsonian BookDragon
"[A] powerful story, and it doesn't shy away from the dangers experienced-sometimes fatally-by the refugees."-Bulletin of the Center for Children's Books
"This beautifully illustrated nonfiction picture book introduces the reader to a real family....An interesting read that explains why and how people are sometimes forced to flee and find a new homeland."-The International Educator
"Given no other options but to leave their homeland in hopes of a better life, Tuan describes and recounts the horrors of leaving everything behind and having to escape into an unknown world....Filled with colorful and vibrant drawings that engages readers from start to finish, Adrift at Sea is a powerful historical nonfiction story."-International Examiner
"Adrift at Sea is a heartwarming story that will prompt young people to be grateful for the good things in their lives, and highly recommended."-Midwest Book Review
"Tuan Ho was only six years old when his family embarked on a dangerous voyage to escape Vietnam and became part of the 'boat people' fleeing their homeland: his story is told in a non-fiction narrative that captures the experience for young readers. Highly recommended."-Midwest Book Review
"The beautiful, full-page oil paintings effectively convey the dangerous escape, the blistering heat, and the loneliness of being adrift on the ocean....This is an especially useful book to help students understand why refugees are still crowding into boats and risking everything for a better life even today."-School Library Connection
"Recommend to teachers to supplement studies about the Vietnam War or current events with an example of how non-combatants can be affected by the outcome of wars."-Youth Services Book Review
"This book is true, and it is really sad....[it] is a good book to help you understand how people feel and the things they have to do if they feel like they need to run away from bad things that are happening where they live."-Kids' BookBuzz
"Brian Deines...created beautiful oil on canvas illustrations for the book. The colours of the illustrations are bight and vibrant. Other highlights of the book are the personal photographs, biography of Tuan's family, map, and historical note which bookend the narrative of the story....Adrift at Sea is an important addition to Canadian picture book market....Recommended."-CM Magazine
"Brian Deines' subtle double-page oil paintings add greatly to the mood and text of this story....This book is very timely as we have so many refugees from war torn countries in the Middle East now attempting to make their way to a better life under the same kind of conditions that the Vietnamese people experienced back in 1981....I would highly recommend this book for all school and public libraries."-Resource Links
"Adrift at Sea tells this difficult tale with a direct honesty that creates an opportunity for accompanied discussion, especially for some younger readers. Skrypuch maintains a strong sense of hope throughout, demonstrating the true strength of young Tuan."-Canadian Children's Book News
"This fascinating read gives a glimpse of the struggle and bravery of a refugee....This is a powerful tale that enables children to learn about a time in history that they may not know about."-The Crimson Review of Children's and YA Literature
"The illustrations in this book, full color paintings, are absolutely stunning....Brian Deines, has outdone himself in two-page spreads that bring this refugee story to life....[A] good introduction to the subject of the Vietnamese boat people..."-Semicolon
"This beautifully illustrated picture book tells the story of Tuan's days at sea and their eventual rescue by American sailors. End pages include photographs and information that round out the story and tell of Tuan's life in with his family in Toronto."-Nerdy Book Club
"From the illustration of a lone boat adrift in a wash of dry heat that graces the cover of Adrift at Sea, to the dark and engrossing images of Tuan's steps along the journey, Brian Deines' art is evocative and integrative, resplendent in complementary colours of orange and golds and blues and purples."-CanLit for LittleCanadians
"I loved the 'before' and 'after' pictures as well as the brief historical overview of events relating to the war in Vietnam....The soft-focus artwork done by Brian Deines that illustrates each page is amazing....The author has produced a very readable book that both parents and children should read together. I highly recommend this beautiful book."-Sandra Olshaski, Library of Clean Reads
"My 12 year-old son read this story too and felt saddened by Tuan['s] harrowing escape....The illustrations are simply beautiful and the style perfect for this dramatic story....I highly recommend this book as a teaching tool and feel that it should be in every library."-Laura Fabiani, Library of Clean Reads
"The authors include personal photographs of Tuan's family, before their escape and following their settling in Canada, to help readers understand this historical moment in time....Brian Deines (as he always does) has created truly beautiful artwork using oils on canvas to bring Tuan's story to this book's readers."-Sal's Fiction Addiction
"[A] stunning book...[Tuan's] flight would be traumatic: terror, grief, gunfire, strangers, and perilous days adrift at sea. This taut account conveys exceptionally well just what refugee children endure, enlarging our compassion and will to be among those who welcome, comfort, and receive them today. Deines' brilliant paintings easily carry the weight of this story and knit our hearts to Tuan's family."-Orange Marmalade
"[The young narrator] still very clearly depicts the fear, the hot sun, lack of water, and relief at being rescued at an age appropriate level that any young reader will be able understand....Deines's highly textured oil on canvas illustrations capture all the secrecy, fear, and perils, all wrapped up in the dangerously hazy, hot, and humid weather...Adrift at Sea is a powerful historical nonfiction story that can certainly help shed light on events of the past that share a similarity to those that are happening in the world today."-The Children's War
"This beautiful nonfiction picture book tells a powerful story of survival...Tuan Ho's account of his family's perilous trip, along with beautiful oil paintings to illustrate this narrative, make this a terrific resource for anyone who wants to learn more about Vietnamese refugees..."-Jana the Teacher
"This is one of the most beautiful and powerful picture books I've seen in a long time. I was...blown away by the emotional impact of both the story and the illustrations. It would make a perfect edition to any middle or high school history classroom. I STRONGLY recommend this one!"-Book Dreaming
You may also be interested in...
×
Download the Waterstones App
Would you like to proceed to the App store to download the Waterstones App?
Simply reserve online and pay at the counter when you collect. Available in shop from just two hours, subject to availability.
Thank you for your reservation
Your order is now being processed and we have sent a confirmation email to you at
When will my order be ready to collect?
Following the initial email, you will be contacted by the shop to confirm that your item is available for collection.
Call us on or send us an email at
Unfortunately there has been a problem with your order
Please try again or alternatively you can contact your chosen shop on or send us an email at