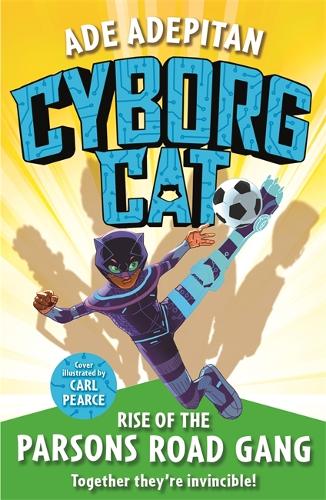 Ade's Amazing Ade-ventures: Battle of the Cyborg Cat (Paperback)
Ade Adepitan
(author)
Paperback
176

Pages / Published: 17/05/2018
When Ade moves to London from Nigeria, he knows things will be different, but nothing can prepare him for the ups and downs of his Parson's Road adventures. Ade doesn't always feel welcome in his new community; fitting in is hard, especially as he looks different to everyone else. But Ade is brave and takes on the school bullies, surprising himself and the kids on his new street. His heroic acts and super football skills quickly help him make new friends who will always be there for him.
Publisher: Templar Publishing
ISBN: 9781787413252
Number of pages: 176
Weight: 134 g
Dimensions: 198 x 129 x 10 mm
---
MEDIA REVIEWS
What it's about Ade is the new kid on his street. That's not easy when you look different to everyone else. Then he meets the Parsons Road Gang and everything changes. Quick review! This will be perfect for the children in our library who particularly love sport, funny books and those we have who might have joined us quite recently from other countries and cultures. It was my book of the week last week, and I am preparing to talk a lot about it with the children, who are already picking it up and asking questions. I look forward to reading more in the series. Longer review In Ade's introduction, he explains that he moved to the UK from Nigeria in the 1980s with his family. They settled in London and their first experiences were not always very warm or welcoming. Ade talks about how difficult it is to move to a new country, let alone a new city, and I was totally there with him! I moved from Canada to Exeter to be with family and, while I am white and not a wheelchair user, I still found it hard, with some people telling me that I was a 'seal basher' and that I was 'too North American'. If young Ade's experiences in this book are based on real events, he had a really awful time of it - his family mocked for being black, he was called 'peg leg' as a result of the caliper he wore on his left leg for support because of his polio. A group of particularly nasty men in a local market shout at Ade and his family: "Oi, why don't you got back to your own country and take the little cripple with you?" - a horrible thing to hear on your journey from the airport to your new home. I think and hope that the situation is better for immigrants nowadays - society does seem more multicultural although of course there will always be those with closed minds, who reject anyone who looks or sounds different. Anyway, on to the review! At first Ade worries about fitting into life in the UK. The local kids are unkind and all Ade wants to do is hide his heritage and his leg. However, at a party his mother throws to celebrate their arrival in the UK, he becomes friendly with a group of boys who call themselves the Parsons Road Gang, and things change for the better. They tell Ade that he is a cyborg because he's 'a human with mechanical enhancements that give them super-strength'. They see his caliper as a strength, a benefit, rather than something to be ashamed of. Ade joins in their football games, and gains another addition to his nickname 'Cat' - ie Cyborg Cat. This is down to his quick reflexes. He's an essential part of their football team and he feels nearly invincible, until his caliper breaks and he faces a long wait for the new one to be ready. At this point, Ade introduces another interesting meditation on how people view those with physical disabilities. In the UK, the solution is a wheelchair to get around in until he can have the new caliper fitted. It's not viewed with any shame whereas in Nigeria, his home country, those who rely on wheelchairs, for example, are only people who beg in the street. It is viewed as something to be ashamed about, not celebrated. So Ade's mother puts him in a buggy instead, which of course attracts many negative and derisive comments. It is only at school, when Ade and his friends see a boy using an impressive-looking wheelchair, that Ade starts to change his own preconceptions, commenting: He'd always thought using a wheelchair meant that a person was helpless. But that boy wasn't helpless.' I think this final realisation sums up the messages behind this book perfectly. Society has some pretty rubbish ideas about people who appear different to others and Ade exposes how incorrect they are, and how they affect the individuals at whom the unkindness is directed. However, Ade and his family also look at their own ideas too, so that this is less a book condemning narrow-mindedness and more one that challenges set ideas in a positive way. This isn't done in a holier-than-thou, preachy way; rather Ade uses humour and action to raise issues within a fast-moving story where everyone has something to learn. * Childtastic Books *
Wheelchair basketball star, Paralympian and popular broadcaster Ade Adepitan turns author for this sparkling new adventure series which speaks volumes to a new generation of children. Adepitan contracted polio as a child and lost the use of his left leg. After arriving in London from Nigeria in the Eighties when he was a young boy, he initially he found his new environment daunting and encountered some hurtful and cruel prejudice. But despite being handicapped by an iron leg caliper, he quickly adapted and made friends, and together they formed the Parsons Road Gang. With friendship firmly at the heart of this all-action series, Ade learns that you can overcome all the obstacles thrown at you when you have good friends. In this charming new series, he introduces us to the early years of his life in England and the warmth and solace he found in sharing, caring and playing with his gang of loyal friends. Ade is the new kid on Parsons Road. He knows he should make an effort and make some friends but it's not easy when you look different to everyone else and wear a leg caliper. It's only when Ade sees off some bullies that Dexter, Brian and Shed realise who Ade really is... their new friend, part cyborg ('a human with mechanical enhancements that give them super strength'), part footballing genius and all hero. Over the summer, the boys' days are filled with adventure and laughter but the first day of school is not far away and things are about to change forever. Filled with the lively black and white illustrations of David M.Buisan and with a quirky Eighties retro backdrop, this moving new series has heartwarming messages about the importance of friendship, acceptance and inclusion, and will delight all adventure-loving youngsters. * Lancashire Evening Post *
Super-cool presenting dude and all-round awesome guy Ade Adepitan is up next with his debut book for middle grade readers. "Ade's Amazing Ade-Ventures: Battle of the Cyborg Cat" introduces young Ade. He is the new kid on Parsons Road. He knows he should make an effort and make some friends but it's not easy when you look different to everyone else. It's only when Ade sees off some bullies that Dexter, Brian and Shed realize who Ade really is: their new friend, part cyborg, part footballing genius and all hero. In a truly fantastic and inspirational superhero adventure for younger middle-graders, Ade creates a new kind of hero that kids of all ages and abilities can look up to. * Read it Daddy *
Set in the 1980s, this is the story of a young boy learning to adjust to living in London, following the family's move from Lagos. His parents are keen to embrace their new life in a very different country, while retaining their own culture and principles. Ade is less sure that they can fit in, especially after encounters with some unpleasant attitudes towards his colour and disability (he wears a caliper on his leg as a result of contracting polio when he was very young). However, where friendship is concerned, sport proves to be a great leveller. And before long, he is a member of the Parson's Road Gang with his own nickname, the Cyborg Cat. This first book by Paralympian and TV presenter Ade Adepitan offers a fascinating picture of his childhood. With a light touch and plenty of wit, he recalls the influences and events that helped to shape his life and career. We encounter the delightful (and often embarrassing) family, the faithful friends with whom he plays on the streets of East London, as well as the prejudice and the challenges. Entertaining and accessible, this is a book that is sure to achieve its goal of inspiring young people to channel their determination and pursue their own goals. The historical perspective may also encourage the reader to consider how far disability sport and attitudes to disability have come - as well as how far we still have to go. * Book Trust *
You may also be interested in...
Simply reserve online and pay at the counter when you collect. Available in shop from just two hours, subject to availability.
Thank you for your reservation
Your order is now being processed and we have sent a confirmation email to you at
When will my order be ready to collect?
Following the initial email, you will be contacted by the shop to confirm that your item is available for collection.
Call us on or send us an email at
Unfortunately there has been a problem with your order
Please try again or alternatively you can contact your chosen shop on or send us an email at