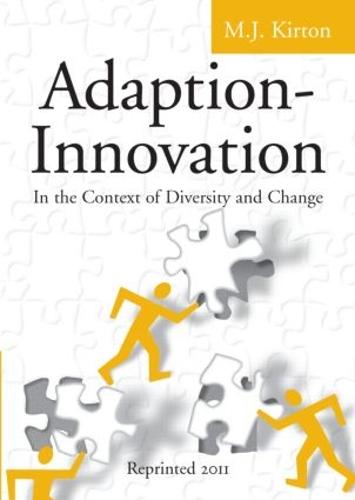 Adaption-Innovation: In the Context of Diversity and Change (Paperback)
M.J. Kirton
(author)
Paperback
416

Pages / Published: 24/07/2003
Adaption-Innovation is a timely and comprehensive text written for anyone who wants to know more about dealing with problem solving, thinking style, creativity and team dynamics.
In an age when teams have become critical to successful problem solving, Adaption-Innovation (A-I) theory is a model in this field, which aims to increase collaboration and reduce conflict within groups. A-I Theory and associated inventory (KAI) have been extensively researched and are increasingly used to assist teambuilding and personnel management.
In the context of the management of diversity and change, Dr Kirton outlines the central concepts of the theory, including the processes of problem solving, decision making and creativity as well as explanatory concepts such as the paradox of structure; coping behaviour; the distinction between how teams collaborate on the common task and how teams manage their own diversity.
In addition, Dr Kirton focuses on the positive side of managing a wide diversity within teams that has the potential to lead to the highest levels of problem solving, creativity and effective management of change. The book offers practical information for those helping diverse teams succeed in today's demanding climate. In this fresh context, leadership theory is explored, suggesting a new and interesting approach in use of different styles.
For those working with diverse, problem solving teams managing complex change, this is a must have book. It will appeal to a broad range of people, from practitioners such as human resource managers, psychologists, business consultants, and group trainers, to academics studying and doing research in disciplines such as psychology, business, management, sociology, education and politics and the practical use of the hard sciences.
*This reprint contains some new insights by Dr. Kirton into the theory. A small number of critical key changes have been made: a new diagram showing the difference between decision making and problem solving; some tightening of some sentences to show that leadership style should be treated as roles; the addition of the Glossary of Terms.
Publisher: Taylor & Francis Ltd
ISBN: 9780415298513
Number of pages: 416
Weight: 658 g
Dimensions: 248 x 171 x 25 mm
---
MEDIA REVIEWS
The need for scientists and engineers to understand how humans solve problems and the diverse ways in which they do so has never been greater. This rich and challenging book offers critical insights into the problem solving process and its key variables with a rigor that technically trained minds will find both appealing and impressive. It serves as a key reference in several of our graduate-level courses, including a 3-course module focused on problem solving, invention, and technical leadership. If you are looking for ways to understand and facilitate technological change to solve the increasingly complex problems of society, this book should be at the top of your reading list. - Dr. Kathryn W. Jablokow, FASME, Penn State University, Mechanical Engineering
Developing our organization is critical to continued business vitality, and effective change management is the underlying focus in our daily work. KAI theory, explained richly and in depth by Dr. Kirton in Adaption-Innovation, provides clear insight into two distinct approaches to problem solving via the Adaptive (A) and Innovative (I) cognitive styles. Successfully managing and applying this diversity of style reaps great rewards and expedites positive organizational change and sustainability. - Charles Allen, Senior Vice President, Honda R&D Americas

In these times of globalization and rapid change Kirton's Adaption-Innovation (KAI) theory provides a framework that clearly explains the need for the changing roles of leadership including those in education, business and government. Along with acting as catalysis to changes in leadership paradigm, KAI provides methods of managing team problem solving diversity that result in more successful solutions for the problems plaguing the world today. - Dr. William H. Riffee, Dean of Pharmacy, Dr. Cheri Winton Brodeur, Institute of Food and Agricultural Sciences, University of Florida
The notion that as a problem solver, I am an agent of change and a leader resonates with students enrolled in our leadership education courses. It is upon this principle of A-I theory that students become engaged in learning about problem solving so they may become better leaders. Dr. Kirton's connection between problem solving and leadership is unmistakable as the problems our future leaders face will become more complex and require diverse problem-solving styles. If you are a leadership educator, you need to consider incorporating this book into your leadership programming. - Rick Rudd, Ph.D., Department Head, and Curtis Friedel, Ph.D., Assistant Professor, Agricultural and Extension Education, Virginia Tech.
This broad-ranging book represents the fruits of a career's research and consultancy experience. If it does not persuade you that psychology has got a lot to offer organisations in a period of unprecedented change, then nothing will. - Peter Herriot, formerly Birkbeck College, London University (retired)
Any HR professional managing change in their organisation will find this book invaluable. It is both hugely well researched and highly practical. ... I strongly recommend this book to all professionals leading businesses. ... It will make a difference. - Helen Sweeney, Group HR Director, NG Bailey
As a researcher I have been associated with adaption-innovation theory and its application to Information Systems, for the last twenty years. During this time, I have conducted a number of studies which made use of the Adaption-Innovation (A-I) theory to measure cognitive style. These have consistently shown that users are significantly more satisfied with computer systems developed by analysts of similar cognitive style. This exemplifies but one of many uses which can be made of Adaption-Innovation Theory in a practical occupational situation. In achieving this end, Adaption-Innovation is an indispensable guide to the modern manager, applied psychologist, business consultant, IS consultant and occupational researcher. - Mike Mullany (Ph.D.) NorthTec, New Zealand
This book provides the crucial foundation upon which 'creativity' can now be recognised as valuable and fundamental. Rigorous research and real world application provides the certainty for all managers that A-I theory has an important role to play in the tough real world of business from the shop-floor to the boardroom. If business managers could take nothing more away from this book than the notion of 'Problem A and Problem B', (how the team collaborates on diverse tasks; how the team's members manage their own diversity) then I believe this book will be truly transformational - Tim Morley, Creativity Lab, Royal Mail
An in-depth and well written book that covers the central concept of A-I theory and gives a clear pathway into the complex issues of problem solving, decision making and diversity. A-I theory and its inventory have a proven record of success and are priceless when developing teams, managers and professionals in the current times of change and creative challenges. This book (and the 2006 reprint changes) expands A-I theory into the field of diversity. It offers invaluable advice and practical cases for the practitioner next to painstakingly documented scientific detail and the psychological foundation of the theory. Recommended reading for all who work with teams in the vast field of diversity and problem solving. - Helga Hohn PhD, Tias Business School, Tilburg University, The Netherlands
This book has theoretical beauty and immense practical value. Kirton's critical thinking separation of cognitive style, level, process and technique and his dialectical synthesis of the enabling and restricting functions of cognitive structures have immediate practical use in every domain where problem solving is involved. Reading this book I experienced an insight - I wondered on how readily Kirton has touched on issues in problem solving I had struggled to find solutions to before. - Dr Slavi Stoyanov, Educational Technology Expertise Centre, Open University of the Netherlands
Using the A-I framework for problem solving provides leaders with an effective alternative strategy when dealing with complex business issues involving human resources development such as managing diversity and change. Additionally the form and style presented in this book provides graduate business learners insight into what scholarly work should look like. - John Walker, Ph.D., Strategic Leadership MS Program, Roberts Wesleyan College
[A-I Theory] provides powerful insights into individual and organisational behaviour including styles of thinking and aspects of creativity, problem solving, decision making, conflict resolution, and the effective management of organisational change. The KAI Inventory is also one of the most psychometrically robust instruments available. Had I been familiar with the theory during my previous career as an R & D manager in the electronics industry, my problems would have been halved. - Professor Steven J. Armstrong, Hull University Business School
My students have benefited from the exposure to this thought provoking theory and many have experienced 'ah- ha moments' as they personally synthesized a different meaning for change and diversity via the filter of Kirton's amazing work. This book puts it all together in one convenient location. - Stephen Harris, Ed.D. Chief, Program Evaluation, Air University
Thought-inspiring! Like taking a journey into Dr Kirton's mind. This comprehensive masterpiece captures the vast applicability of A-I Theory. Each time I study a page or section my understanding grows - I discover new connections with problem solvers and their leadership and I find myself generating higher-level questions that probe deeper into the Theory. This is a must-read (and re-read) resource for all problem-solvers. - Scott Miller, Lt Col, USAF (retired)
A-I theory has proved to be the most useful model currently available to the 'real' world problem solvers in profit, not for profit, and community organizations. This book, and the associated psychometrically superior KAI instrument, should be required in any organization or group that is really serious about using diversity to attain superior performance while creating an environment of mutual respect. - Dr. Peter K. Hammerschmidt, Professor of Economics and Senior Trainer and Research Associate of the Leadership Development Institute, Eckerd College, Saint Petersburg, Florida
The theory, in its application, is a clear, very practical and visible way to analyse group dynamics and team communications. To maximise performance, teams need to exploit their own diversity rather that let that diversity impede team performance. To do this, team members must be both self aware and appreciate the problem solving process, including styles, of others. With this appreciation comes improved communications, better idea generation and improved performance. - Niall Connolly, Engineering Manager, Hewlett Packard
A-I theory, which is scientifically derived and validated, has proven to be very useful and practical in the management of new product development processes in industry [in my time] both as a senior academic and a former senior manager in Du Pont. The knowledge of an individual's creativity style enables the formation of powerful teams that are able to communicate and accomplish a great deal. Understanding where in the process people will be most productive, by matching their style with the work to be done, creates an effective and efficient organization that enables the growth of businesses. - Robin A. Karol, Ph.D., NPDP CEO Product Development & Management Association, Adjunct Full Professor University of Delaware Lerner School of Business
There are many examples, subtle or big scale, in business, private life, politics, etc. that repeatedly prove the soundness of the A-I theory. However, the most fascinating ones are those which relate to the change of whole political paradigms. Solving problems on such a grand scheme, like the fall of the iron curtain, at a time when I was a senior research fellow of the Academy of Sciences in Czechoslovakia, gave me as an insider an unique opportunity to test the theory `live', in practice, while being a researcher in the field at the same time.- Marian Kubes, PhD. Managing Director, ADDA Consultants
The applicability of Kirton's theory of adaption-innovation to the law is obvious given the relationship between problem solving, decision making and cognitive style. The "correct" procedures for judges and others involved in the legal process are often laid down without mention of the different propensities of members of the various legal professions to respond in different, even mutually-exclusive, ways to the performance of a particular task (such as the writing of appellate decisions). The economic approach to law is especially prone to the advocacy of universal solutions: what is needed is an economic psychology of legal practice - and Kirton's theory is leading the way. See, for instance, Foxall, G. R. (2004). What judges maximize: Toward an economic psychology of the judicial utility function. Liverpool Law Review, 25, 2004, 177-194. - Gordon R. Foxall, Distinguished Research Professor, Cardiff University
You may also be interested in...
Simply reserve online and pay at the counter when you collect. Available in shop from just two hours, subject to availability.
Thank you for your reservation
Your order is now being processed and we have sent a confirmation email to you at
When will my order be ready to collect?
Following the initial email, you will be contacted by the shop to confirm that your item is available for collection.
Call us on or send us an email at
Unfortunately there has been a problem with your order
Please try again or alternatively you can contact your chosen shop on or send us an email at