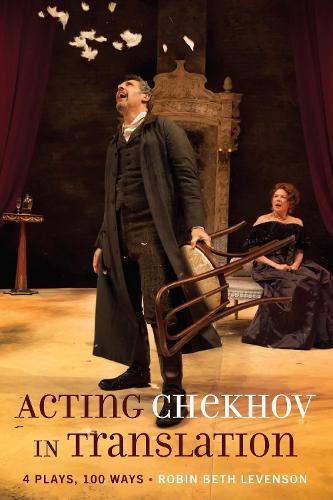 Paperback
310

Pages / Published: 20/12/2018
Iconic Russian writer Anton Chekhov is recognized as the most translated and produced playwright in the world after William Shakespeare-that is, he is the most produced and most highly regarded modern playwright in English translation. Chekhov's style models our behaviors and aspirations in alluring and intricate ways, unmatched in playwriting. His plays determined Realism in language and acting practice from the late 19th century to the present. Acting Chekhov in Translation: 4 Plays, 100 Ways explores the history of translation, contemporary and controversial approaches to stage translation, the notion of "action" from Aristotle to Adler (and beyond), and Chekhov's inimitable dramaturgy. English translations, adaptations and versions of The Seagull, Uncle Vanya, The Three Sisters and The Cherry Orchard are each considered from the actors' points of view, from the page to the stage.
The nature of stage translation has recently undergone novel and provocative changes: how can someone who does not know the source language adapt or translate a play? It is done frequently, and the outcomes are investigated herein. For the translator as well as practitioners, understanding theatre craft is essential to producing playable and engaging productions. Differences in the language, punctuation, syntax, sound, rhythm, stage directions and what appears on the written page in various translations affect the work of the actor on the playscript.
The purpose of this inquiry is not to definitively evaluate or interpret Chekhov's plays but to discover approaches to working on plays in translation and to determine practical tools we may use in the analysis of dramatic form, as well as human behavior. This book includes selections from 145 translations and translators of all four plays and a glossary of acting terms that helps describe concepts for practical script analysis.
Publisher: Peter Lang Publishing Inc
ISBN: 9781433152665
Number of pages: 310
Weight: 480 g
Dimensions: 225 x 150 mm
Edition: New edition
---
MEDIA REVIEWS
"Before Chekhov, the fundamental mode of nearly all drama was declamatory. Actors stood up, a distance from the audience and, to one degree or another, attempted to announce how they felt. Their utterances and physical behavior seemed first and foremost public (and therefore guarded). The tone of psychological intimacy introduced to the stage by Chekhov's plays was revolutionary and created a new and far more sophisticated challenge for translators. For this reason, I think Robin Beth Levenson's choice of Chekhov's four greatest plays for her study is particularly apt. His is a theatre of nuance and silence and yearning (both spoken and unspoken), challenging the translator at every point to capture the meaning under the meaning-and the meaning under that. Chekhov is the perfect ground for her inspired and granular inspection of the choices that translators make, as they move literally from word to word through a script. People sometimes forget that everything in a play-every movement, every syllable-is the product of a specific, conscious human choice. It is a joy to see a study of this kind that respects the crucial importance of that fundamental reality." -Lee Blessing, playwright of A Walk in the Woods, Eleemosynary, Two Rooms and Going to St. Ives, Pulitzer Prize finalist, Tony Award and Olivier Award nominee, Humanitas Award, and Steinberg/American Theater Critics Association Awards
"One can't help but wonder what Anton Chekhov would think of the messy, turbulent world we find ourselves in today. Well over a hundred years since he wrote his plays, we don't seem to know any more about how to live our lives or to be happy, but Chekhov's questions and concerns continue to be timely and important. Robin Beth Levenson has written a welcome and wonderful book for actors and directors who work with Chekhov's seminal texts in translation. The playwright Tom Stoppard said that foreign texts need to be re-translated every few years as the cadences of contemporary speech change rapidly. Levenson's book encourages actors and directors to pay attention to the nuances of Chekhov's words in translation and to forge their own understanding of these astonishing texts." -Cecilia Rubino, Director and Adaptor of Uncle Vanya at Jefferson Market Playhouse (NYPL), Associate Professor of Theater and Director of Arts in Context Program at Lang College/The New School
"This well-documented book on what play translation is all about also delves into the nature of how to interpret a play. Stella Adler, whom I taught acting with for ten years, said 'Actors are script interpreters, if you don't know how to interpret a script, you are not an actor.' Acting Chekhov in Translation gives you tools to explore your own acting choices for the plays. Plus, the different points of view from expert actors, scholars, directors and translators makes this book a valuable complement to working on any script, acting study or theatre course." -Ron Burrus, Master Acting Teacher at Stella Adler Studio of Acting, New York City and Art of Acting Studio, Los Angeles
"Robin Beth Levenson's in-depth analysis of Chekhov in translation will be an invaluable, even necessary, resource for all those involved with Chekhov's plays-directors, actors, drama theorists, teachers, students, literary critics, historians and linguists. She provides a road map to script analysis of the plays in English translation: character development, names, word choice, stage directions and more. Her detailed insights into individual plays and how different translators approached them will encourage the theatergoer to go back to the written work with fresh perspectives on how the scenes develop and to appreciate anew Chekhov's adroit dramaturgy." -Daniel Caplice Lynch, poet, Professor Emeritus in the English Department at LaGuardia Community College, CUNY, Editor-in-Chief of New York Stories, and author of Ventry
"Robin Beth Levenson's book Acting Chekhov in Translation is perfect for actors who want to know the details about acting the various characters in Chekhov's plays. If you are doing a show-Chekhov or any play in translation-this book is helpful to see how the words in the script affect what you do onstage. Chapters describe how various translators, actors, directors and teachers approach Chekhov's last four masterpieces-and translating theatre in general. The wide variety of comments from the likes of Ian McKellen, Anne Bogart, Tom Stoppard, David Mamet and many, many others make the book an interesting read, whether you are a theatre professional or just interested in how drama gets from page to stage." -John Turturro, actor
"I would recommend Acting Chekhov in Translation based only on the sparkling and insightful quotes that Robin Beth Levenson has unearthed in literary and theatre history and skillfully includes. But this impeccably documented book, held by Levenson's smart and engaging voice, offers far more-from a brilliant history of translation to a rich analysis of Chekhov's dramaturgical ideas. I appreciate how Levenson brings us close to the mind of Chekhov-an inspiring place for an actor, director, playwright, teacher or theatre lover to be." -Joanna Rotte, Professor Emeritus of Theatre at Villanova University, member of the Actors' Equity Association, and author of Acting with Adler and Scene Change: A Theatre Diary-Prague, Moscow, Leningrad
"I read every page of Robin Beth Levenson's Acting Chekhov in Translation. I found it far too compelling to just select a chapter here and there. Her comparisons of variant translations are wonderful! Her knowledge of the fields of acting, drama, speech and voice bring new insights both to Chekhov's four masterpieces and to translation studies. She convincingly points out the pitfalls of translating a play strictly as a verbal text without properly considering all the elements that go into a performance. Her underlying theory that variations in language result in variations in subtext and action is of critical importance and is far too often overlooked in play translation. Her analysis of Stanislavsky's contribution to acting methods, along with his misunderstanding of some of Chekhov's intentions as well as later practitioners' misunderstanding of Stanislavsky's own concepts, will be illuminating for many, particularly translators who do not have an extensive background in theatre. Her careful analysis of Chekhov's dramaturgy likewise will be helpful to those who do not already have this level of familiarity with the great playwright's works. Her numerous personal interviews and observations drawn from classes she has taken with outstanding teachers are sources of considerable enrichment. Among her other crucial ideas are: the interaction of playwright and director; the question of how to capture source rhythm in the translated text; her discussion of how playwrights and translators impose themselves on the source text; the impact for the actor of deleting intentional ellipses and punctuation; the question of whether characters will speak perfect grammar when they are emotionally distraught; the impact of deleting elements from the source; the significance of title and character names and of stage directions. Levenson's book will attract a range of readers with varying interests: play translation, Chekhov, acting, and theatre in general. Its appeal extends throughout the English-speaking world and perhaps to Russians who know English and are curious about how translations work." -Phyllis Zatlin, literary critic and translator, Professor Emerita at Rutgers University, Author of Theatrical Translation and Film Adaptation: A Practitioner's View
You may also be interested in...
×
Download the Waterstones App
Would you like to proceed to the App store to download the Waterstones App?
Simply reserve online and pay at the counter when you collect. Available in shop from just two hours, subject to availability.
Thank you for your reservation
Your order is now being processed and we have sent a confirmation email to you at
When will my order be ready to collect?
Following the initial email, you will be contacted by the shop to confirm that your item is available for collection.
Call us on or send us an email at
Unfortunately there has been a problem with your order
Please try again or alternatively you can contact your chosen shop on or send us an email at