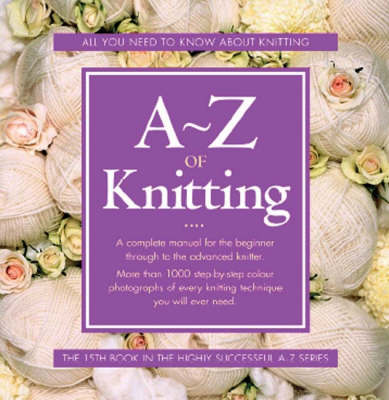 From Aran knitting to Fair Isle, from Entrelac to Intarsia, this book will tell you almost everything there is to know about this beautiful and practical craft.
Starting with the basics, we teach you about the different types of tools and the wonderful array of yarns that are available today. We give you easy to follow step-by-step instructions for various ways to hold the yarn and needles, cast on and cast off, work basic stitches, increase and decrease, make buttonholes, knit bands, read and adapt patterns, finish off, fix mistakes and care for your knitted garments.
And then there's more ... learn about knitting in the round, loop knitting, Shaker knitting, slanted knitting, lace knitting, and much more. Be inspired to embellish your knitting with surface embroidery, Swiss darning, smocking, beads and sequins.
It's 128 pages of knitting heaven!

Publisher: Country Bumpkin
ISBN: 9780975709443
Number of pages: 128
Dimensions: 228 x 504 x 15 mm
---
MEDIA REVIEWS
May 07
The A-Z of Knitting is packed with clear colour step-by-step photographs and instructions that will have you on your way in no time. It begins with the very basics from holding the yarn and needle and explains every move that you will make from there extremely thoroughly. There is a chapter on various cast-ons, casting off as well as methods that may be unfamiliar such as picking up stitches horizontally and vertically. Short row shaping, increasing and decreasing are dealt with in the various ways you may encounter in a pattern. There is a series of chapters on a variety of techniques that are very useful and clearly shown. Different types of buttonholes, cables, bobbles, circular knitting and colourwork are all covered in detail so that any technique will be in your grasp. There is even one on the complex looking technique of entrelac which creates a basketweave patchwork effect. At the end there is help with finishing. The book is an ideal companion for beginners to accompany them to the next level as well as an invaluable reference for rusty knitters.
* Knit Today *
May 2007
For those of you who are just getting to grips with the art of knitting, this new title would be a welcome addition to your bookcase.
Not only does it offer a comprehensive list of knitting techniques and basic stitches to learn, but the inclusion of more than 1000 colour step-by-step pictures makes it absolutely ideal for beginners. As an added bonus the book is spiral bound, which will be enormously helpful to those of you following the pictures as you knit, because it will lay flat easily! Before getting down to the 'knitty gritty' of the subject, the book starts off with an introductory chapter on the history of knitting, together with information on yarns and accessories too. A fantastic read for novice knitters - don't pick up your needles without having this book to hand!
* Simply Knitting *
Spring 09
A clean and welcoming layout balances abundant photographs with concise text and wisely placed hint boxes throughout. You'll find everything here, from casting on to knitting and purling, working ribbing, picking up stitches, turning cables, fixing mistakes, sewing up seams, and even shortening and lengthening finished garments - all illustrated with multiple photographs. You'll also see different techniques for binding off, shaping, joining new yarn, working selvedges, and embellishing knitted fabric with surface embroidery.
* Interweave Knits *
No. 116, June 2007
The cover of this approximately 22cm square spiral bound, card covered, book proclaims 'The ultimate guide for the beginner through to the advanced knitter. All you need to know about knitting.' I took this as a challenge and jotted down the first five knitting techniques that came into my head then looked them up.
The entry for 'entrelac' had 6 pages with 49 photographs of how to work this technique in stocking stitch. I was a bit puzzled by the final photo of a child in an Icelandic style sweater and hat - nice picture, but why not an entrelac garment? 'Shadow knitting' does not appear, but whilst looking for it in the index I spotted 'Shaker knitting' which was new to me. When I looked it up I found that it is also known as fisherman's rib. However, in A Treasury of Knitting Patterns Barbara Walker terms the same stitch 'brioche', giving a different method of working for the stitch she calls Fisherman's rib. But then, there is no standard terminology when it comes to stitch patterns. 'Mattress stitch' was absent from the index but I found it, with photographs on both stocking stitch and garter stitch, under 'Seams'. The alternative name of 'ladder stitch' was also given. 'Grafting' was there, again photographed worked on both stocking stitch and garter stitch, but the alternative name of 'Kitchener stitch' was not mentioned about the half-stitch 'stagger' that it produces. These pages also ended with a random photo of children in Icelandic caps and sweaters.
My final search was for 'temporary cast on'. Although five ways to cast on are illustrated, this was not one of them.
So, on a quick test, the claim of 'all you need to know' was over optimistic.
What I did find that I liked and had not expected were photographs of styles of working knit and purl stitches in both 'English style' and 'Continental style' together with photos of the methods of holding yarn and needles.
A final quibble that may seem pernickety but calls into question the quality of the book's research was the mis-spelling of Kaffe Fassett's surname with a single 't'. Nevertheless, I am not aware of any other book that boasts 'more than 1000 step-by-step colour photographs'. The price and the fact the book can be opened flat are also in its favour, so it is probably a question of having a look before you buy to see whether this really does offer 'every knitting technique you will ever need'.
Lesley Fidler
* SlipKnot *
Feb 07
Can't knit but yearn to, or know some stitches and want to learn more? This is the book for you. It might also be the best knitting book that I have ever seen in the way of a primer that actually teaches you stitches and methods, although if you want patterns you will have to look elsewhere. But patterns only date and make a book less appealing, whereas good instructions never go out of style.
It is a combination of things that make this book so good. Firstly, it is part of the wonderful A-Z series that not only have spiral backs so they lie usefully flat, but invariably give exhaustive information about their subjects. Secondly it is those diagrams. They are colored photographs of hands doing the stages, and happily they have plain backgrounds so you can see what is going on in them. Each stitch has many stages, so there are no awkward jumps from one thing to the next leaving the reader wondering what they were supposed to do to get from this to that. Learn the basics, and then progress to more advanced stitches such as cable and intarsia work, finding out what different nations call things (essential when understanding patterns) and how to make up your projects. Finally, these books are just so good to look at with their pretty illustrations - how the Victorians would have loved them! If you want just one knitting book to show you it all then get this. One destined for my keeper shelf.
* Myshelf.com *
You may also be interested in...
Simply reserve online and pay at the counter when you collect. Available in shop from just two hours, subject to availability.
Thank you for your reservation
Your order is now being processed and we have sent a confirmation email to you at
When will my order be ready to collect?
Following the initial email, you will be contacted by the shop to confirm that your item is available for collection.
Call us on or send us an email at
Unfortunately there has been a problem with your order
Please try again or alternatively you can contact your chosen shop on or send us an email at