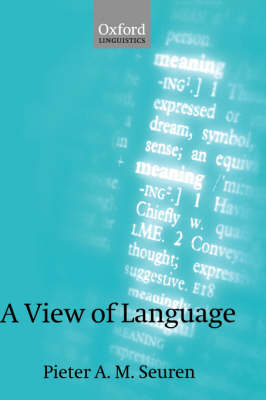 Hardback
Published: 03/01/2002
Can be ordered from our supplier
This book collects the best and most influential essays of one of the world's most original linguistic scholars and thinkers. They show Pieter Seuren's remarkable erudition from classical antiquity to current theory, his descriptive and theoretical sophistication, and his beautiful clarity of style. They provide many examples of the cogency of his argument and his willingness to speak out trenchantly against accepted wisdom. In the extensive introduction the author describes the evolution of his theoretical position and its development in relation to Chomskyan syntactic theory and model-theoretic semantics. He argues here and throughout the book that grammar and semantics should be studied as branches of cognitive science, not as mere formalisms. He propounds, develops, and applies a theory of semantic syntax in which a grammar is seen as a mediating device between propositionally structured thoughts and corresponding surface structures. He rejects conventional notions of autonomous grammar as unsustainable and, in a realist theory of language, unnecessary. He demonstrates that his semantic theory achieves empirically adequate and formally precise explanatory generalizations, developing a theory of discourse semantics as a means of providing elegant accounts of topic-comment structure. The twenty-two essays are divided into four parts dealing broadly with general theory, syntax, semantics, and the linguistics of creole languages. Many of the author's classic papers will be found here, including those on autonomous versus semantic syntax, predicate raising and datives, clitic pronoun clusters, donkey anaphora ('every man who owns a donkey beats it'), serial verb constructions, and many more. Provocative and thoughtful, accessible and entertaining, they add up to a book of real, enduring value.
Publisher: Oxford University Press
ISBN: 9780199244812
You may also be interested in...
We would love to hear what you think of Waterstones. Why not review Waterstones on Trustpilot?