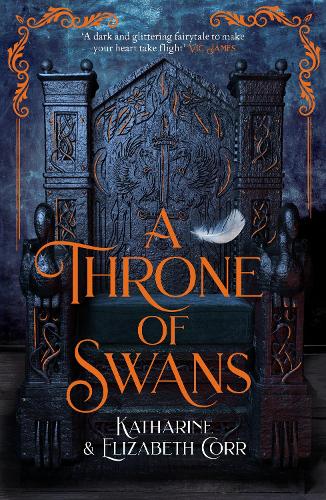 Paperback
352

Pages
Published: 09/01/2020
When her father dies just before her birthday, seventeen-year-old Aderyn inherits the role of Protector of Atratys, a dominion in a kingdom where nobles are able to transform at will into the bird that represents their family bloodline. Aderyn's ancestral bird is a swan. But she has not transformed for years, not since witnessing the death of her mother - ripped apart by hawks that have supposedly been extinct since the long-ago War of the Raptors. With the benevolent shelter of her mother and her father now lost, Aderyn is at the mercy of her brutal uncle, the King, and his royal court. Driven by revenge and love, she must venture into the malevolent heart of the Citadel in order to seek the truth about the attack that so nearly destroyed her, to fight for the only home she has ever known and for the land she has vowed to protect. Written in rich detail and evocative language, this is the start of an irresistible, soaring duology about courage, broken loyalties and fighting for your place in the world.
Publisher: Hot Key Books
ISBN: 9781471408755
Number of pages: 352
Weight: 258 g
Dimensions: 198 x 129 x 20 mm
---
MEDIA REVIEWS
If you love Melinda Salisbury's royal politics and treacherous courts, you'll love this brilliant Game of Thrones-esque fantasy. There's no swearing (though there is a very tastefully vague sex scene, suitable for young teens) and only occasional (reasonably vivid) violence, but tons of intrigue, mystery, family drama, glamorous gowns and hidden swords. * Book Trust *
Seventeen year old Aderly inherits a kingdom ruled by those who can transform into a bird and flu. Aderly is a swan who since witnessing her mothers murder can no longer take flight. Can she save the kingdom from her cruel uncle? Who can she trust? An Intriguing fantasy richly woven with magic and duplicitous cast, a flawed but courageous heroine and an unexpected twist. Perfect for fans of leigh Bardugo and Melinda Salisbury. -- Zoe James-Williams * South Wales Evening Post *
The Corr Sisters return with A Throne of Swans, which is a rich and imaginative fantasy about a world where nobles can transform into birds. Aderyn's ancestral bird is a swan, but she has not been able to transform since the death of her mother left her harrowed many years ago. But when her father dies and she inherits his dominion, Aderyn must travel to the heart of the kingdom to prove herself to the king, where she begins to uncover secrets long hidden that could change her life forever. I loved this book! It is loosely inspired by Swan Lake, a story I've always loved. Aderyn can turn into a swan and there is a secondary character named Odette, as well as political intrigue, and I found the storyline to be enjoyable, riveting, and dark. Aderyn is an interesting heroine. She is ambitious and political, ready to do whatever it takes to protect her dominion and keep her power, with a strong sense of justice, a thirst for knowledge, and a brave mind. She is also loyal and loving to those closest to her, which made her likeable! However, there were times when I was deeply frustrated with her, such as when she made decisions that I could see were bad. It definitely added to the tension and intrigue of the story, but it also kind of made me want to shout at her to pay a bit more attention. I liked the secondary characters, though I would have liked to get to know them more. I especially loved Aron and Odette and I hope in the second book we might get to delve more into their personalities as they were both interesting and unique characters! I can't give away my thoughts on the romance without spoilers, so I'll try to be vague. Both romance storylines were rather predictable, but I did enjoy them to an extent. The main one seemed to be building up wonderfully throughout the book and I was rooting for the characters, but when it did happen, it seemed a very sudden transition from a slow burn maybe to "true love", but I suppose this isn't the first book that's done this. As for the second romance, someone made some mistakes and I saw it coming, I won't say anything else. Aspects of the plotline were riveting and kept me guessing and hungry for more, but the overall story was relatively predictable. Nevertheless I really enjoyed it and its carefully woven intricacies were what made it wonderful, but I was hoping to be a little more surprised, The writing was simplistic but still very beautiful, so the book was easy to read and follow but still lyrical and glittering. A Throne of Swans was an enjoyable and intriguing YA fantasy about royal politics, revenge, and romance that I would describe as Throne of Glass meets The Storm Crow! -- Sasha Zatz * Nerd Daily *
ter the death of her father, Aderyn becomes proctor of the dominion of Atratys and one step nearer to inheriting the kingdom ruled by her uncle, a despot. The ruling nobility have the power to shapeshift into birds - each according to their family group. Aderyn is a swan but has not been able to transform since the death of her mother when they were both attacked by hawks. The trauma has physically and mentally scarred her but she must hide her disability otherwise she will be exiled from the kingdom. There are strict rules and penalties for those who can fly and those who can't. Up until now Aderyn has been kept safe in her father's castle but she realises the only way she can find the answers to her mother's death is to go court to the Silver Citadel to meet her uncle and cousins despite the terrible danger this puts her in. She is unprepared and naive but with determination, her trusty servant and childhood friend Letya by her side, plus the help of Lancelin, the somewhat cynical and patronising son of her father's steward she sets off on her quest. Once there she begins to uncover a web of treachery, intrigue and deceit and realises she can trust no-one. Yet as she becomes closer to Lancelin she finds she is beginning to have feelings for him. Loosely based on the Swan Lake story this first-person narrative does everything a good high fantasy novel should do. There is a flawed but fascinating heroine, an unfulfilled romance and a fight to regain a kingdom ruled over by an evil king. It is a highly visual story rich in detail with twists and turns aplenty and some excellent lines in witty dialogue. All the familiar tropes are there which at times makes the story just a little predictable but fantasy fans will love this and will be eager for the sequel. -- Books For Keeps * Books For Keeps *
rom the elegant cover featuring a 3D model of a specially designed throne and a lone feather to its pages filled with Machiavellian machinations, teen angst, secrets, love, betrayal, sacrifice and intricate world building involving avian transformation, 'A Throne of Swans' delivers a rich YA treat for high fantasy fans. Talented author siblings Katherine and Elizabeth Corr, fresh from their 'Witch's Kiss' trilogy success, envisioned a novel loosely based upon 'Swan Lake' and swan maiden fairy tales with a dash of 'Game of Thrones', just a hint of 'Hamlet' and a flavour of an 18th Century European setting. This Herculean task involved time, research and lots of decision making on character arcs but the duo enjoyed creating the kingdom of Solanum. Readers are introduced to a revenge fuelled quote from 'Sophocles', a map of five realms and a family tree of the Lords of Chenorys at the start of the novel. The Corrs cleverly reverse the concept of humans being turned into swans by an evil spell by giving their ruling class the ability to transform into powerful birds. This arrangement leaves the flightless at a socio-economic disadvantage. As Kate explained in an interview with 'The Nerd Daily', "We had to think about the impact of having a ruling class of shapeshifters. We had to imagine how that would affect things like dress, social structure, religion, architecture. We also had to invent the geography of Solanum." As a result, scientific advances such as the use of a telescope and reference to courtly customs feature. For Liz it was also important to address the aspects of 'coming of age' as growing up and stepping into a larger and scarier world is something everyone expects to experience to some degree. Their story revolves around the choices of 17-year-old Aderyn who is emotionally scarred and suffering from post-traumatic stress after terrible events. Thrust into a role she is unprepared for as Protector of the Dominion of Atratys she must make incredibly difficult decisions battling with her heart, head and desire to discover the truth about who is responsible for her situation. Who can she trust at a court filled with intrigue as duplicitous individuals ruthlessly vie for ultimate power? Dark haired Darcyesque imperious Lucien, who can transform into a raven, and whom she feels strangely drawn to, warns Aderyn to trust no one not even himself or her companion Letya. She is grappling with a secret that could destroy her, the resentment of her cousin Aron, the attentions of the handsome and mysterious Siegfried, who is engaged to her cousin Odette, fear of her sinister uncle [based on King Claudius in Hamlet] and the rigid rules of the Convocation who govern Solanum. The Corrs offer up a cocktail of magic, poison and double cross as vulnerable Aderyn is bitterly tested like the 'Game of Thrones' Daenerys. Loosely based on Swan Lake's Odile, Aderyn is a complex character open to manipulation. In George Martin's Westeros supremacy is gained through the control of dragons but in Solanum it is possessed by those who have the power of flight, strength and speed. Add some skulduggery and treachery worthy of 'Claudius', vivid and visceral bird language, vibrant colours, heart stopping peril and evocative imagery and you have a book destined for the screen. Katherine and Elizabeth count 'Gilded Cage', 'Earthsea', 'Iron King', Mortal Instruments' and 'Starcrossed' among their favourite reads. Fans of these gripping fantasy tales which have spawned sequels can look forward to more dastardly deeds in the kingdom of Solanum. Liz promises new ancestral lines, more contenders for the throne and more bad things in store for the protagonists while Kate, dubbed 'the character killer', will be exercising her 'dark side'. Enthralling, imaginative, immersive and passionate this shape shifting swan series is a an exciting addition to the YA fantasy stable. It will appeal to teens who enjoy engaging reads with a sprinkle of fairy tale magic where characters face extreme challenges and battle with broken hearts. So get ready to be swept away and #JoinTheFlight. Reviewed by Tanja Jennings / ages 14+ / 352 Pages Suggested Reading Age 5+ -- Tanja * Reading Zone *
You may also be interested in...
×
Download the Waterstones App
Would you like to proceed to the App store to download the Waterstones App?
Reserve online, pay on collection


Thank you for your reservation
Your order is now being processed and we have sent a confirmation email to you at
When will my order be ready to collect?
Following the initial email, you will be contacted by the shop to confirm that your item is available for collection.
Call us on or send us an email at
Unfortunately there has been a problem with your order
Please try again or alternatively you can contact your chosen shop on or send us an email at