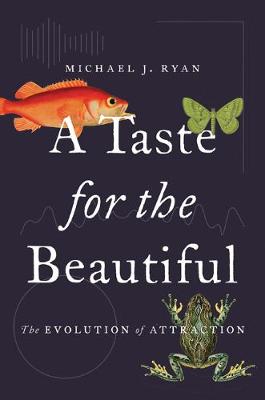 A Taste for the Beautiful: The Evolution of Attraction (Hardback)
Michael J. Ryan
(author)
Hardback
224

Pages / Published: 19/12/2017
In stock online

Free UK delivery
From one of the world's leading authorities on animal behavior, the astonishing story of how the female brain drives the evolution of beauty in animals and humans Darwin developed the theory of sexual selection to explain why the animal world abounds in stunning beauty, from the brilliant colors of butterflies and fishes to the songs of birds and frogs. He argued that animals have "a taste for the beautiful" that drives their potential mates to evolve features that make them more sexually attractive and reproductively successful. But if Darwin explained why sexual beauty evolved in animals, he struggled to understand how. In A Taste for the Beautiful, Michael Ryan, one of the world's leading authorities on animal behavior, tells the remarkable story of how he and other scientists have taken up where Darwin left off and transformed our understanding of sexual selection, shedding new light on human behavior in the process. Drawing on cutting-edge work in neuroscience and evolutionary biology, as well as his own important studies of the tiny Tungara frog deep in the jungles of Panama, Ryan explores the key questions: Why do animals perceive certain traits as beautiful and others not? Do animals have an inherent sexual aesthetic and, if so, where is it rooted? Ryan argues that the answers to these questions lie in the brain--particularly of females, who act as biological puppeteers, spurring the development of beautiful traits in males. This theory of how sexual beauty evolves explains its astonishing diversity and provides new insights about how much our own perception of beauty resembles that of other animals. Vividly written and filled with fascinating stories, A Taste for the Beautiful will change how you think about beauty and attraction.
Publisher: Princeton University Press
ISBN: 9780691167268
Number of pages: 224
Weight: 482 g
Dimensions: 235 x 152 mm
---
MEDIA REVIEWS
A delightful and enlightening review of current laboratory and field research into the aesthetic worlds of dozens of species. . . . If there's a lesson to be learned from Ryan's survey of sexual aesthetics, it's that each species perceives the world through a uniquely tuned array of senses with a unique evolutionary history. Put succinctly, romance among the birds and the bees has one thing in common with romance between men and women . . . It's complicated.---Laurence A. Marschall, Natural History
This is a hugely enjoyable book written with authority, easy charm and a great deal of wit. . . . This is science communication as it should be done: authoritative but never dull, engaging but never dumbed down. I'm in danger of straying into the territory of bad puns, but it really is a beautiful book.---Simon Underdown, Times Higher Education
"In this engaging book, Michael Ryan explores why all animals look for beauty in the opposite sex. Using his studies of Central American frogs as a jumping-off point, he expertly guides us through new discoveries and ideas about how brains have evolved to yearn for the beautiful. Surprisingly, what female frogs admire in their male suitors illuminates our own desires and attractions."--Virginia Morell, author of the New York Times bestseller Animal Wise: How We Know Animals Think and Feel
"We say 'beauty is in the eye of the beholder.' Turns out, beauty is in the brain. The brain decides what strikes us as beautiful. This book raises and answers an astonishing set of questions: What is the perception called beauty? How did our brains acquire it? On what basis do our brains inform us about what is beautiful? And why does a peacock's tail seem beautiful to both a peahen and a person? This is a profound, often amazing, book. It's, well, beautiful."--Carl Safina, author of Beyond Words: What Animals Think and Feel
"Written by a distinguished scientist and filled with fascinating stories, this book presents the revelation that, for very good evolutionary reasons, beauty is in the mind, as well as the eye, of the beholder."--Peter R. Grant, coauthor of 40 Years of Evolution: Darwin's Finches on Daphne Major Island
"This lovely book delves into the origins and perception of beauty--sensations that generate specific reward responses in the brain. Ranging from neurobiology to behavior and psychology, Mike Ryan seamlessly integrates animal and human data. He also describes how science works, which is more important now than ever."--John Endler, Deakin University, Australia
"This is a superb book on one of the most powerful selective forces in nature--the taste for beauty, especially the female preference for male beauty. Want to learn about smell and sex, the deeper meaning of bodily symmetry, or color vision as a route to emotionally understanding others? You have come to the right place. Michael Ryan weaves together all of this and much more to produce a beautiful tapestry on the meaning of beauty in nature."--Robert Trivers, author of Deceit and Self-Deception: Fooling Yourself the Better to Fool Others
"I loved this book! In this authoritative, informative, and entertaining popular science account of the biological basis of sexual beauty, Michael Ryan, a master of the subject, draws on his own pioneering work and seamlessly integrates it with other studies. The book shows how a deep understanding of the mechanisms of mate choice in nature help us to better understand ourselves."--Daniel T. Blumstein, University of California, Los Angeles
"This is a book for anyone who wants to know more about the mysteries of sexual selection. Michael Ryan guides readers through the complex and fascinating path of the evolution of beauty with the authority of somebody who is responsible for some of the subject's most important milestones."--Leonida Fusani, University of Vienna and University of Veterinary Medicine, Vienna, Austria
Do read the book. You will see in nature a beauty you had previously failed to appreciate. You will evolve.---David Dobbs, Undark
You may also be interested in...
Simply reserve online and pay at the counter when you collect. Available in shop from just two hours, subject to availability.
Thank you for your reservation
Your order is now being processed and we have sent a confirmation email to you at
When will my order be ready to collect?
Following the initial email, you will be contacted by the shop to confirm that your item is available for collection.
Call us on or send us an email at
Unfortunately there has been a problem with your order
Please try again or alternatively you can contact your chosen shop on or send us an email at