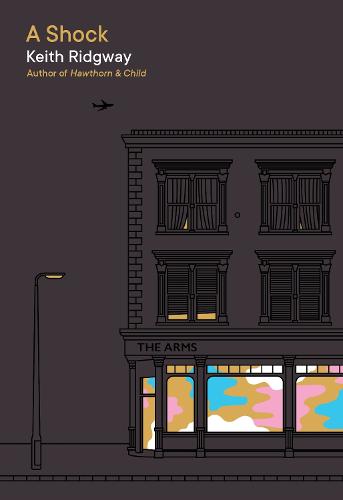 Hardback
288

Pages / Published: 24/06/2021
The author of the cult classic Hawthorn & Child breaks a decade long storytelling silence with this meticulously crafted novel about interlocking lives on London's fringes.
Shortlisted for the James Tait Black Prize for Fiction and The Goldsmiths Prize
A Guardian, New York Times, Spectator, Hot Press and White Review Book of the Year

'A Shock inhabits the secret life of a city, its hidden energies. It dramatizes how patterns form and then disperse, how stories are made and relationships created . . . remarkable' - Colm Toibin, author of Brooklyn

In A Shock, a clutch of more or less loosely connected characters appear, disappear and reappear. They are all of them on the fringes of London life, often clinging on - to sanity or solvency or a story - by their fingertips.

Keith Ridgway, author of the acclaimed Hawthorn & Child, writes about people whose understanding of their own situation is only ever partial and fuzzy, who are consumed by emotions and anxieties and narratives, or the lack thereof, that they cannot master. He focuses on peripheral figures who mean well and to whom things happen, and happen confusingly, and his fictional strategies reflect this focus. In a deftly conjured high-wire act, Ridgway achieves the fine balance between the imperatives of drama and fidelity to his characters. The result is pin-sharp and often breathtaking.

'Political, pertinent, spunky and funny, A Shock is a grand sweep of modern storytelling' - June Caldwell, author of Room Little Darker
'A Shock is a perfect, living circle of beauty and mystery, clearsighted and compassionate, and, at times, wonderfully funny' - David Hayden, author of Darker With the Lights On
Publisher: Pan Macmillan
ISBN: 9781529064797
Number of pages: 288
Weight: 412 g
Dimensions: 219 x 154 x 32 mm
---
MEDIA REVIEWS
A Shock inhabits the secret life of a city, its hidden energies. It dramatizes how patterns form and then disperse, how stories are made and relationships created. Keith Ridgway offers his London a luminous glow, but his competing narratives are also rooted in a real place, with a remarkable sense of character and the shifting systems that make up his contemporary urban space
-- Colm Toibin
Like Finnegans Wake, only readable.
Ridgway's trick - no, his skill - is that the stories combine down-to-earth real-ism with an incremental sense of strange-ness. He seduces you, then smacks you over the head, abandoning you miles fromwhere you thought you'd be * The Times *
Ingeniously slippery - what initially looks like a collection of loosely linked short stories reveals itself to be an expertly constructed house of mirrors
. . .
A Shock
is the kind of novel that rewards multiple readings, new echoes and connections revealing themselves each time. And, in the same way that one character describes the unsettling, near-hallucinatory side effects of doing certain drugs - 'it's just peripheral, corner of the eye stuff, movements'- you get the sense of myriad other lives unfolding around those described here, all tantalizingly out of sight -- Lucy Scholes * New York Times Book Review *
A sultry, steamy shock of a novel . . . a provocative collection of nine interlinked stories, jostled together like neighbours on a London street or regulars in a pub, which is where most of his characters cross paths
* The Spectator *
Rich, funny . . . mysterious and challenging
-- James Meek * London Review of Books *
Keith Ridgway's gifts as a writer are many
: his complex, vivid characters, his ability to create a humane and tender cityscape in an unfeeling metropolis, and to dig into our fallibilities and desires with such humour and compassion -- Sinead Gleeson
Surreal and sinisterly comic south London scenes, peopled by a shadowy cast of characters who wander haphazardly in and out of view . . . Shifting between a range of styles and perspectives, the minimally signposted narration, twinned with Ridgway's delicious ear for dialogue, lends a voyeuristic quality to much of
A Shock
, as if we're somehow present where we shouldn't be . . .
endlessly interesting
-- Anthony Cummins * The Observer *
Keith Ridgway is an incredible writer and A Shock is a wonder
: a mosaic of south-east London lives that constantly makes daring, unexpected moves, and is truer to the city than strict realism ever could be.
There were times, reading this book, that I never wanted it to end
-- Chris Power
Full of rude life
-- Philip Hensher * Spectator, Books of the Year *
A hundred times worth reading
-- Penelope Fitzgerald on Keith Ridgway
Keith Ridgway's A Shock cleanses the word 'masterpiece' of its current debased meaning of whatever sells in large quantities and returns it to its original sense. A novel about connections missed and made, about things that bring us together and keep us separate, about walls (sometimes literal) and breaches (sometimes literal) in them, about what is porous and what is impermeable, A Shock is formally dazzling, stylistically plural and impeccable, and pulsating with meaning. In an overcrowded field that often feels like looking into a full box of matches, it's like opening one such and discovering a diamond inside. Make no mistake, Ridgway's the Real Thing
-- Neel Mukherjee on Keith Ridgway
A Shock is a meticulously crafted diorama
, built on a scale that's at once claustrophobic and expansive, running through cycles that are by turns bleak, hilarious, chilling and hopeful, and culminating in an
ingenious
finale that sees it consume its own tale * Vanity Fair *
Ridgway brings an impeccably attentive ear and eye to the stories and dreams and defiances of his contemporary London characters. In these multiple voices he miraculously captures, with innovative clarity, what it means to be alive here and now, in or out of it on love or loneliness or the phone.
A great and generous book, an incomparable achievement
-- Richard Beard
At first it seems we might be in a book of interlinked stories, but discovering you aren't quite where you thought you might be is part of the deliberate disorientation of A Shock. It soon becomes clear that the sections in the novel don't interlink so much as echo and rhyme. The observation is acute, the dialogue sparkles, the movement between interiority and surveillance is deft. It is a novel of in-between places that keeps the reader off-balance to surprising, intelligent and sometimes eerie effect
-- Kamila Shamsie, (Citation for the 2021 Goldsmiths Prize shortlist)
A Shock
is Ridgway's fifth novel (a list which includes the inarguably brilliant
Hawthorn and Child
, a book of real invention and force).
I fantasise about a world where Ridgway's emotionally distant, obsessive and immensely weird characters are widely celebrated
. . . Every so often, over the years, I've had conversations about the greatest Irish writers. I've had these conversations less often than you might think but, at the same time, embarrassingly, I've had them. After a while, never at the start, someone will always say Keith Ridgway. They will say it with total conviction like they've finally hit upon the right answer, and that's because they have.
A Shock
makes that perfectly clear. -- Nicole Flattery * The Stinging Fly *
Ridgway has returned to interlinked stories for his clever and provocative seventh novel, which has interesting things to say about loss and survival . . .
Readers are instantly involved in the action of Ridgway's worlds, the characters he writes with great compassion and clarity, and always with an awareness of the fuzziness of being alive
, the answers and enlightenments that come too late, or not at all -- Sarah Gilmartin * Irish Times *
One of the remarkable things about
A Shock
is how the characters get under the reader's skin . . . But what we also get, amid the well-observed portrayal of how people behave, interact and try to live, are some strange moments . . . What writers can do is tell stories, and
A Shock
is full not only of the characters' own stories but the ones they tell each other.
It flows over with invention and imagination
-- John Self * The Irish Times *
A Shock
reads more as a subversive take on realism that knows how weird reality can feel. Throughout, Ridgway shows a radical dedication to his characters' viewpoints, while retaining a wry comedy and compassion . . .
In this playful yet deeply sincere novel, Ridgway squeezes into the gaps of realism and makes something beautifully new
* Guardian *
A Shock is an experiment that pays off: deeply funny, in a morose sort of way, oblique but never frustrating; and with a realism in dialogue that lends its characters depth and reliability
* Business Post *
A Shock is a perfect, living circle of beauty and mystery; clear-sighted and compassionate, and, at times, wonderfully funny.
The radiance and vitality of the writing, and its, frankly amazing, control and precision, reminded me of Henry Green but with a warmth and reflective quality that deserves to reach many readers -- David Hayden
A Shock
, Keith Ridgway's
mesmerizing
new novel-in-stories, portrays a London on the edge of the edge,
precarious, strange and enthralling
. Haunting each other and life itself, these characters and their stories will haunt you too! -- John Keene
Like Lewis Carroll or Muriel Spark, the author is not content with the normal measly amount of dimensions: he goes in for bewitchment as a narrative art.
The most hypnotic aspect of all is the fact that you can never quite put your finger on how Ridgway casts his spell . . .
A Shock
is at once deracinated yet potent with place, and druggy, but shot through with a terrifying penetration of reality -- Barbara Epler * TANK Magazine *
Ridgway has produced
a masterful polyphonous portrait of modern London
. Mercifully his characters' stories don't falsely join together but instead echo the coincidences and partial connections of urban life. A novel centred on a pub could have easily dissolved into a series of shaggy-dog stories, but the low-key litheness of Ridgway's prose brilliantly captures the indefinable community that can be created over a few pints down the local * Literary Review *
Profane, god-dappled, transcendent, even gently poetic and funny
- all those things at once -- Rivka Galchen
This modern look at (dis)connection is stunning, in all its story parts, and as a whole, it's a brilliant mind fuck. Political, pertinent, spunky and funny, A Shock is a grand sweep of modern storytelling. Hold out for the mice . . .
-- June Caldwell
Often hilarious, sometimes scary, always fearlessly assured. Each chapter is an intimate snapshot, a peek through the window into the life of one of the loosely linked characters living in one area of London . . . these characters vibrate at a frequency that we can all hear, feel, taste and see . . .
Ridgway provides a crystal clear shot of grief, loss and loneliness
* Irish Independent *
There is a canny empathy running through
A Shock
.
This is a masterfully crafted, highly intriguing novel that delivers the shock of its title with the slow, steady build-up of anxiety and dread that often characterizes dreams
* Books Ireland *
A fascinating and marvellously accomplished piece of work from a great and hugely under-rated Irish author
-- Pat Carty * Hot Press *
Once this novel clicks into place, its blend of the heady and the visceral is
immersive and compelling
* Kirkus *
This novel will leave the reader with lots to think about, laugh about, cry about
* Sunday Independent *
Don't call it a novel in stories or a collection; just call it the Irish writer's masterpiece * Publishers Weekly, Best Books of 2021 *
A Shock
is a
provocative
collection of nine interlinked stories, set in south London's sultry streets. In writing about characters many would overlook, Ridgway reminds us that everyone has a story * The i *
Sex, lies, and drugs shape the interlocking and recursive narratives in Irish writer Ridgway's marvelous latest, revolving around a set of neighboring London houses. This one sets the reader's mind ablaze.
* Publishers Weekly (starred review) *
You may also be interested in...
"Hugely entertaining; wonderfully written and very cleverly constructed"
A Shock by Keith Ridgway is a powerful collection of stories set in London featuring a cast of diverse and unique characters each facing a situation or predicament that becomes a minor drama. These stories are hugely... More
"A grimy, witty prod at London's underbelly."
A Shock peels back London's civilized veneer to gnaw at the liminal spaces beneath. A cavity in a party wall allows a woman to spy on her neighbours, a pizza restaurant's bin area attracts rats that break into a... More
×
Download the Waterstones App
Would you like to proceed to the App store to download the Waterstones App?
Reserve online, pay on collection
Alternatively, for multiple items you may find it easier to
add to basket
, then pay online and collect in as little as 2 hours, subject to availability.
Thank you for your reservation
Your order is now being processed and we have sent a confirmation email to you at
When will my order be ready to collect?
Following the initial email, you will be contacted by the shop to confirm that your item is available for collection.
Call us on or send us an email at
Unfortunately there has been a problem with your order
Please try again or alternatively you can contact your chosen shop on or send us an email at