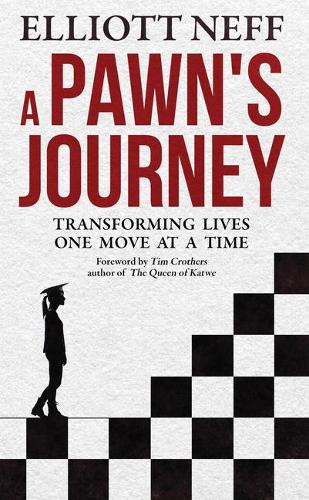 A Pawns Journey: Transforming Lives One Move at a Time (Paperback)
Elliott Neff
(author)
Paperback
192

Pages / Published: 25/10/2018
Foreword by Tim Crothers, author of "The Queen of Katwe" now a Disney movie.
From her first day in high school April knows she doesn't have what it takes to earn a college scholarship. She encounters a wise school counselor who turns her world upside down and begins to teach April invaluable life skills through a series of encounters...then everything begins to change for April.
In this moving tale based on true stories, you will learn how the game of chess can develop a strategic mind-set and produces the rare ability to graciously handle set-backs.
This success parable weaves powerful life lessons into a gripping story which you cannot set down. Discover the world beyond what you see and into the realm of possibilities.
Publisher: Made For Success
ISBN: 9781641463164
Number of pages: 192
Dimensions: 216 x 140 mm
---
MEDIA REVIEWS
"Change your mindset-change your life! Through April and her story, Elliott Neff engagingly shares winning thinking that students, parents, teachers, and leaders will find works everywhere."
Dan Sullivan, Founder of The Strategic Coach, Inc.
"A Pawn's Journey translates to each one of our life trajectories. A must-read for those who desire to understand the power of learning through setbacks."
Robert Katende, Founder and Director of SOM Chess Academy in Uganda, coach to Phiona Mutesi of the Queen of Katwe
"Delightful. Engaging. A must-read to understand why learning chess is vital in today's world!"
Varuzhan Akobian, International Grandmaster, 2013 World Open Chess Champion
"Elliott Neff has produced a compelling narrative that unfolds the mindset and disciplines necessary to excel in life. I found myself nodding in agreement as Elliott highlighted the shared attitudes common among those driven to live a life of meaning."
Jason Anspach, #1 best selling author and co-creator of Galaxy's Edge
"Inspiring! Delightful! A parable-style book showing how learning chess can positively impact your success in life."
Franc Guadalupe, former Executive Director, United States Chess Federation (USCF)
"A must read for parents who are serious about their children's success in school, college and life."
Verne Harnish, Founder Entrepreneurs' Organization (EO) and author of Scaling Up (Rockefeller Habits 2.0)
"Elliott Neff is a masterful storyteller in this moving tale. Parents, share this story with your children!"
Orrin C. Hudson, Executive Director Be Someone, Inc
"A Pawn's Journey is an engaging and emotional quest about discovering our natural gifts. This uplifting story will get you energized to chase your dreams!
Mary Miller, co-creator of The Dream Manager, CEO - JANCOA, Speaker & Author
"I read this page-turner straight through! Couldn't put it down! The story will inspire students and parents, and everyone who is or has a high schooler needs to read it. Elliott Neff knows from his experience as a chess master the principles that will transform the lives of students, and when you finish reading, you will too. And you don't need to know anything about chess to understand and enjoy the book.
Dr. Joseph Castleberry, President, Northwest University and author of Forty Days of Christmas
"In this engaging story, young April learns life lessons while learning the game of chess. Author Elliott Neff demonstrates his life-master chess skills, his master teaching abilities, and great insights on navigating the challenges of life."
Dr. Albert Erisman, Author of The Accidental Executive: Lessons on Business, Faith, and Calling from the life of Joseph; Boeing executive (retired)
"Anyone hoping to prepare their children for success should read this inspiring page-turner by Elliott Neff! Readers will learn how all children can discover their unique abilities and flourish as they are captivated by April's journey of self discovery through chess."
Hao Lam, CEO of Best in Class Education Center and author of From Bad to Worse to Best in Class: A Refugee's Success
"It can be those early life lessons that become the foundation for one's future. Those life lessons shape family, career, leaders... and impact communities - when they are the right life lessons, it's all for good. A Pawn's Journey builds into our future leaders eternal values & principles."
Jeff R. Rogers, Chairman of www.OneAccord.Co, Founder of www.KIROS.org
"Every chess coach and every chess parent--indeed every coach of any kind and every parent and every teacher--should read Elliott Neff's inspiring words on the power of imagination, intention, and inclusion to create a vibrant and positive life. Blending narration and didacticism, A Pawn's Journey lets us see through the imaginative eyes of adults and children who won't settle for anything less than a best effort, no matter what the obstacles."
Dr. Mark Trevor Smith, English Professor Emeritus, Missouri State University
"This book has exactly what you need to know about the basic building blocks of life skills using chess. It articulates well key perspectives and principles of life. I highly recommend this book for every family.
Benjamin Mukumbya, Student of SOM Chess Academy in Uganda
"A captivating, relatable story that invites discovery of unique abilities - a practical guide to life transforming values through the catalyst of chess."
Raphael Neff, CEO, ChessHouse.com
"Future generations will realize the power of human potential through Elliott's masterful utilization of chess and its boundless capabilities."
J.K. Egerton, CEO & Founder, Business on the Board
"The ancient game of chess made accessible for young people today through a compelling story - hopefully this tale will inspire the next generation of chess champions!"
Matt Watrous, Director, Government Relations, Midwest Region, Boys & Girls Clubs of America
"This charming, thoughtful, metaphor rich journey of self-discovery is a must read for anyone seeking to find the genius within themselves."
Siva Sankrithi, Teacher and CEO of WIISER.
"Neff captures the spirit of our times- the search for justice, humanity, and excellence- within the metaphor of his area of expertise- chess. A book that will inspire kids of all ages to pursue their passions in the pursuit of a rewarding and giving life.
Romi Mahajan, CEO KKM Group, Director Blueprint, Author, Marketer, Activist
"A Pawn's Journey is a delightful story which imparts wisdom on many levels. The attentive reader is inspired and learns what it takes to develop a more noble character."
David Giannini, CFP (R), Private Asset Management
"Elliott Neff wrote a 'feel good' book that contains a roadmap to help you in your life. A bonus is that he shows the game of chess to be exciting and dramatic. Very nice!"
Gary Sirak, Author of The American Dream Revisited
"A Pawn's Journey follows the main character, April, from learning the rules of chess to valued high school chess team member. Readers will cheer as April uses life lessons from chess at the state championship and on a life-changing STEM project, supported by a colorful cast of teammates, family members, and a chess master."
Dr. Alexey Root, author of Children and Chess: A Guide for Educators
"What can I possibly say that could communicate my assessment of Elliott Neff and his Chess Magic? His vision, enthusiasm, success and integrity have developed a mindset and an organization that is truly sensational. Whoever is exposed to his concepts and beliefs will be on a journey of success and validation of the human spirit."
John W Meisenbach, Chairman MCM
"Elliott Neff's charming allegory is a must-read. Elliott uses the game of chess to release untapped potential in a diverse set of characters. He challenges stereotypes, evoking empathy and compassion in the reader. No matter the life-stage or circumstance, readers are motivated to implement meaningful thinking tools to achieve bold goals. This book will help release people's inner potential as they rediscover their passion for positively impacting youth."
Catherine Crosslin, CEO Instar Performance
"A Pawns Journey held me captive from the opening paragraph to the very end and capped off a fantastic Saturday before Easter (I completed the book in nearly one sitting)! I found myself not only grateful for the meaning of tomorrow's Holiday celebration, but for Mr. Neff's capture of a story within a story and one that reminded me warmly of my own life and Mr. Johnson, my seventh grade math teacher. I am so grateful for his introduction of chess to a group of underserved, inner city youth from a poor city and for the impact it had for the Black Knights and our many first place finishes not only in chess tournaments, but in life! Mr. Neff, thanks for the memories!"
Calvin L. Lyons, President & CEO, Boys & Girls Clubs of Metro Los Angeles
"This engaging story perfectly summarizes why today's youth need STEM and chess in their lives! A Pawn's Journey is so engaging, I couldn't stop reading this book. This will be the book your children and students can't put down, mainly because so many can relate to this journey."
Denise "Cookie" Bouldin, Seattle Police Detective and founder of the Detective Cookie Urban Youth Chess Club
"Elliott Neff has made a difference for thousands of kids through his popular chess education programs. Now, through A Pawn's Journey, he shares the powerful story that he has observed time and again in the lives he has touched - a story of purpose, determination, and human excellence."
Hans Zeiger, Washington State Senator
"This is a must-read book for success seekers. A terrific distillation of the essential fundamental skills needed in the game of life."
Mike Sayenko, CEO, Sayenko Design
"A Pawn's Journey is an inspiring tale of a young girl's journey to self-discovery using the game of chess as a vehicle to deliver life lessons. And the life lessons are delivered by the bushel load! I learned when my kids were young that chess is an excellent way to teach essential life skills and winning personality traits. A Pawn's Journey brings these lessons home in a friendly, positive way as you travel with April, a young girl with very little self-confidence, on her way to realizing her dream of earning a college scholarship. This is a great story to share with your children (and especially your daughters) about the power of goal setting and the value of hard work to achieve your goals."
Matt Binz, Co-founder of The HomeScholar LLC
"As a parent of four children, I was always looking for ways to show them how to unlock their full potential. Sometimes it was exposure to a motivational skilled coach or teacher. Sometimes it was a movie or performance. Often it was a book. My kids are grown now, but if I was starting over, I would offer them A Pawn's Journey as an entertaining and engrossing story of how one discovers the path to their full potential. It is an easy read with lots of useful "tactics" for reaching ones goals wrapped around a heroine who is easy to cheer on. No knowledge of chess is required, but after reading this book, one might find themselves becoming interested in embarking on a path to chess mastery."
Richard Pisani, MD
"After reading A Pawn's Journey, I was personally moved by the power of the right support that helped April discover her potential through using chess as a tool. I believe the book is a must read for anyone, no matter the stage in life. It is indeed an empowerment."
Benjamin Mukumbya, Student of SOM Chess Academy in Uganda
"Neff does an excellent job of showing how chess can teach us to use our failures as a guide to success, how to be open and accepting of others, and how a CAN DO attitude can help you to exceed low expectations. He does all of this while at the same time teaching the reader about the ins and outs of the game of chess itself. When you're done reading it, you have the confidence to not only pick up a board and learn to play the game, but you want to show someone else how success at an activity like chess can give the confidence they need to succeed in life. A Pawn's Journey is creative, thoughtful, and I highly recommend it!"
Rhonda Coleman, Sports Agent and Attorney
"A Pawn's Journey, teaches about life through chess; developing courage, connection and thinking ahead. It's about transformation to a Compassionate Warrior's Mindset, about being in a state of flow, and enjoying the game of life."
Paul Sweetow, LCSW, author of Student Life Skills
"This warm and surprising tale by master chess player and education entrepreneur Elliott Neff brings the true value of learning and playing the game of kings to vivid life. Neff has a knack for capturing the Zen-like lessons of the chessboard as his young protagonist grows through the game."
Dr Matthew Dunn, Chief Explainer, Say It Visually
"In A Pawn's Journey, April is a lost girl looking for her place in life and she finds it in an unexpected activity. As you follow her journey, discover alongside her that chess is the vehicle for important life lessons that help her achieve goals never imagined possible!
This engaging story perfectly summarizes why today's youth need STEM and chess in their lives! Educators and parents will be inspired by the impact that robotics and chess have on a young girl named April as she overcomes obstacles and insecurities to achieve her dreams and become a leader!
My dear friend author Elliott Neff, Chess Master, has the great ability to teach and encourage youth the power of believing in themselves and achieving their goals one step at a time, on the chessboard as well as in the real world.
A Pawn's Journey is so engaging, I couldn't stop reading this book. This will be the book your children and students can't put down, mainly because so many can relate to this journey."
Denise "Cookie" Bouldin, Seattle Police Detective and founder of the Detective Cookie Urban Youth Chess Club
"A Pawn's Journey is an engaging presentation, in story form, of the life changing principles that form the foundation of Chess4Life. While reading this tale I often found myself cheering. I cared about the characters and felt the pressures and joys of competition. More than this, I could clearly see how competition can lead to a richer life. I'm confident that many readers, of all ages, will find themselves changed for the better as a result of this little book."
Craig Vick, Assistant Pastor at Hope Presbyterian Church
"Had I known Elliot Neff and read this book when I was in high school my life would have been appreciably more satisfying. I was an insecure and fearful immigrant kid from Scotland trying to make his way in a new country, but struggling immensely. A Pawn's Journey would have transformed my thinking and my life in truly outstanding ways. Share this book generously because when you do you'll be improving the lives of those you give it to."
Hugh Blane, President, Claris Consulting and author of 7 Principles of Transformational Leadership
"I thought A Pawn's Journey was for adolescents but found myself engaged throughout. The story touches on many social imperatives along the way as it convicts the reader that chess is much more than a game - it can be an important part of developing the human spirit."
Dr. Randal Dick, Principal, OneAccord Partners
"A Pawn's Journey speaks directly to the concerns of teens on a very personal level where they are feeling their way onto the road of their life. The character-building thread is gentle and solid. The most important aspect is the theme of "hope;" belief that the hope in one's spirit is real and realizable."
Sandi MacCalla, Founder & Board President of LifeSkills Academie
"I have great respect for Elliott Neff, and am so happy that he is sharing the success secrets that have benefited his students for so many years. I highly recommend this book to parents and educators looking to build mindsets of success!
Andrew Svehaug, CEO, Codetothefuture.com
You may also be interested in...
×
Download the Waterstones App
Would you like to proceed to the App store to download the Waterstones App?
Simply reserve online and pay at the counter when you collect. Available in shop from just two hours, subject to availability.
Thank you for your reservation
Your order is now being processed and we have sent a confirmation email to you at
When will my order be ready to collect?
Following the initial email, you will be contacted by the shop to confirm that your item is available for collection.
Call us on or send us an email at
Unfortunately there has been a problem with your order
Please try again or alternatively you can contact your chosen shop on or send us an email at