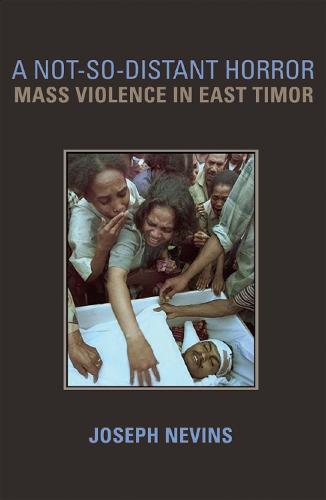 A Not-So-Distant Horror: Mass Violence in East Timor (Paperback)
Joseph Nevins
(author)
Paperback
296

Pages / Published: 01/01/2018
On August 30, 1999, in a United Nations-sponsored ballot, East Timor voted for independence from Indonesia and for an end to a brutal military occupation. Upon the announcement of the result, Indonesian troops and their paramilitary proxies launched a wave of terror that, over three weeks, resulted in the murder of more than 1,000 people, the rape of untold numbers of women and girls, the razing of 70 percent of the country's buildings and infrastructure, and the forcible deportation of 250,000 people. In recounting these horrible acts and the preceding events, Joseph Nevins shows that what took place was only the final scene in more than two decades of atrocities. More than 200,000 people, about a third of the population, lost their lives due to Indonesia's 1975 invasion and subsequent occupation, making the East Timorese case proportionately one of the worst episodes of genocide since World War II.
In A Not-So-Distant Horror, Nevins reveals the international complicity at the center of the East Timor tragedy. In his view, much if not all of the horror that plagued East Timor in 1999 and in the 24 preceding years could have been avoided had countries like Australia, Japan, the United Kingdom, and especially the United States, not provided Indonesia with valuable political, economic, and military assistance, as well as diplomatic cover. The author explores issues of accountability for East Timor's plight and probes the meaning of what took place in terms of international institutions and law. Examining issues such as violence, the geography of memory, and social power, Nevins makes clear that the case of East Timor has much to tell us about the contemporary world order.
Publisher: Cornell University Press
ISBN: 9780801489846
Number of pages: 296
Weight: 425 g
Dimensions: 229 x 152 x 17 mm
---
MEDIA REVIEWS
"A Not-So-Distant Horror is essential for understanding the broader context of Washington's latest support for Jakarta's military. The book provides a thorough overview of 'international community' backing for the twenty-four-year Indonesian military occupation of East Timor, and shows the blatant power calculations that went into the sell-out of the East Timorese. As Nevins quotes then-U.S. Ambassador to Indonesia Stapleton Roy saying in 1999, 'Indonesia matters and East Timor doesn't.'."
-- Ben Terrall * Counterpunch.org *
"In a book that is both sophisticated and widely accessible, Joseph Nevins documents the suffering endured by the people of East Timor from the invasion of 1975 through the failed process of accountability following the 1999 referendum and independence. Along the way, Nevins wrestles with why some lives seem to matter a lot and others almost not at all. A Not-So-Distant Horror is one of the best books about East Timor's long and painful path to freedom."
-- Jeffrey Winters, Northwestern University
"In an account described by Noam Chomsky as 'searingly honest,' Joe Nevins analyzes how Western nations conspired to back Indonesia and keep the East Timor issue out of the spotlight. The price paid by the East Timorese was a loss of life estimated at close to two hundred thousand, or a third of its population, proportionally one of the worst cases of genocide since World War II."
-- Maire Leadbeater * The New Zealand Herald *
"Joseph Nevins has performed a great service with this book. Among all the massacres that lead politicians to solemnly promise 'never again'-the Armenian genocide, the Holocaust, Rwanda-the ruthless Indonesian rule and mass murder that took place in East Timor is almost always ignored. Nevins carefully and vividly places this tragic chain of events on the record, and shows how much of the responsibility for these deaths rests squarely on the United States and its allies."
-- Adam Hochschild
"Joseph Nevins's book is a magnificent memorial to the people of East Timor and a damning indictment of international powers, like the United States, that armed, trained, and financed the Indonesian army's quarter-century reign of terror. Nevins eloquently moves from the horrifying reality of the slaughter on the ground to the international political elite who allowed it to happen, and go unpunished. A Not-So-Distant Horror goes beyond Timor because the bravery and endurance of the people of East Timor are a lesson to us all."
-- Amy Goodman, Host and Executive Producer, Democracy Now!
"Nevins's account of the period from Indonesia's unlawful invasion of East Timor on 7 December 1975 to the withdrawal of its forces in September 2001 is factual, accurate, and spare.... There is much to reflect on in Nevins's book, not least the mute acceptance in Australia of many U.S. policies as our own."
-- Richard Broinowski * Australian Book Review *
"Rarely do contemporary histories address foreign policy making from the perspective of human rights and justice. Even rarer is a book like Joseph Nevins's A Not-So-Distant Horror, which compellingly makes the case that failure to give such concerns adequate weight in policy formulation has produced ruinous results.... This book should be read by all those concerned that Washington's eager embrace and empowerment of rogue militaries in the so-called 'war on terror'-as we did during the Cold War-will again strengthen regimes characterized by their corruption and hostility to democracy and human rights."
-- Edmund McWilliams * Foreign Service Journal *
"The Indonesian invasion of East Timor and the quarter-century of shocking crimes that followed are among the darkest eras of post-World War II history. The struggle of the people of East Timor for survival, against incredible odds, is a truly inspiring achievement, one of the most astonishing of recent history. This remarkable book combines depth of knowledge and compassionate understanding, with intimate familiarity from the ground to the historical-documentary record, and the broader geopolitical and cultural-moral context. Joseph Nevins accurately describes the horrors as 'not-so-distant.' That is a painfully accurate assessment. The United States, Britain, France, and others did not 'look away' or 'fail to act' as deniers often say. They looked right there and acted decisively to expedite terrible crimes, and continued to do so through the final paroxysm of atrocities, until finally, in the last days, public pressure became too great to ignore and Washington terminated the crimes with barely more than a word. There are very important lessons here, which no reader of this searingly honest and penetrating study can fail to draw."
-- Noam Chomsky
"This book identifies many villains and even more numerous accomplices, not only in East Timor but in 'painful events' around the world. It will raise the reader's righteous indignation as well as awareness. Implicit is the hope that awareness and indignation will stimulate deeper, more truthful accounts of 'painful events', leading to justice, restitution and moral closure."
-- Stephen Hoadley * New Zealand International Review *
"This is a gripping and powerful saga rooted in the horrible atrocities and deprivation endured by the East Timorese following Indonesia's invasion in 1975. Indonesian security forces ruled ruthlessly until 1999, causing nearly 200,000 conflict-related deaths, imprisoning and torturing thousands more, while raping and plundering with abandon. A generation of East Timorese grew up where the rule of law was a distant rumor and human rights were routinely violated. Joseph Nevins briefly recapitulates this history, focusing on international complicity in these crimes against humanity, but mostly dwells on the troubling failure to secure justice."
-- Jeff Kingston * The Japan Times *
You may also be interested in...
Simply reserve online and pay at the counter when you collect. Available in shop from just two hours, subject to availability.
Thank you for your reservation
Your order is now being processed and we have sent a confirmation email to you at
When will my order be ready to collect?
Following the initial email, you will be contacted by the shop to confirm that your item is available for collection.
Call us on or send us an email at
Unfortunately there has been a problem with your order
Please try again or alternatively you can contact your chosen shop on or send us an email at