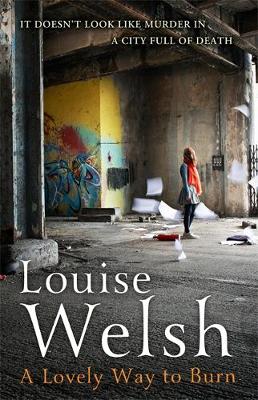 A Lovely Way to Burn: Plague Times Trilogy 1 - Plague Times Trilogy (Hardback)
Louise Welsh
(author)
Hardback
368

Pages / Published: 20/03/2014
As heard on BBC Radio 4 Book at Bedtime
It doesn't look like murder in a city full of death.
A pandemic called 'The Sweats' is sweeping the globe. London is a city in crisis. Hospitals begin to fill with the dead and dying, but Stevie Flint is convinced that the sudden death of her boyfriend Dr Simon Sharkey was not from natural causes. As roads out of London become gridlocked with people fleeing infection, Stevie's search for Simon's killers takes her in the opposite direction, into the depths of the dying city and a race with death.
A Lovely Way to Burn is the first outbreak in the Plague Times trilogy. Chilling, tense and completely compelling, it's Louise Welsh writing at the height of her powers.
Publisher: Hodder & Stoughton General Division
ISBN: 9781848546516
Number of pages: 368
Weight: 615 g
Dimensions: 239 x 156 x 33 mm
---
MEDIA REVIEWS
An unusual and fascinating take on a crime novel from the established and endlessly inventive Louise Welsh . . . With a strong central character and vivid depictions of the disorder that accompanies social breakdown, it's a gripping book that prepares the way nicely for the next volume * Guardian *
Don't start reading this if you have a long to-do list, it's a hypnotically readable thriller and you won't get much don't until you've finished it . . . What's gripping about this is the way the two stories, the crime thriller and the gathering apocalypse combine to create something tenser and scarier than either alone. The way that society gradually disintegrates is brilliantly done; it makes you feel just how fragile civilisation is * Independent on Sunday *
A tense, claustrophobic medical whodunit with an apocalyptic tone that cranks the stakes ever higher * Herald *
I was with Louise Welsh's gutsy gripping heroine Stevie Flint every terrifying step of the way * Kirsty Wark, author of The Legacy of Elizabeth Pringle *
I read it in two sittings, pausing only to sleep and dream about it. Gripping, perfectly paced and beautifully written * Erin Kelly, author of The Poison Tree *
We've come to expect lots of good things from Welsh, including a brilliant sense of location. She doesn't disappoint with her images of London breaking down. As ever, the writing is fluid, the dynamic taut and through the control of such small telling moments, Welsh deftly breathes life into her characters. Only an accomplished writer knows exactly when to let the reader fill in the gaps. Stevie is a gusty, gripping protagonist, beautifully drawn . . . Welsh has taken our everyday lives, given them a twist, and no supernatural manifestation of our darkest hours is any match for what real human beings can do to each other when mankind loses its humanity. This is just first part of a trilogy. Scary, shocking and touching by turns, this apocalyptic thriller will enthral. I haven't been so buried in a book in a while * Irish Independent *
A terrifying journey into the possible, this is dystopia for today. Feral, frightening and fascinating, A Lovely Way to Burn gripped and chilled me in equal measure * Val McDermid *
Welsh's potent take on the psychological thriller - her stupendous debut The Cutting Room - works by allowing a quietly menacing mood to hum beneath the most ordinary scenes. The writer she reminds me of most is Ian McEwan: both specialise in secrets, rather chilly sexuality, sudden reversals of fortune, and uneasy intimations of doom . . . A Lovely Way to Burn is superb popular fiction - a box-set waiting to happen. Roll on part two * Independent on Sunday *
The London of the novel at once recalls sci-fi dystopia, Dante's Inferno and accounts of the 1665 great plague . . . Welsh's plot is ably handled . . . She has in Stevie . . . an engaging, stroppy heroine for the trilogy this novel launches * Sunday Times *
This is a novel rich in the kind of iridescent word painting that has long been Welsh's speciality, and the vulnerable, often maladroit Stevie is a wonderful protagonist . . . readers will be impatient for the second in the trilogy * Independent *
The first in a trilogy, and it should be huge * Bookseller *
Welsh skilfully presents London, initially as it is now, but rapidly descending into a plague-gripped dystopia . . . I appreciate a book that affects me . . . the relentlessly taut suspense of A Lovely Way to Burn still lingers on my psyche. Such an apocalyptic crisis does not seem improbable and here's hoping freakishly foul weather and tube strikes are not an omen of things to come * Stylist *
Welsh constructs an intelligent mystery within the pages of A Lovely Way to Burn . . . It's close enough to what we know to be utterly terrifying and that was part of its hold on me. Welsh has taken our everyday lives, given them a twist, and put them in the background of an intriguing, addictive novel * Girlreporter *
Louise Welsh writes elegantly and has visualised London in extremis with immense and detailed clarity. It is all very exciting, and there are two more volumes to come * Literary Review *
[Louise] Welsh develops a fantastically written mystery which keeps you hanging on to every word. She creates excelling imagery of the struggle Stevie faces . . . A must read, which will leave you dreaming - or having nightmares - of apocalyptic London for weeks * Irish Examiner *
I've felt for a while that we are in the mood for an intelligent slice of London-based dystopia, and I think Louise Welsh has cracked it with A Lovely Way to Burn . . . it kept me up all night nervously turning the pages * Cathy Rentzenbrink, Bookseller *
The book isn't out until the 20th March but a mixture of Welsh's writing style and the subject matter made it impossible to resist * Crimepieces *
This is can't put down good * Candis *
You know you're in for a seriously chilling read in this apocalyptic thriller when three very unlikely killers - an MP, a hedge fund manager and a vicar - go on a murderous rampage in the sweltering capital * Marie Claire *
A brilliantly imaginative mix of mystery and apocalypse . . . perfect pacing and [a] wonderfully compelling main protagonist . . . top notch descriptive prose . . . I almost guarantee that this one will leave you with haunted dreams and a slight sense of imbalance . . . brilliantly written, superbly described. There are two more novels to come and I for one cannot wait! * Liz Loves Books *
A taut thriller so involving that I missed my bus stop! * Woman & Home *
There are no daughters, no sisters, no mothers in this darkening world; as the city turns to chaos, men roam the streets and women become invisible. This comment on what catastrophe may actually do to society makes Welsh's take on the dystopia less conservative and Wells-like, recalling instead writers such as Doris Lessing or Margaret Atwood. The pace and thriller-style of the narrative pitch her tale towards the commercial end of the market but her lone female in a world dominated by men gives it the subversive edge of a more literary work * Scotland on Sunday *
Gripping new dystopian thriller . . . Welsh has already proven her prowess as a controlling mistress of creepily suspenseful fiction with acclaimed chillers such as The Cutting Room and The Girl on the Stairs. This is an ambitious departure, being the first in a proposed Plague Times trilogy. It succeeds on several counts. It is a propulsive read, written in lean sentences and snappy cliffhanging chapters . . . Most impressive of all is the Scottish writer's evocation of a London that, with a Dickensian swagger, emerges as a pulsating untameable beast in its own right * Metro *
Welsh weaves thoughtful, emotional themes into a thriller plot - and does it very well . . . A Lovely Way to Burn is the first in a promised trilogy, and if Welsh can keep up the quality of writing and create an effective arc, future writers of apocalypse may indeed turn to her to see how it's done * Killing Time Crime *
The descriptions of London and society unravelling into chaos are utterly compelling and scarily realistic . . . Great if you like tense thrillers - and as it's the first in a series called The Plague Times Trilogy, it bodes well for the next two * Heat *
If you're looking for a novel that communicates thrills and paranoia to the extent that you forget anywhere else you're meant to be until you finish, look no further. I should add a caveat thought: you'll never again listen to a news item about a drug resistant 'super bug' without shivering, and that's even before Book 2 hits the bookshops. So, are you feeling brave? * Bookbag *
A chilling chronicle of an unravelling society and a true testament to an author at the height of her powers. Next instalments can't come soon enough * Upcoming4me *
A brilliantly imaginative thriller with a compelling heroine and well-paced plot that keeps the tension high * Hello *
A Lovely Way To Burn once more proves that there are few writers who can unsettle as Louise Welsh does * Scotswhayhae *
This is the first in a trilogy from the award-winning short-story and thriller writer; a scary vision of London falling apart that's addictively readable * Saga *
Chilling * Heat *
[A] pacy murder mystery . . . [Louise Welsh's] plague is plausible and chilling. In a city of desperate people, even the most benign places become fraught with danger, and every step of Stevie's amateur investigation is palpably tense * List *
A thrillingly dystopian mystery . . . It's a fine setup, and Stevie is a strong character, a forthright blend of sales sass and reporter brass. Welsh is particularly good at describing the institutional and social disorder that accompanies the outbreak of the sweats * Guardian *
Suspenseful and intelligent dystopian fiction. Welsh writes snappily and with filmic precision . . . Her setting, vivid and initially familiar, grows increasingly alien as the crisis worsens. Welsh knows exactly how to build tension and momentum as her lone hero presses on with her quest. She also knows how to create a memorably sinister world in which nothing and no one is solid, and the shreds of comfort that remain are intangible or inanimate * Sunday Business Post *
Louise Welsh delivers an absolute cracker of a crime thriller set against the backdrop of a country in the grip of a frightening plague . . . Welsh's picture of a rapidly-disintegrating society stands comparison of some of the best in this field, including John Wyndham's timeless classic, The Day of the Triffids, and the fact that A Lovely Way to Burn is the first in a trilogy set in the Plague Times is, for me and other disaster fans, very good news indeed * crimereview.co.uk *
Louise Welsh rarely repeats herself, a quality to celebrate in a crime novelist. A Lovely Way to Burn is a dystopian thriller set in an all-too-plausible version of contemporary London. Welsh puts her own distinctive mark on it . . . this intelligent thriller creates an alarmingly convincing picture of London on the brink of disintegration; it reminds us how fragile we are * Andrew Taylor, The Spectator *
Welsh plays brilliantly on our worst fears, and the pace never lets up. Seriously scary * The Times *
You may also be interested in...
×
Download the Waterstones App
Would you like to proceed to the App store to download the Waterstones App?
Reserve online, pay on collection.
Or,
add to basket
, pay online, collect in as little as 2 hours, subject to availability.
Thank you for your reservation
Your order is now being processed and we have sent a confirmation email to you at
When will my order be ready to collect?
Following the initial email, you will be contacted by the shop to confirm that your item is available for collection.
Call us on or send us an email at
Unfortunately there has been a problem with your order
Please try again or alternatively you can contact your chosen shop on or send us an email at