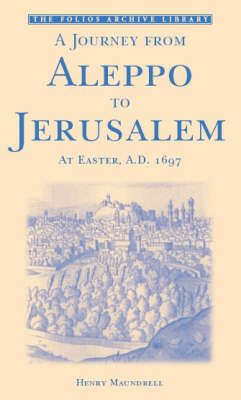 A Journey from Aleppo to Jerusalem at Easter, A.D. 1697 - Folios Archive Library (Paperback)
Henry Maundrell
Paperback
Published: 01/02/2009
Can be ordered from our supplier
On Friday 26 February, 1697, the Reverend Henry Maundrell rode out of the city of Aleppo in present-day Syria to begin what would become an 83-day Easter pilgrimage to Jerusalem. His journey was to inspire the eventual publication of this small book of lasting importance, "A Journey From Aleppo to Jerusalem At Easter A.D. 1697", which remains today one of the classics of early travel writing. Intended initially to be simply a diary, Maundrell received such interest from those he showed it to that he eventually decided to prepare it for publication. Although numerous other books had been published by other European travellers to the region, Maundrell's was unusual in that it was packed with precise, factual information about the antiquities of the Middle East, rather than simply relating personal adventures or tales of the 'exotic Orient'.The present volume, reprinted from the sixth edition (1740) which also includes an account of the author's trip to Mesopotamia, now makes Maundrell's observations accessible to modern readers. Travelling across Syria to Latakia, down the Syrian and Lebanese coasts and inland to Jerusalem and the Holy Land, and then visiting such places as Damascus, Baalbek and Tripoli on the return trip to Aleppo, Maundrell's meticulous descriptions of castles, mosques, churches, fortresses and other archaeological sites of note, are sure to be of great interest to all those fascinated by the history of this unique part of the world.
Publisher: Garnet Publishing Ltd
ISBN: 9781859642184
You may also be interested in...
We would love to hear what you think of Waterstones. Why not review Waterstones on Trustpilot?