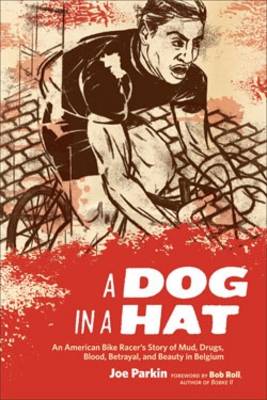 Dog in a Hat: An American Bike Racer's Story of Mud, Drugs, Blood, Betrayal, and Beauty in Belgium (Paperback)
Joe Parkin
(author)
Paperback
205

Pages / Published: 18/09/2008
In 1987, Joe Parkin was an amateur bike racer in California when he ran into Bob Roll, a pro on the powerhouse Team 7-Eleven. "Lobotomy Bob" told Parkin that, to become a pro, he must go to Belgium. Riding along a canal in Belgium years later, Roll encountered Parkin, who he saw as "a wraith, an avenging angel of misery, a twelve-toothed assassin" . Roll barely recognized him. Belgium had forged Parkin into a pro bike racer, and changed him forever. A Dog in a Hat is Joe's remarkable story. Leaving California with a bag of clothes, two spare wheels, some cash, and a phone number, Parkin left the comforts of home for the windy, rainswept heartland of European cycling. As one of the first American pros in Europe, Parkin was what the Belgians call "a dog with a hat on" -- something familiar, yet decidedly out of place. Parkin lays out the hard reality of the life--the drugs, the payoffs, the betrayals by teammates, the battles with team owners for contracts and money, the endless promises that keep you going, the agony of racing day after day, and the glory of a good day in the saddle. A Dog in a Hat is the unforgettable story of the un-ordinary education of Joe Parkin and his love affair with racing, set in the hardest place in the world to be a bike racer. It is a story untold until now, and one that you will never forget.
Publisher: VeloPress
ISBN: 9781934030264
Number of pages: 205
Weight: 408 g
Dimensions: 226 x 152 x 18 mm
---
MEDIA REVIEWS
"A Dog in a Hat is the most authentic book ever written on making a living as a pro cyclist in Europe." -- Bob Roll, Versus Tour de France cycling commentator "Is A Dog in a Hat the best book we've ever read about bike racing? Undeniably yes. The essential truths you'll learn about Belgian bike racing are timeless. And the self-effacing (and often hilarious) way Joe narrates the absurdity of these traditions will make you laugh out loud. Of everything written about bike racing throughout the history of mankind, Chapter 3, "Kermis Don't Play Fair," is the most important 20 pages ever penned. No one should be permitted to own a USA Cycling license without being able to recite this chapter from heart. You'll be fascinated by Joe's humility, his determination, and by the warped way domestiques set their goals and weigh success." -- CompetitiveCyclist.com "A Dog in a Hat is a page turner. Anyone who has raced in Europe or who wonders what it's like to jump the ocean on your own should pick up this book. Joe captures the struggle and the intensity to succeed, and the fact that he did it on his own is all the more impressive. Cycling in Europe is tough; doing it Joe's way is even tougher!" -- Frankie Andreu "Parkin's commentary is riveting, offering an insider look into the sport that few get to see, let alone experience." -- Mountain Bike magazine "I loved A Dog in a Hat. Joe's stories bring back many memories of racing in Belgium, where I learned how to fight for position in the echelon, to suffer in the gutter while jumping curbs and dodging potholes, and to pound out my guts when it really mattered. Belgium is a hard place to learn bicycle racing and Joe's story proves how tough he was." --Ron Kiefel "This plain, self-deprecating memoir has the ring of authenticity at the other end of the sport where--even today--not all the riders are being paid, the hotels are still bad, and the races are just as hard." --TinDonkey.com "Joe Parkin is a beautiful piece of work, and he turns out to be a better writer than I am a bike racer." --Bill Strickland, Bicycling magazine "[Readers] have a seat in the middle of the peloton as we see what Joe sees, breathe what he smells, watch as his peers juice up and we struggle with him as he strives to get out in front of it all. Parkin's words weave a colorful tapestry about living life on the bicycle racing circuit in Europe. Yet that tapestry is soiled and tattered because of the true cutthroat nature of bicycle racing and the absolute grit in the stories Joe relives for us." -- Dirt Rag magazine "Sordid, funny, and engrossing." -- Bike Snob NYC "Joe tells his story straight. It's not pretty, but it's not bitter." -- BikeRadar.com "Impossible to put down." -- Mountain Bike Action magazine "Parkin went native in an era when Americans were still exotic creatures, and not in a good way. This unglamorized insider's view is what makes A Dog in a Hat well worth reading. Parkin shows you life on the edge of the peloton. We know the great champions' stories, but Parkin's experience is far more illustrative of what a "pro cyclist" really is." -- PodiumCafe.com "A slice of literary badassness. I've had a lifelong struggle maintaining an attention span for reading books, but this is a page turner that's been hard for me to put down. A Dog in a Hat is truly captivating." -- HowtoAvoidtheBummerLife.com "Joe Parkin's heart was in racing on the road in Belgium and it is eloquently stated in his book. You should read A Dog in a Hat if you looking for a few small glimpses of the life experiences of a guy that lived the hard life." -- Steve Tilford, former professional cyclist "An honest, well-written insight into what it's like to move to Europe and try to make it as a pro racer. A Dog in a Hat is funny, touching, brave, and honest in its look at the complicated world of the European pro cycling scene." -- The Independent "Parkin has written an eloquent and historic volume. In the very uniqueness of his story, Parkin realizes a universality that gives his recollections a resonance with any cyclist. Do not miss this book." -- BelgiumKneeWarmers.com "A Dog in a Hat reads like Joe Parkin was just telling you these epic stories on a ride, up a climb, or at a coffee shop. That's the beauty of this book. It's not a hero's journey, but instead a racer's tale." -- BikeHugger.com "There's something very approachable about the underdog, the guy who works as hard as anyone, but never achieves the stardom we all chase. I peeled through A Dog in a Hat in a few nights, always wanting to know what was coming next. Joe's candor is refreshing to read and entertaining as hell." -- PezCyclingNews.com "Written as if you were riding alongside him, Parkin's A Dog in a Hat is a quick, highly addictive read. You can feel the cobbles under the pen." -- Cog Magazine "A Dog in a Hat reads like a novel and serves up an inspiring, compelling and captivating racer's tale." -- The Oregonian "I loved A Dog in a Hat. Once in, I couldn't put it down. The book rings of truth, youth, and passion." -- Andreas Hestler "A Dog in a Hat is not the idealised notion most of us have of the life of a professional cyclist, but it's all the more gutsy and enjoyable for its self-effacing honesty. I could read it all over again right now." -- TheWashingMachinePost.net "In his new book, A Dog in a Hat, Joe Parkin gives us a window into the life of someone who was born to be a professional bike racer. It's not pretty, it's not glamorous, some of it is a bit of inside baseball, but it's a great read. I picked up a copy at Interbike, brought it home and read the 232 pages over the course of two evenings. I literally could not put it down." -- Smithers Minneapolis "The April 17, 2000 issue of VeloNews closed with a typically fervent Bob Roll screed entitled "51 Things To Do Before You Die". "#36. Learn from Joe Parkin's life story." Parkin's prose fills in all the cracks. Quite simply, the man is tough as nails and chose the absolute hardest way to break into European professional cycling: just showing up in Ghent with a bike, a duffel bag of clothes, three months worth of cash, and a phone number to call scrawled on a scrap of paper. You can truly appreciate Parkin's re-living of the squalid truth of late '80s Euro pro cycling." --BobkeStrut.com "It's a wild, gritty, page-turning ride: Grab the book, rub some embrocation into your quads and calves, and settle into your couch for a great read as you plot your own future bike exploits." -- Cyclo-club.com "Joe Parkin did what few other Americans dared do...A Dog in a Hat fills a void in cycling literature. Since so few Americans have accomplished what Joe Parkin has, his book stands on its own as an original account of European bike racing, presented from a racing cyclist's perspective." -- USCyclingReport.com "A Dog in a Hat is a fast-paced, revealing read, and any cyclist who enjoys racing will be equally inspired and shocked at some of the stuff that goes on inside the peloton. It's a rare glimpse into a world often concealed, and Parkin's struggle to gain acceptance makes the book a truly inspiring read." -- RoadCyclingUK.com
You may also be interested in...
Simply reserve online and pay at the counter when you collect. Available in shop from just two hours, subject to availability.
Thank you for your reservation
Your order is now being processed and we have sent a confirmation email to you at
When will my order be ready to collect?
Following the initial email, you will be contacted by the shop to confirm that your item is available for collection.
Call us on or send us an email at
Unfortunately there has been a problem with your order
Please try again or alternatively you can contact your chosen shop on or send us an email at