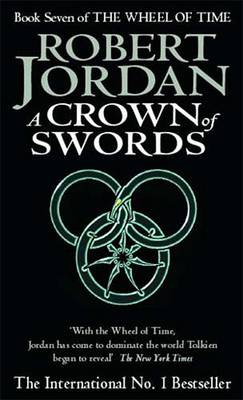 A Crown of Swords - The Wheel of Time Book 7 (Paperback)
Robert Jordan
Paperback
Published: 20/03/1997
Click

&

Collect
From your local shop
The seventh book in Robert Jordan's internationally bestselling epic fantasy series, THE WHEEL OF TIME, now reissued with a stunning new cover design. The war for humanity's survival has begun. Rand al' Thor, the Dragon Reborn, has escaped the snares of the White Tower and the first of the rebel Aes Sedai have sworn to follow him. Attacked by the servants of the Dark, threatened by the invading Seanchan, Rand rallies his forces and brings battle to bear upon Illian, stronghold of Sammael the Forsaken ...In the city of Ebou Dar, Elayne, Aviendha and Mat struggle to secure the ter' angreal that can break the Dark One's hold on the world's weather - and an ancient bane moves to oppose them. In the town of Salidar, Egwene al'Vere gathers an army to reclaim Tar Valon and reunite the Aes Sedai ...And in Shadar Logoth, city of darkness, a terrible power awakens ...Find out more about this title and others at www.orbitbooks.co.uk
Publisher: Little, Brown Book Group
ISBN: 9781857234039
You may also be interested in...
"The calm before the storm..."
Like many long-term fans, it has taken me a while to get around to re-reading the whole "Wheel" series: weighing in at fourteen hefty tomes, I realised that I had forgotten a lot of the detail when book #14... More
"Action and pace returns to this epic series"
Thankfully this one picked up the pace again from the last book, which got a little bogged down in detail and story set up. Here there are three interwoven stories, the first follows Rand as he tries to enjoy life... More
We would love to hear what you think of Waterstones. Why not review Waterstones on Trustpilot?