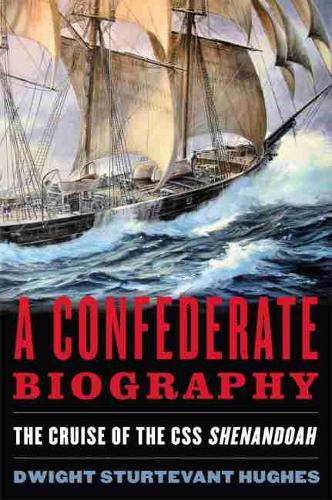 Hardback
272

Pages / Published: 30/12/2015
From October 1864 to November 1865, the officers of the CSS Shenandoah carried the Confederacy and the conflict of the Civil War around the globe through extreme weather, alien surroundings, and the people they encountered. Her officers were the descendants of Deep South plantation aristocracy and Old Dominion first families: a nephew of Robert E. Lee, a grandnephew of founder George Mason, and descendants of one of George Washington's generals and of an aid to Washington. One was even an uncle of a young Theodore Roosevelt and another was son-in-law to Raphael Semmes.

Shenandoah's mission-commerce raiding (guerre de course)-was a central component of U.S. naval and maritime heritage, a profitable business, and a watery form of guerrilla warfare. These Americans stood in defense of their country as they understood it, pursuing a difficult and dangerous mission in which they succeeded spectacularly after it no longer mattered. This is a biography of a ship and a cruise, and a microcosm of the Confederate-American experience.
Publisher: Naval Institute Press
ISBN: 9781612518411
Number of pages: 272
Weight: 612 g
Dimensions: 235 x 156 x 25 mm
---
MEDIA REVIEWS
"Hughes notes in his preface that the objective of the volume 'is to provide an entertaining and educational story not only for naval and maritime history enthusiasts but also for anyone who would enjoy a fresh perspective on the Civil War.' His work achieves this goal admirably. A Confederate Biography: The Cruise of the CSS Shenandoah is at once a pleasurable and enlightening reading experience." -- Maritime Archaeological and Historical Society
"[A Confederate Biography] is truly a standout. Accessible to the non-expert in things maritime, it illuminates how ships of that time functioned, what it took to work them, and the variety of cultures that blended to accomplish it. The author, coming himself from a life at sea, speaks from inside the experience and his descriptive gifts for exploring the sights, sounds, and feelings of the life at sea bring you aboard and make you part of the voyage. In this respect, it has more of the intimate feel of a movie than a formal documentary, which is welcome and fulfilling from page to page, keeping you involved with the life inside while still aware of the history simultaneously going on aboard ship and around the globe."--International Journal of Maritime History
"Anyone with an interest in commerce raiding, the Confederate navy, and the American Civil War will find A Confederate Biography a revealing account of the ship."--Pirates and Privateers
"Dwight Hughes, a Naval Academy graduate and a retired naval officer, has well told this compelling story of men against the sea and against tremendous odds of success. He takes his title from Adm. Raphael Semmes's assertion that 'The cruise of a ship is a biography.' Hughes's text is sparingly annotated, but thorough research and his use of the journals of officers and crew of the ship requires little amplification. The author recounts the highs and lows of their experiences, as well as details of their daily routines. Battling gales in the South Atlantic or North Pacific, getting stuck in Arctic ice, swooping down on unsuspecting victims, or conducting the humdrum but inherently dangerous activities of a ship under sail, the men of the Shenandoah put it all in writing, and Hughes has faithfully reproduced it here. The Shenandoah's story has been presented in print several times before but never better than in this Naval Institute publication."--JAMP: The Journal of America's Military Past
"Hughes' work is a solid effort into the Shenandoah's famed voyage and his last point of the book certainly proves true: "The ship and men deserve to be remembered."-Emerging Civil War.com
"This is an interesting, well-written book. Although the CSS Shenandoah's story is well known, Hughes's book provides additional insight into the cruise and the crew. It is highly recommended."--Civil War News
"A Confederate Biography is a good read for naval historians, American Civil War and armchair admirals alike."--The Northern Mariner
"A fascinating saga of the far-flung fringes of the Civil War, A Confederate Biography will captivate scholarly historians and lay readers alike, and is a choice pick for public and college library collections."-Midwest Book Review.com
"As the 'last stand' of the Confederacy, the exploits of the CSS Shenandoah have been the subject of several books. In this latest study of the vessel, independent scholar and career naval officer Hughes is very adept at describing the workings of the ship, and clearly explains nautical terms perhaps not familiar to the typical reader. His descriptions of shipboard life and the pros and cons of such a close living and working relationship are both thorough and vivid. Hughes also provides a thorough account of the entire life of the ship, giving equal weight to her secretive construction through her postwar surrender, whereas other studies tend to emphasize the latter part of the ship's career, when her actions could possibly be interpreted as piracy. Although well written and fully researched, the book contains but a single map, a strange oversight for a work that so thoroughly charts a voyage and describes a multitude of locales. General readers will enjoy the book, but the general lack of footnotes makes it less useful as an academic resource."--Choice
"Dwight Hughes provides an excellent account of CSS Shenandoah that is easily understood by historians and lay audiences alike. Relying on primary sources, especially personal journals of the officers and the annotated log of the captain, the book provides a great insight into the men who commanded the vessel showing their various moods that ranged from delighted at hearing about the Confederate battle victories to sadness at missing their loved ones at home. Hughes easily blended explanations of the various ships' designs and nautical terms into his story with no difficulty making the book available to readers of all backgrounds. A Confederate Biography is an excellent look at an interesting slice of the Civil War."--Naval Historical Foundation
"Dwight Hughes's first book connects this tale of the sea with a general audience that does not get the reader lost in shipboard jargon. This volume is well worth the read, and this reviewer looks forward to the author's next book." - History: Reviews of New Books
"Supporting the narrative are a detailed map of the voyage, plans of the layout of ship and, in an epilogue, brief biographies of each of the key characters. A Confederate Biography is a well-researched story about an obscure part of naval history and provides an intriguing closing chapter on the American Civil War. It is a fascinating and engaging read, and highly recommended." --Warship, as part of the publication's Naval Books of the Year
You may also be interested in...
Simply reserve online and pay at the counter when you collect. Available in shop from just two hours, subject to availability.
Thank you for your reservation
Your order is now being processed and we have sent a confirmation email to you at
When will my order be ready to collect?
Following the initial email, you will be contacted by the shop to confirm that your item is available for collection.
Call us on or send us an email at
Unfortunately there has been a problem with your order
Please try again or alternatively you can contact your chosen shop on or send us an email at