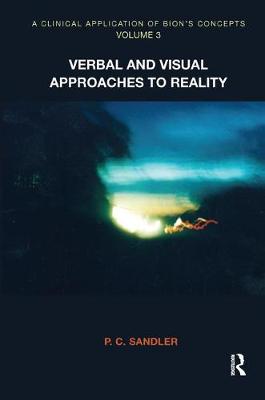 A Clinical Application of Bion's Concepts: 3: Verbal and Visual Approaches to Reality (Paperback)
P. C. Sandler
Paperback
Published: 31/12/2012
Can be ordered from our supplier
The final book in the three-volume series, A Clinical Application of Bion's Concepts - a practical companion to the dictionary of concepts The Language of Bion - is divided in four main parts. Part I, through the aid of a transdisciplinary study between psycho-analysis, mathematics, and physics, proposes four expanded variations of Bion's epistemological tool, The Grid. This was construed around an Euclidean space represented graphically by two dimensions constantly conjoined: the dimension of Functions of the Ego with the dimension of Psycho-genetics of thought processes. Bion's tool, by its own design, allows possibilities of development with regards to its ability to scrutinize the 'truth-value' of statements issued both by patients and analysts in the space-time, or the 'here and now' of psycho-analytic sessions or groups of sessions. The proposal is made though three steps; each one adds a subsequent dimension to the earlier one considered. The first step constitutes a Tri-dimension Grid; the added dimension is the Intensity of phenomena observed though the aid of the two dimension, original Grid. From this is proposed a Four-dimension Grid, which examines the evolution of the session with another dimension, added to the three already mentioned: the dimension of Time. Developing out from this, is proposed the a Six-dimension Grid, with the aid of more recent developments which allow a more precise examination of the space-time unit as observed by mathematicians and physicians. Finally, in order to better illuminate the complexity of mental functioning, there is proposed a Multi-dimension Grid. There is a detailed clinical illustration to furnish an example of the use of the Grid.Part II is a study of the most elemental bearings of the psycho-analytic clinic - free associations and free floating attention - which evolves from the study of Dreams, under the contributions of Bion (presented in volume I), as well as from the study of the analytic function and the function of the analyst (presented in volume II). In Part III Sandler shows how the pursuit of truth can be seen as one of the purposes of the psycho-analytic investigation in the clinic; a transdisciplinary study is presented, to assist the practicing analyst, around epistemological issues. Freud and Bion's contributions to it are scrutinized under some lights hitherto unused in the psycho-analytic literature. Part IV presents Sandler's proposals for expanding the observational power of existing Bion's theories; in this part another basic assumption, based on the original three proposed by Bion, is described, in connection with his contributions to the study of hallucinosis.
Publisher: Karnac Books
ISBN: 9781780490687
You may also be interested in...
We would love to hear what you think of Waterstones. Why not review Waterstones on Trustpilot?