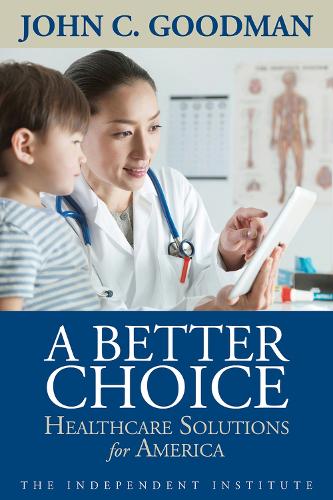 A Better Choice: Healthcare Solutions for America (Independent Studies in Political Economy) (Paperback)
Goodman
(author)
Paperback
126

Pages / Published: 30/05/2015
Despite having surmounted numerous obstacles, the Affordable Care Act - also commonly known as "Obamacare" - remains highly controversial and faces ongoing legal and political challenges. The law's staunchest critics want to repeal and replace the entire law, while even its supporters acknowledge that serious changes are needed. The question is: replace it with what? In A Better Choice: Healthcare Solutions for America, economist and John C. Goodman answers the question clearly and concisely. For anyone who wants to better understand Obamacare's most serious problems and learn about some of the boldest prescriptions designed to remedy them, Goodman's book is a must-read.
Publisher: Independent Institute,U.S.
ISBN: 9781598132083
Number of pages: 126
Weight: 200 g
Dimensions: 226 x 150 x 10 mm
---
MEDIA REVIEWS
"John Goodman has written a clear and compelling analysis of America's health care morass. Anyone who wants to understand what the politicians and policy wonks are arguing about should turn to A Better Choice. Liberals and conservatives should both read this book to understand why Obamacare does not work as it was supposed to. Everyone should read this book to learn what the solution is." --Joseph R. Antos, Wilson H. Taylor Scholar in Health Care and Retirement Policy, American Enterprise Institute
"Regardless of whether the Affordable Care Act (ACA) has any merit in theory, its practical realities point toward a death spiral as it will likely collapse under its own weight, for all the reasons John Goodman lucidly recounts in A Better Choice. Goodman offers a thoughtful, thought-provoking alternative to the ACA (Obamacare) and the enormous harms it would cause, to which everyone, especially all those who favor free markets and limited government, should pay very close attention." --E. Haavi Morreim, Professor, College of Medicine, University of Tennessee Health Science Center
"Nancy Pelosi famously told us that we could find out what was in the Affordable Care Act once it passed. It is now five years later, and thanks to its convoluted concepts and its thousands of pages of rules and regulations few have wended their way through the ACA, and still fewer understand what it all means. Fortunately John Goodman, an expert on the American health system and a perceptive analyst, has studied the Act and has written the insightful book A Better Choice, that reveals what is in the ACA, what is wrong with it, and what could and should be done to provide cost-effective healthcare to our citizens. The ACA starts from the premise that the federal government knows best when it comes to the provision of healthcare. John Goodman shows the pitfalls of this premise and how the market can be harnessed to align consumer choice and provider incentives to more effectively resolve the issues of resource use and financing of healthcare. Markets are particularly important for the U.S. which has a huge and highly heterogeneous population--317 million people (third largest in the world)." --June E. O'Neill, Wollman Distinguished Professor of Economics and Director of the Center for the Study of Business and Government, Baruch College; former Director, Congressional Budget Office
"John Goodman understands the real life effects of the Affordable Care Act and the proposed alternatives. John also writes extremely well, making complicated concepts clear. All this makes A Better Choice a highly recommended read for those who wish to understand the current health policy debate." --Bill Cassidy, M.D., U.S. Senator
"Our health care system continues to face higher costs, more mandates, and complicated rules, even as the needs of the consumer are constantly changing. America needs new and innovative approaches--'solutions'--to chart a better course on care. Dr. Goodman has proved himself an innovator, and with his book A Better Choice, he continues to challenge policymakers with thoughtful, market-based approaches toward health care." --John M. Engler, former Governor of Michigan; President and CEO, Business Roundtable
"John Goodman has been one of the most important health economists in the country. He has been an informed and prescient critic of the current health system, and his forecasts of the failings of Obamacare have been exactly on target. He has also been a leader in proposing workable alternatives, and his health savings account plan has been a success whenever it has been used. In A Better Choice he continues his important work. He first shows in detail what is wrong with Obamacare. But he does not stop there: he provides the important alternative, fixed-sum tax credits, that could and should replace all other health subsidies, including the subsidy for employer provided health insurance. He shows how this plan could greatly improve the efficiency of our health care system and also lead to increased health care for the disadvantaged. This is a serious book and one the new Congress should examine very carefully." --Paul H. Rubin, Samuel Candler Dobbs Professor of Economics, Emory University
"A Better Choice is an intriguing book that combines John Goodman's most sensible proposals all in one place. It directly addresses the litany of the issues we face with the two sides on the how to deal with these issues. On the one hand it contrasts the ACA vision with the reality. On the other hand it outlines how simple a real solution might be." --Thomas R. Saving, Jeff Montgomery Professor of Economics and Director of Private Enterprise Research Center, Texas A & M University
"One good thing that has come out of the Affordable Care Act is that it has produced serious debate about how to fix the American healthcare system. An excellent place for readers interested in this question to start would be John C. Goodman's A Better Choice, which zeroes in on the many problems with the ACA and proposes workable, market-based alternatives." --Joel M. Zinberg, M.D., J.D., F.A.C.S., Associate Clinical Professor, Icahn School of Medicine at Mount Sinai Hospital; Visiting Scholar, American Enterprise Institute
"In A Better Choice, John Goodman has worked a miracle. He has distilled the essence of a plan to improve the limping and vulnerable Obamacare program into four points (read the book to find out), which improve opportunities for choice, improve efficiency in that choice, and expand the set of people likely to end up with health insurance coverage. Not that everyone, on either left or right, will agree with all of the particulars of each point or their suggested implementation--but the book does provide a fresh starting point, an alternative narrative, that is virtually guaranteed to get us to a better place than we are at present." --Mark V. Pauly, Bendheim Professor, Professor of Health Care Management, and Professor of Business and Public Policy Wharton School; University of Pennsylvania; former Commissioner, Physician Payment Review Commission
"John Goodman achieves something most writers only dream of. His strongest adversaries openly endorse his books as 'must-reads.' In a politically charged atmosphere, his book Priceless won praise from across the political spectrum. Now, A Better Choice offers serious ideas for pulling American healthcare out of its current morass. You don't have to agree with all or even with most of Goodman's ideas to find A Better Choice indispensable." --Robert F. Graboyes, Senior Research Fellow, Mercatus Center, George Mason University "After half a decade of turmoil generated by the Affordable Care Act in a three trillion dollar healthcare economy, John Goodman's A Better Choice succinctly diagnoses the problems and lays out a practical treatment plan. His six principles of health reform transcend the poisoned and dishonesty of late and offer the proper terms for a real solution. As politicians search to find remedies before the health economy is too damaged to alter course, they will be well served reading and acting on the policy prescriptions in A Better Choice." --Stephen T. Parente, Minnesota Insurance Industry Chair of Health Finance, Associate Dean of MBA Programs, and Director of the Medical Industry Leadership Institute; Carlson School of Management; University of Minnesota "The Affordable Care Act signed into law by President Obama abruptly altered the pathway of healthcare in the U.S. Contrary to the desire of most Americans, this government centralization was undertaken without understanding, or perhaps even in spite of, the deleterious impact it would have on medical care access, quality, and cost, and without regard for its broader harms to employment and future healthcare innovation. In A Better Choice, John Goodman articulates the important problems with Obamacare in clear language, laying out the core impacts of the law for all those interested in truly understanding the issues. He then details how to transition to a healthcare system that provides access to all while maintaining the high quality of what is factually the world's best medical care. I highly recommend the book to all those interested in the future of America's health care." --Scott W. Atlas, David and Joan Traitel Senior Fellow, Hoover Institution, Stanford University "As Obamacare continues to present us with more complications and disappointments, A Better Choice indeed offers in clear and compelling terms, a better choice for all Americans--one that strips away the bureaucratic controls and mandates, and allows consumers to take over their own healthcare decisions. John Goodman provides a devastating indictment of the current system, and supplies a clear roadmap toward a more certain and prosperous future." --Richard A. Epstein, Laurence A. Tisch Professor of Law, New York University
You may also be interested in...
Simply reserve online and pay at the counter when you collect. Available in shop from just two hours, subject to availability.
Thank you for your reservation
Your order is now being processed and we have sent a confirmation email to you at
When will my order be ready to collect?
Following the initial email, you will be contacted by the shop to confirm that your item is available for collection.
Call us on or send us an email at
Unfortunately there has been a problem with your order
Please try again or alternatively you can contact your chosen shop on or send us an email at