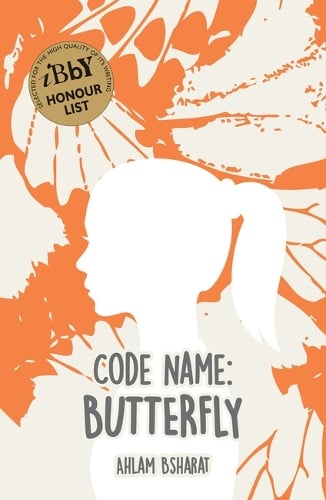 Paperback
Published: 27/05/2016
With irony and poignant teenage idealism, Butterfly draws us into her world of adult hypocrisy, sibling rivalries, girlfriends' power plays, unrequited love... not to mention the political tension of life under occupation. As she observes her fragile environment with all its conflicts, Butterfly is compelled to question everything around her. Is her father a collaborator for the occupiers? Will Nizar ever give her the sign she's waiting for? How will her friendship with the activist Mays and the airhead Haya survive the unpredictable storms ahead? And why is 'honour' such a dangerous word, anyway?
Publisher: Neem Tree Press Limited
ISBN: 9781911107026
Dimensions: 130 x 198 x 19 mm
---
MEDIA REVIEWS
'We look out through the eyes of a 14 or 15-year-old girl who doesn't know what to think about her eyebrows, much less the two-state solution. We, like her, must start over with new vocabulary. Indeed, if Butterfly has a superpower, it's her mastery of the power of questions. ... the book's questions strip not just Butterfly of certainty but also the reader, making it a valuable read for a teen or adult.' -- Marcia Lynx Qualey 'A well-written and thoughtful attempt to tease out the complex inner life of a Palestinian girl as she interacts with her family and friends ... Highly recommended not just for teenagers and young adults but for readers of all ages.' -- US High School teacher '... powerful short novel ... beautiful, descriptive prose ... searingly honest and brave portrayal of the harsh realities of life living under occupation seen through the eyes of the young protagonist who is trying hard to make sense of it all.' 'The best Arab young adult novel, hands down. And like all the best literary characters, our heroine is likeable but also complex and flawed.' -- Researcher in Children's Fiction, Glasgow University; former Anna Lindh Foundation employee '... the personal squabbles and betrayals at the heart of this novel make for a fascinating and enlightening read.' '... her observations of life under occupation are often both astute and amusing, and the butterfly motif employed throughout demonstrates perfectly the journey of a teenager moving towards adulthood.' Bsharat is a Palestinian writer, and in Code Name: Butterfly she conjures up a teenage girl living under the Israeli occupation. In some ways 'Butterfly' (not her real name) is just like any other teenager, complex and dramatic, with many of the same preoccupations (friendship, rivalry, family tensions, impossible dreams), but the harsh political and social conditions in which she lives are quite unlike anything most of the book's readers will recognize. Enlightening, funny and affecting, Code Name: Butterfly is a brief story that packs quite a punch. 'Like many adolescents, she feels unable to talk to her parents, her siblings or friends, and so stores her questions and dreams in an imaginary treasure chest, which she declares almost full to bursting point. Herein lies the sadness: her questions are neither asked nor answered and her dreams are never shared, but by the end of the novel she realizes that grown-ups do not have all the answers and maybe more importantly, that they themselves have many unanswered questions of their own ... her observations of life under... occupation are often both astute and amusing, and the butterfly motif employed throughout demonstrates perfectly the journey of a teenager moving towards adulthood, growing in strength and resilience, turning metaphorically from an ugly caterpillar into a beautiful butterfly.' Code Name: Butterfly contains five vignettes that span a crucial year in its protagonist's life, as she turns from a girl to a woman, falls in love for the first time, and has her heart broken-more than once. Her personal story is inseparable from the story of her village, where martyrdom is a fact of life and can happen from a car accident as easily as from an Israeli bullet ... Code Name: Butterfly is one of the few YA novels available in English that presents life under occupation from the perspective of a Palestinian writer. The unusual style, more summary than scene, works because Bsharat draws readers into the lives of her protagonist, her family, and her friends, revealing the contradictions and conflicts of living under occupation. As Butterfly's beloved Baba points out, the villagers are often their own worst enemies, and the personal squabbles and betrayals at the heart of this novel make for a fascinating and enlightening read. A useful glossary defines Arabic words used in the text and summarizes the key historical events that affect the characters' present-day lives. Code Name: Butterfly was named to the 2012 IBBY Honour List of outstanding books, selected from publications in more than 70 countries. 'A beautiful coming of age tale, and a compelling account of the injustices faced by those living under occupation. Highly recommended.' -- Literacy volunteer at UK charity Beanstalk 'A beautiful, astounding book that daringly, yet seamlessly blends the dreamy world of adolescence with the tough questions it brings. Code Name: Butterfly speaks with intelligence, wit and irony about the injustices and implications of occupation.' -- Chairman The book travels in the inner world of the main hero to discover her thoughts and dreams. We are able to know her inside out as if she is whispering to the reader throughout the book about her deepest and heartfelt secrets...I read the Arabic version and the English translation, which is excellent. I highly recommend this book. The book is aimed at teenagers between the age of 13 and 16 but it is suitable for adults too. I have thoroughly enjoyed reading it as it reveals the Palestinian daily life in a very real and simplistic way. * Head of Arabic at Oundle School, UK * It is probably testament to Ahlam Bsharat's skills that one wants more. I do hope she will write another, longer book with a similar POV and more plot; this one is excellent and I recommend it - if only there were more of it. * Amazon reviwer *
You may also be interested in...
×
Download the Waterstones App
Would you like to proceed to the App store to download the Waterstones App?
Reserve online, pay on collection


Thank you for your reservation
Your order is now being processed and we have sent a confirmation email to you at
When will my order be ready to collect?
Following the initial email, you will be contacted by the shop to confirm that your item is available for collection.
Call us on or send us an email at
Unfortunately there has been a problem with your order
Please try again or alternatively you can contact your chosen shop on or send us an email at