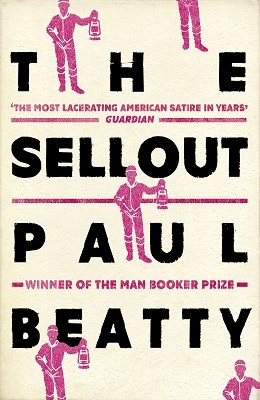 Paperback
304

Pages
Published: 01/06/2017
Turning themes of racism and slavery inside out in service of a devastatingly clever narrative message, Beatty spins a web of splenetic black comedy and social satire in this provocative, wickedly funny novel.
Winner of the Man Booker Prize 2016
All it takes is a daytrip past Georgetown and Chinatown. A slow saunter past The White House, Phoenix House, Blair House and the local crack house for the message to become abundantly clear. Be it ancient Rome or modern-day America, you're either a citizen or a slave.
A biting satire about a young man's isolated upbringing and the race trial that sends him to the Supreme Court, The Sellout showcases a comic genius at the top of his game.
Born in the 'agrarian ghetto' of Dickens on the outskirts of Los Angeles and raised by a single father, a controversial sociologist, the narrator of The Sellout spent his childhood as the subject in racially charged psychological studies. He was led to believe that his father's pioneering work will result in a memoir that will solve his family's financial woes. But when his father is killed in a police shoot-out, he realises there never was a memoir. All that's left is the bill for a drive-thru funeral.
Fuelled by this deceit and the general disrepair of his hometown, the narrator sets out to right another wrong: Dickens has literally been wiped off the map to save California from further embarrassment. Enlisting the help of the town's most famous resident - the last surviving Little Rascal, Hominy Jenkins - he initiates the most outrageous action conceivable: reinstating slavery and segregating the local high school, which lands him in the Supreme Court.
Beatty's fast-paced, hard-hitting prose is as eloquent as it is laugh-aloud funny. He is a master of his craft, riffing on the chords of contemporary black culture with a speed and deftness that leaves his readers breathless.
The Sellout is an outrageous and outrageously entertaining indictment of our time.
'The first 100 pages of his new novel, "The Sellout," are the most caustic and the most badass first 100 pages of an American novel I've read in at least a decade. I gave up underlining the killer bits because my arm began to hurt.' The New York Times
Winner of the National Book Critics Circle Award for Fiction 2016 Shortlisted for the Bollinger Everyman Wodehouse Award 2016
Publisher: Oneworld Publications
ISBN: 9781786071460
Number of pages: 304
Dimensions: 198 x 129 x 22 mm
---
MEDIA REVIEWS
'A no-holds-barred satire about the history and legacy of racism in America.' - The Guardian, Best Books of the Year

'A book of coruscating satire and the darkest humour whose bilious narrative voice leaves you at once enthralled and exhausted.' - Observer, Best Books of 2016
'One of the few books of recent years that has made me choke with laughter.' - Daily Mail, Best Books of 2016
'A provocative, razor-sharp satire.' Mail on Sunday, Best Books of 2016
'Wow, the Man-Bookers got it right! Nothing is harder to write or easier to read than a full-on comic-philosophic novel that makes you laugh and think, sometimes at the same time. Nathanael West and Joseph Heller are hooting from heaven for this one. If you haven't already read Paul Beatty's The Sellout, your life is more meagre for the omission.' - Simon Schama, Financial Times, Best Books of 2016
'A deeply ironic, comically inventive and sometimes very sad novel.' - Lorien Kite, Financial Times, Best Books of 2016
'[An] outrageous scattergun satire.' - Telegraph, Books of the Year
'A hilarious, anger-fuelled cadenza that feels as if it were written in one manic burst.' - Mark Haddon, Observer, Best Books of 2016
'Bitterly funny and finely layered...[The Sellout] seems even more essential after the racially demarcated "whitelash" of Donald Trump's victory.' - Tom Gatti, New Statesman, Books of the Year 2016 *
'I was banned from reading in bed because I was laughing so much.' - Olivia Williams, Man Booker Judge 2016
'Brilliant. Amazing. Like demented angels wrote it.' - Sarah Silverman
'A sharp satire of contemporary America and an irreverent but poignant take on the country's racial tensions.' - The Lady
'[There is so much to enjoy in this profane battering-ram of a novel.' - New Books *
'Dazzling...vital and vigorous.' Bay Books
'A breathtakingly confrontational American race satire with a big laugh and a gasp on every page.' - Peter Bradshaw, The Guardian
'This brilliant satire on racial politics in the US is at once timely, hilarious and outstanding.' - Robert McCrum, Observer
'One of the most astute pieces of satire to have discussed the heightened racial tension in the USA in recent years...one of the most compelling and funny pieces of politically relevant fiction seen for some time- ' - Country Life
'[A] whip-smart, gag-happy assault on modern American race relations.' - Metro
'A compelling act of demonstrative rhetoric, a masterful show of verbal energy that questions just how far equality has come and where it hopes to go.' - New Statesman
'Beatty is an original and irreverent talent.' - The Times
'Paul Beatty's blistering The Sellout shares DNA with the work of Swift, as well as possessing some of the savagery of Wyndham Lewis, and the single-minded absurdity of Myles na gCopaleen.' - Jon Day, Man Booker Judge 2016
'There's satire and then there's satire, and without question Paul Beatty's caustic third novel, The Sellout, definitely falls into the latter category...Brutally honest and very funny.' - The Independent
'An outrageous scattergun satire taking aim at racism and what racism has done to black Americans... The Sellout aims to do for race relations what Joseph Heller's Catch-22 - a favourite novel of Beatty's - did for the Second World War...Beatty's sharp humour challenges pieties from all sides, while never losing sight of the fundamental issue: America's racism and the legacy of slavery. Intelligent and entertaining.' The Telegraph
'Not for the faint-hearted.' - Daily Mail
'Both riotously experimental and touching...erudite...and viscerally engaging...Exceptional comic writing makes the skeletal plotting work...Beatty's inspiring new novel about the impossibility of "post-racial" anything in America is much more than "scathing" - it is constructive.' - Times Literary Supplement
'There's satire and then there's satire, and without question Paul Beatty's caustic third novel, The Sellout, definitely falls into the latter category...brutally honest and very funny.' - The Independent
'Beatty's sharp humour challenges pieties from all sides...Intelligent...entertaining...exhilarating.' - The Daily Telegraph *
'The longer you stare at Beatty's pages, the smarter you'll get.' - The Guardian
'[A] howl-a-passage assault on the pieties of race debates in America...outrageous, hilarious and profound...It takes a whole other level of sheer audacity to expose atrocious things through the play of wit. Beatty plays for high stakes - but he wins. His brilliant, beautiful and weirdly poignant book knocks the stuffing out of right-thinking solemnities and he delivers droll wisdoms besides which the most elevated rants...pale into ponderous sententiousness...Juiciness stains every lovely page of Beatty's mad, marvellous, toothsome book.' - Simon Schama, Financial Times
'[An] outrageous, riff-strewn satire on race in America...[The Sellout] combines effervescent comedy and stinging critique, but its most arresting quality is the lively humanity of its char-acters.' - The New Yorker
'Hilariously caustic.' - Rolling Stone
'Scarysmart...A hell of a ride.' - Newsweek
'[The Sellout] is among the most important and difficult American novels written in the 21st century...It is a bruising novel that readers will likely never forget.' - Los Angeles Times
'I am glad that I read this insane book alone, with no one watch-ing, because I fell apart with envy, hysterics, and flat-out awe. Is there a more fiercely brilliant and scathingly hilarious American novelist than Paul Beatty?' - Ben Marcus, author of The Flame Alphabet
'Let's get this out of the way: The Sellout is a work of genius, a satirical opus on race in 21st-century America.' - O, The Oprah Magazine
'`[The Sellout] may end up being the smartest, funniest, and most important novel of 2016.' - Flavorwire
'Had we been granted a chunk of pages in this magazine to extol the virtues of Paul Beatty's uproarious new novel, The Sellout, we could've easily and gladly filled them - much as Beatty floods his 288-page racial satire with blistering comic flourishes.' Penthouse
'The Sellout isn't just one of the most hilarious American novels in years, it also might be the first truly great satirical novel of the century...[It] is a comic masterpiece, but it's much more than just that-it's one of the smartest and most honest reflections on race and identity in America in a very long time.' - NPR.org
'Beatty creates a wicked satire that pokes fun at all that is sacred to life in the United States...His story is full of the unexpected, resulting in absurd and hilarious drama.' - Library Journal
'As Mark Twain so ably showed us, America...is rich with mate-rial worthy of ridicule. But where is today's Twain? The answer is Paul Beatty...Beatty has written a wild new book, an uproar-iously funny, deliciously profane and ferociously intelligent send-up of so much of our culture.' - San Francisco Chronicle
'An exuberant parade of forbidden words and twisted stereo-types...It's incendiary fun with very serious undertones.' - New York magazine, "Vulture" blog
'Timely, phantasmagoric, and deliriously funny.' - Barnes & Noble Review
'[An] audacious, diabolical trickster-god of a novel...[A] damn-near-instant classic.' - Bookforum
'Beatty is funny as hell...Behind all the humor, however, Beatty asks important questions about racism and identity. The Sellout is a knock-out punch.' - Shelf Awarenes
'[Beatty] is back with his most penetratingly satirical novel yet ...[A] daring, razor-sharp novel from a writer with talent to burn.' - Kirkus
'Beatty, author of the deservedly highly praised The White Boy Shuffle (1996), here outdoes himself and possibly everybody else in a send-up of race, popular culture, and politics in today's America . . . Beatty hits on all cylinders in a darkly funny, dead-on-target, elegantly written satire . . . [The Sellout] is frequently laugh-out-loud funny and, in the way of the great ones, profundly thought provoking. A major contribution.' - Booklist (starred review)
'Paul Beatty has always been one of smartest, funniest, gutsiest writers in America, but The Sellout sets a new standard. It's a spectacular explosion of comic daring, cultural provocation, brilliant, hilarious prose, and genuine heart.' - Sam Lipsyte, author of The Ask
'A brutally fun read, but don't misunderstand it as unserious...Beatty delivers brilliant humour with a caustic bite, and parts can be uncomfortable to sit through...But it was unlike anything else I'd read before, at once side-splitting and thought-provoking. It's a book that forcibly ejects you out of your comfort zone, and once you're there, you're going to want to linger a while.' - The Atlantic
'It will make you laugh, but most of all it will make you think.' - The Sunday Times
'Beatty's towering talent proves there's no subject, no matter how infuriatingly unjust, how outrageously sorrowful, which can't be made to glitter like gold in the hands of a brilliant writer.' The Big Issue
'Beatty impresses hugely in this mischievous and caustic satire, which buzzes with inventiveness and iconoclasm.' Sunday Herald
'Beatty takes very little entirely seriously in this zany, irreverent take on racial politics in America today.' - Shiny New Books
'[The Sellout] is the most lacerating American satire in years, fearless in the way that it takes apart our sacred cows and shared delusions. It responds to America's tortured relationship with race in the past and the present with the mockery it deserves, sprinkling jokes steeped in tragedy throughout.' - The Guardian
'The first 100 pages of [Paul Beatty's] new novel, The Sellout, are the most caustic and the most badass first 100 pages of an American novel I've read in at least a decade. I gave up underlin-ing the killer bits because my arm began to hurt...The riffs don't stop coming in this landmark and deeply aware comic novel...[It] puts you down in a place that's miles from where it picked you up.' -Dwight Garner, New York Times
'Swiftian satire of the highest order...Giddy, scathing and dazzling.' - Wall Street Journal *
You may also be interested in...
×
Download the Waterstones App
Would you like to proceed to the App store to download the Waterstones App?
Reserve online, pay on collection


Thank you for your reservation
Your order is now being processed and we have sent a confirmation email to you at
When will my order be ready to collect?
Following the initial email, you will be contacted by the shop to confirm that your item is available for collection.
Call us on or send us an email at
Unfortunately there has been a problem with your order
Please try again or alternatively you can contact your chosen shop on or send us an email at