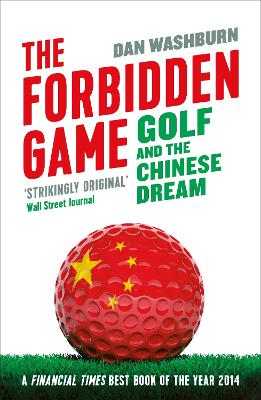 The Forbidden Game: Golf and the Chinese Dream (Paperback)
Dan Washburn
(author)
Paperback
336

Pages
Published: 19/05/2016
In October 2015, the Chinese Communist Party banned its 88 million members from excessive drinking, improper sexual relationships... and holding golf club memberships. But, with "the rich man's game" about to appear in the Olympics for the first time in 112 years, they also began to spend unprecedented sums on their own national golf team.
Through the lives of three men intimately involved in China's bizarre golf scene, Dan Washburn paints an arresting portrait of a country of contradictions. A villager named Wang sees his life transformed when a top-secret golf resort springs up next to his farm - despite the building of golf courses being illegal. Western executive Martin, whose firm manages the construction of golf courses, is always looking over his shoulder for Beijing's "golf police". And for security guard Zhou, making it as a professional golfer could be his way into China's new middle class. Using the unique lens of The Forbidden Game, Washburn gleans rich insights into the politics and people of one of the most powerful and enigmatic nations on earth.
Publisher: Oneworld Publications
ISBN: 9781780747392
Number of pages: 336
Weight: 318 g
Dimensions: 198 x 129 x 24 mm
---
MEDIA REVIEWS
'Washburn weaves colourful narratives'
* Financial Times, Best Books of the Year *
"Compelling."
* Los Angeles Review of Books *
"I know of no narrative that surpasses The Forbidden Game [on the subject of Chinese corruption]...vivid [and] revealing."

* Literary Review *
'Engrossing... a marvellous and subtle book'
* Spectator *
'Strikingly original... this is a tale of modern China'
* Wall Street Journal *
'Washburn focuses on the stories of three especially intriguing characters associated with the rise of golf in China, and in telling their stories he provides his readers with a sense of what the country was, is, and may become.'
* NPR *
'Tackles great themes... bring[s] China to life... Gripping [and] revealing'
* The Economist *
'An intriguing study ... An absorbing read.'
* Golf Digest *
'Excellent...[a] colourful account of the rise of golf in China.'
-- Financial Times
'An illuminating portrait of modern China'
* New Statesman *
'Rigorously reported... Washburn captures China's shift from its agrarian roots toward more Western pursuits in this engaging story.'
* Publishers Weekly *
'The Forbidden Game offers a thoroughly new window onto the "Chinese Dream". As veteran "China watcher" Dan Washburn engrossingly reveals, it transpires that the game of golf is a barometer for all China's current concerns - economic growth,"'social harmony", corruption, the growing wealth gap and, most absorbing, the hopes and aspirations of at least one Chinese man who's daring to dream of a better future.'
-- Paul French, bestselling author of Midnight in Peking
'From a bourgeois pastime denounced by the Communist Party of China, golf became the embodiment of the new Chinese dream. The Forbidden Game speaks volumes about how much this country has changed. You can learn more from this engaging, well-written book about golf than from weightier tomes that have tried to tackle China's transformation. A hole in one from Dan Washburn.'
-- Barbara Demick, author of Nothing to Envy: Ordinary Lives in North Korea and Logavina Street: Life and Death on a Sarajevo Street
'In his revealing and witty new book, Dan Washburn unearths a story that nobody knows: how the game that Chairman Mao denounced as the "sport for millionaires" stirred the dreams of farmers and soldiers, tantalized foreign pioneers, and provoked a Chinese crackdown. This is a tale about golf no more than Seabiscuit is a story about horseracing. This is twenty-first-century China in all its vivid, surprising, and human contradictions.'
-- Evan Osnos, staff writer for The New Yorker and author of Age of Ambition: Chasing Fortune, Truth and Faith in the New China
'Every bit as energetic and ambitious as the burgeoning China it so evocatively portrays, The Forbidden Game is a truly memorable feat of reporting and storytelling. By chronicling the ascent of golf in a nation whose newfound affluence has brought it as much turmoil as joy, Dan Washburn gets to the heart of what makes China's messy rise one of the century's most compelling tales. A book this richly observed and deeply humane is an all-too-rare beast these days; read it, and then cherish it.'
-- Brendan I. Koerner, author of The Skies Belong to Us
'The stunning rise of China is usually told through upheaval in the country's politics and the economy. Dan Washburn has been smart enough to spot a much underestimated way to tell the tale - the phenomenon of golf - a sport which has thrived even as it has been repressed. The story of golf ("green opium: in the words of some government officials) has it all in China - from the wild west developments of courses to inspiring stories of success and dark politics.'
-- Richard McGregor, author of The Party: The Secret World of China's Communist Rulers and Washington Bureau Chief for the Financial Times
'I'm not a golfer or a Sinophile, but The Forbidden Game spoke to me. At its core, it is classic storytelling - underdog tales of struggle, perseverance and overcoming adversity. The men in this book may not be perfect, but they are real people you can root for. It's like the quintessential American Dream story, only it's set in China.'
-- Brian Grazer, award-winning producer of television and film, including Best Picture Oscar winner A Beautiful Mind
'The Forbidden Game is an important and fascinating work. By taking us deep into China's secret golf culture, Dan Washburn brings to life the contradictions and complications of this unique nation's struggles with modernity - as well as an inspiring group of home-grown players who have paved the way for the rising generation of Chinese pros.'
-- Alan Shipnuck, senior writer at Sports Illustrated and author of Bud, Sweat and Tees
'The Forbidden Game is a propulsive chronicle of an old pursuit thrust into a country undergoing colossal change. But more than that, it's a richly drawn, deeply felt portrait of human striving - a great story.'
-- Tom Vanderbilt, bestselling author of Traffic and Survival City
'Sometimes the best way into the heart of an enigma is through a backdoor. With The Forbidden Game, Dan Washburn has opened just such a portal for anyone finding the People's Republic of China's unexpected progress perplexing to understand, much less to explain. By giving us a grand tour of the surprising boom in the game of golf in China, he not only illuminates a very concrete slice of life, but gives us a graphic and readable sense of both the energy and inertia that lay at the center of the contradictory phenomena that has come to be known as "China's rise."'
-- Orville Schell, Director of the Center on U.S.-China Relations and author of Wealth and Power: China's Long March to the Twenty-First Century
'When I picked up The Forbidden Game, I had absolutely no interest in golf or any of its ramifications - or so I thought. Once I began reading, I became genuinely engrossed by the dreams, disappointments and achievements of the colorful cast of characters here. The security guard who turns himself into one of China's first professional golfers; the lychee farmer who finds an enormous resort complex springing up around him; the Chinese governmental and business entrepreneurs with dreams of transforming their cities' fortunes, and their own; the foreign athletes and experts in the middle of this frenzy and only half understanding it. It is a rich and fascinating drama on its own terms, and a wonderful portrait of China at this stage of its growth and confusion. It even made me care, a little, about golf.'
-- James Fallows, author of Postcards from Tomorrow Square and China Airborne
You may also be interested in...
×
Download the Waterstones App
Would you like to proceed to the App store to download the Waterstones App?
Reserve online, pay on collection


Thank you for your reservation
Your order is now being processed and we have sent a confirmation email to you at
When will my order be ready to collect?
Following the initial email, you will be contacted by the shop to confirm that your item is available for collection.
Call us on or send us an email at
Unfortunately there has been a problem with your order
Please try again or alternatively you can contact your chosen shop on or send us an email at