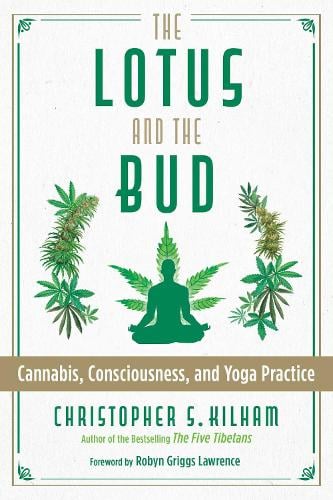 Paperback
192

Pages / Published: 18/03/2021
An in-depth guide to blending the practice of yoga with cannabis

* Examines the physical, mental, spiritual, and energetic effects of cannabis and yoga, including their effects on the nervous system and chakras

* Explains how yoga practice offers a way to tune the human nervous system and how, through the endocannabinoid system, cannabis harmonizes a multitude of functions, from respiration to pain control, in ways that enhance yoga

* Offers an illustrated sequence of cannabis-yoga asanas (postures) developed to awaken kundalini, open energy channels, accelerate healing, and unlock access to unbounded states of consciousness

In India, both yoga and cannabis are considered gifts from the Hindu god Shiva. They are seen as twin currents of wisdom and enlightenment, allies for healing and consciousness expansion. As ethnobotanist and yogi Chris Kilham explains, when wisely and thoughtfully combined, cannabis and yoga offer profound benefits for body, mind, and spirit. Kilham examines the history and lore of both cannabis and yoga, with a special focus on the role of cannabis in Indian and Himalayan yoga traditions where it has been used for thousands of years. He investigates cannabis and yoga's effects on the chakras and energy body and how they assist in opening energy channels and awakening kundalini energy. He explains how yoga practice offers a way to tune the human nervous system and how, through the endocannabinoid system, cannabis harmonizes a multitude of functions, from respiration to pain control, in ways that enhance yoga. He looks at the effects of both THC and CBD as well as the different methods of consuming cannabis, with advice on selecting the right method for your yoga practice.

In addition to instructions for breathwork and cannabis meditation practices, Kilham offers an illustrated guide to his own system of cannabis yoga, a sequence of asanas (postures) developed to arouse the kundalini, open up energy channels throughout your body, and unlock access to unbounded states of consciousness. Sharing his experiences combining yoga and cannabis around the world, the author shows that the fusion of cannabis and yoga dissolves the boundaries of the mind, accelerates healing, and imparts a greater understanding of the intrinsic unity of all things.
Publisher: Inner Traditions Bear and Company
ISBN: 9781620559406
Number of pages: 192
Weight: 313 g
Dimensions: 229 x 152 x 13 mm
---
MEDIA REVIEWS
"Wise, reverent, and enlightening, The Lotus and the Bud expresses the joy, peace, and deep satisfaction that await those who commit wholeheartedly to the practice of cannabis-infused yoga."-- * Foreword Magazine *
"It is high time someone wrote a book acknowledging the sacred relationship between cannabis and yoga. This is that book! Chris is one of the coolest people I know and one of the most sincere with his practice of both yoga and cannabis. In the yogic tradition Shiva, the maha (great) yogi, uses the sacred plant in his meditations to accelerate awareness and healing. Chris's book details both the history of the cannabis plant and the role of it in yogic practices in a clear, relatable way. The Lotus and the Bud is a relevant, enjoyable read for those who are curious about cannabis consciousness and yoga practice. A must-read!" * Nicki Doane, internationally recognized yoga teacher *
"Chris Kilham's masterfully crafted book is a must for anyone interested in the deep mysteries of yoga and cannabis. His thorough explanations about the long lineage of yoga and cannabis are enveloped in delightful anecdotes that both seduce and inform the reader. His easy demeanor is buttressed by a wealth of knowledge and investigative narrative. A beautiful read for those who seek to discover their inner world between the breaths and the puffs." * The Dank Duchess, hashish storyteller and maker *
"Chris Kilham is a gentle, grateful, romantic, gigantic genius. His heart loves sharing the comforting knowledge gained in touring planet Earth and the Universe while naturally practicing yoga. His experiences and enthusiasm are welcome joys to all spirited souls who know about existing in a state of bliss. Get yourself cozy, hold on to your hat, and enjoy flying beside Chris's psychonautic mind with his newest, most delightful book focused on always living in enlightenment: The Lotus and the Bud." * Laurence Cherniak, author of The Great Books of Hashish, vols. 1-3 *
"In this book Kilham has applied his abundant wit and wisdom toward multi-disciplinary applications of complementary techniques in pursuit of enlightenment, self-actualization, and a better and more fulfilling life. While few of us will attain nirvana in our current incarnations, I have no doubt that this book will provide worthy paths toward that effort." * Ethan Russo, M.D., founder and CEO of CReDO Science *
"Kilham skillfully weaves his personal stories with the history and science of both yoga and cannabis into an instructive resource that pushes our conventional understanding of mind-body medicine. With his doses of heartwarmingly healthy irreverence, Kilham nudges us toward a practice that respects this Earth and our direct experiences with Spirit. This book serves as a great resource for anyone who wishes to rediscover this ancient and profoundly healing combination." * Selma Holden, M.D., M.P.H., Cosmic Sister *
"The Lotus and the Bud captivated my interest on page one and held me enthralled throughout. This is a remarkable treasure trove of lived wisdom and expert guidance on the great benefits of skillfully combining yoga and cannabis. Chris Kilham is ideally placed to deliver this gift to us--with 50 years of yogic practice, a deep understanding of the power and potential of cannabis, and the fluid eloquence of a natural-born teacher and storyteller. A thoroughly agreeable and engrossing read." * Stephen Gray, author and editor of Cannabis and Spirituality *
"Like other great explorers through the ages, Chris Kilham takes us into uncharted territory with this eye-opening, soul-searching book. This book interweaves fascinating personal tales with his preternatural knowledge of cannabis, yoga, and the twining of the two. Ethnobotanist, spirit seeker, long-time yogi, world traveler, and visionary, Kilham leads us on an epic journey that we never want to end. Eagerly awaiting a sequel!" * Rona Berg, best-selling author of Beauty: The New Basics *
"Kilham expresses a unique vision of human energetics that is both stimulating and informative. This work establishes a new paradigm in the field and includes investigation of ancient methods and modern research accessible to a beginner or experienced yogi. For more than half a century, Chris has used his own body and life as a laboratory to explore ways in which the wisdom of the East blends with the science of the West. The end result is a tremendous amount of practical information that can result in greater health, vitality, and well-being for those willing to follow his lead in their own experimentation." * Roshi Al Fusho Rapaport, founder of Open Mind Zen International *
"These two psychic lubricants needed to be brought together under a single roof, and Kilham has done us a favor in doing so. This book contains wisdom based on experience--if you have an interest in either yoga or cannabis, you will gain from reading it. And if you are interested in both subjects, you'll want to have it on your shelves." * Jeremy Narby, author of The Cosmic Serpent *
"With over 54 years of experience with bud, I never exhaled--at least not until I learned how from this book. What a relief! Thanks, Chris, for the permission and for showing me the way!" * Mark Blumenthal, founder and executive director of the American Botanical Council *
"Every so often, you come across a book that bridges the crossroads between mind and body--The Lotus and the Bud serves this path well. While the true essence of yoga is to consciously connect to our inner self to attain ultimate fulfillment, I understand and appreciate Kilham's eloquent attempt to link this with the most important botanical on the planet--cannabis. Knowing that cannabis feeds our body's endocannabinoid system that serves as the modulator of inner physiological consciousness, this book brings yoga and cannabis together for both physiological and psychological health. A must-read!" * Carl Germano, C.N.S., C.D.N., certified clinical nutritionist and author of Road to Ananda *
You may also be interested in...
×
Download the Waterstones App
Would you like to proceed to the App store to download the Waterstones App?
Reserve online, pay on collection.
Or,
add to basket
, pay online, collect in as little as 2 hours, subject to availability.
Thank you for your reservation
Your order is now being processed and we have sent a confirmation email to you at
When will my order be ready to collect?
Following the initial email, you will be contacted by the shop to confirm that your item is available for collection.
Call us on or send us an email at
Unfortunately there has been a problem with your order
Please try again or alternatively you can contact your chosen shop on or send us an email at