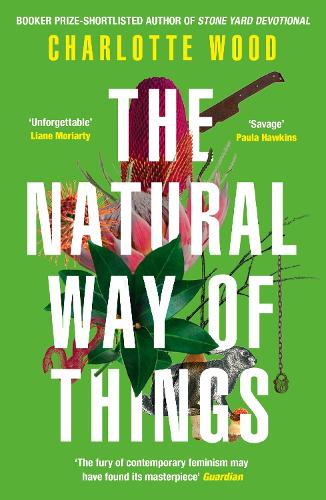 Paperback
336

Pages / Published: 22/08/2019
She hears her own thick voice deep inside her ears when she says, 'I need to know where I am.'
The man stands there, tall and narrow, hand still on the doorknob, surprised. He says, almost in sympathy, 'Oh, sweetie. You need to know what you are.'"

Two women awaken from a drugged sleep to find themselves imprisoned in a brokendown property in the middle of a desert.
Strangers to each other, they have no idea where they are or how they came to be there with eight other girls, their heads shaved, guarded by two inept yet vicious jailers.
Doing hard labour under a sweltering sun, the prisoners soon learn what links them: in each girl's past is a sexual scandal with a powerful man.
They pray for rescue but as the hours turn into days and the days into weeks and months, it becomes clear only the girls can rescue themselves.
Publisher: Orion Publishing Co
ISBN: 9781474614412
Number of pages: 336
Weight: 260 g
Dimensions: 196 x 128 x 34 mm
---
MEDIA REVIEWS
'Beautiful and savage'
Paula Hawkins, author of
The Girl on the Train
'Unforgettable'
Liane Moriarity, author of
Big Little Lies
'Devastating'
Economist
'A masterpiece'
Guardian
'Ferocious'
NPR
Exposing the threads of misogyny, cowardice and abuses of power embedded in contemporary society, this is a confronting, sometimes deeply painful novel to read. With an unflinching eye and audacious imagination, Charlotte Wood carries us from a nightmare of helplessness and despair to a fantasy of revenge and reckoning. * Guardian *
One of those unforgettable reading experiences. -- Liane Moriarity, author of Big Little Lies * The New York Times *
Beautiful and savage - think Atwood in the outback. -- Paula Hawkins, author of The Girl on the Train * Guardian *
A haunting parable of contemporary misogyny, The Natural Way of Things . . . is The Handmaid's Tale for our age . . . Ms Wood's writing is direct and spare, yet capable of bursting with unexpected beauty. * The Economist *
A prescient feminist horror novel you need to read: The girls of Wood's novel are in no dystopia. Instead, they are imprisoned by present policing of their bodies, the corrosive discrimination of political and economic systems that turns women's bodies against them, rebuilding them as flesh and blood prisons. -- Stassa Edwards * Jezebel.com *
You can't shake off this novel; it gets under your skin, fills your lungs, breaks your heart. As allegory, as a novel, as vision and as art it is stunning. -- Christos Tsiolkas
The Natural Way of Things is a brave, brilliant book. I would defy anyone to read it and not come out a changed person. -- Malcolm Knox, author of The Wonder Lover and The Life
A fully imagined dystopian parable, vivid, insightful, the voices of young women echoing through the gum trees . . . -- Joan London, author of The Golden Age
This is a stunning exploration of ambiguities - of power, of morality, of judgement . . . It will not leave you easily; it took my breath away. -- Ashley Hay, author of The Railwayman's Wife
Few other novels have captured the stain of misogyny quite like Charlotte Wood's The Natural Way of Things . . . Terrifying, remarkable and utterly unforgettable. -- Clementine Ford
The Natural Way of Things is both harrowing and gorgeous. It feels, at times, like a nightmare; but one in which women make serious pacts, take serious pleasures, and reimagine what it might mean to live in the world. I feel as if I've been witness to the most terrible injustice, but also the most astonishing beauty. -- Fiona McFarlane, author of The Night Guest and The High Places
At once brutal and beautiful . . . Surreal yet intensely vivid, the novel is disturbing and enthralling . . . An absorbing plot, lyrical prose, and discomfiting imagery makes Wood's novel decidedly gripping. * Kirkus Reviews *
A confronting and blazing read . . . A novel to provoke thought, conversation, disgust, anger and concern, a work that will haunt the reader with its poetry and the stark truths buried within Wood's brilliant exploration of a toxic culture in extremis. * Weekend Australian *
A virtuoso performance, plotted deftly through a minefield of potential traps, weighted with allegory yet swift and sure in its narrative advance. -- Rosemary Sorensen * Sydney Review of Books *
Wood's prose is beautiful, but it doesn't coddle. The Natural Way of Things is an unapologetic confrontation of misogyny and rape culture. It's a tough and necessary read. -- Jakob Vala, Tin House * The Portland Mercury *
A dystopian fable, both gripping and lyrical. * Saturday Age *
This is an extraordinary novel: inspired, powerful, at once coherent and dreamlike. -- Kerryn Goldsworthy * Sydney Morning Herald *
A moving, mesmerising and brilliantly topical interrogation of misogyny that demands to be read at a sitting. * Adelaide Advertiser *
Bold, provocative, startling and insightful. The Natural Way of Things is what fiction should be. * Newton Review of Books *
The latest from Australian novelist Wood is allegory at its best, a phantasmagoric portrait of modern culture's sexual politics textured by psychological realism and sparing lyricism. * Publisher's Weekly *
A ferocious new novel by the Australian Charlotte Wood whose writing recalls the early Elena Ferrante - it's tough, direct, and makes no attempt to be ingratiating . . . what keeps all this from seeming doctrinaire is the book's sheer imaginative intensity. Wood's writing crackles with vivid precision . . . Yolanda and Verla strip away the historical veneer of female subservience. They recreate themselves based on a deeper, more complicated vision of the natural order, one that grasps the bond between all living beings. I'd like to tell you that this is a happy ending, but Wood is too honest to offer anything so reassuringly easy. Even as her heroines begin a radical new way of living, Wood knows that the natural way of things is as risky and wild as it is free. -- John Powers * NPR Fresh Air *
Vicious and prescient and astonishingly visceral. The Natural Way Of Things resonates with you long after you've read the final pages. A Handmaid's Tale for end times, this is an important book about contemporary femininity. * The Believer *
What sets Wood's The Natural Way of Things apart, what makes it a truly urgent read is that it is not an allegory and it is not a dystopian novel: it is a reality. As such, The Natural Way of Things, a work that takes the reality of misogyny and toxic cultural notions about women's sexuality and very bluntly bulldozes those ideas, is exactly what we should be reading right now. * Full Stop *
With echoes of Kafka and The Lord of the Flies . . . Wood's raw and complex story delves into themes of friendship as two of the imprisoned form a strong yet unconventional bond through their survival efforts. It also depicts the tyranny of misogyny with the same coarse grit and degradation that scours women around the globe, while simultaneously spotlighting their courage and fortitude. Uncomfortably bold, The Natural Way of Things is an everywoman's hero tale. * Shelf Awareness *
It's like digesting a living creature, one with claws still intact . . . if Wood is concerned with investigating and condemning masculine violence, both in its overt manifestations and those encoded in the structure of contemporary culture, she is too much of an artist to reduce her critique to a simple binary . . . the final effect is stunning. * The Saturday Paper *
You may also be interested in...
Simply reserve online and pay at the counter when you collect. Available in shop from just two hours, subject to availability.
Thank you for your reservation
Your order is now being processed and we have sent a confirmation email to you at
When will my order be ready to collect?
Following the initial email, you will be contacted by the shop to confirm that your item is available for collection.
Call us on or send us an email at
Unfortunately there has been a problem with your order
Please try again or alternatively you can contact your chosen shop on or send us an email at