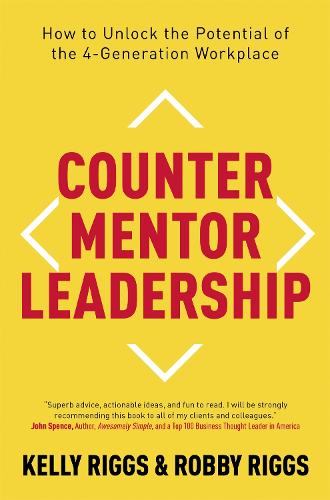 Counter Mentor Leadership: How to Unlock the Potential of the 4-Generation Workplace (Paperback)
Kelly Riggs

(author)

,

Robby Riggs

(author)
Paperback
368

Pages / Published: 12/03/2020
This book is the result of over twenty-five years of combined experience from Kelly and Robby Riggs-dynamic, occasionally irreverent, always insightful, father (Boomer) and son (Millennial), who work with organizations grappling daily with multi-generational conflict. Through their collaboration, Kelly and Robby share their very different perspectives on the same problems most companies are STILL dealing with, but haven't had the courage or the tools, to address. Issues such as: a shocking lack of leadership skills; the culture-killing generational divide that is demolishing many companies; and the stunning, often unrecognized impact of technology on the workplace.
In their "shamelessly funny, brilliantly written" debut book, Kelly and Robby will:
* Discuss today's workplace dynamics, including the changes in communication modes, the influx of technology, and the impact of Millennials and Digital Natives
* Explain how a one-sided approach to leadership focused on "managing" Millennials is grossly insufficient, resulting in an inability to attract and retain critical young talent
* Explore the new challenges of leadership inherent with the explosion of technology-time compression, distractions, complexity and the pace of change
* Reveal how old leadership challenges persist, and explore how the younger generation will expose those challenges more than ever
* Detail the CounterMentor leadership model and prescribe specific tactics and techniques for addressing both old and new leadership issues
Publisher: John Murray Press
ISBN: 9781473696075
Number of pages: 368
Weight: 360 g
Dimensions: 208 x 138 x 26 mm
---
MEDIA REVIEWS
Kelly and Robby make it easy to understand the root causes of the current leadership challenges, and they illustrate clearly how to overcome those barriers. Whether you're a Boomer or a Millennial (the BOSS or the KIDS as they say in the book!), you will learn a lot from this book--Michael V. Geary, CAE CEO, Society for Marketing Professional Services (SMPS)
This book addresses issues that all managers face and it will help them realize that young staffers are not lazy, they just see the world differently. Kelly and Robby are informative, but immensely entertaining, poking fun at those workplace issues that cause us the most pain, and then offering practical solutions that really work. I highly recommend you buy and read this book!--Charles W. Sharp, Jr. Director of Operations, Kaw Valley Engineering
This is a book that makes a difference! Our team went through training on the COUNTER Leadership methodology outlined in the book, and it has had a tremendous impact on our leaders and out business.--Curtiss Hemby, VP, Watco Supply Chain Services
"Counter Mentor Leadership moves beyond tired management cliches and platitudes, and gives practical advice on how to bridge the divide between Boomers and Millennials in the workplace."--Ryan Williams, Senior Vice President, FP1 Strategies
"Counter Mentor Leadership is a smart book that teaches us all how to relate to each other - regardless of generation. It is packed full of examples that explain the "what" and the "why" of the differences we experience thanks to four generations in the workplace. If you're a leader who wants to make difference with the generations you lead, you need this book!"--Phil Gerbyshak, Chief Digital Officer, Vengreso
"Counter Mentor Leadership is motivational, thought-provoking, entertaining, and certainly challenging for all leaders! Although extensively researched, the book is an easy read on 'new leadership' - using basic proven methods while adjusting to a new work force that is incredibly driven, motivated, and tech-savvy."--James P. Kellogg, Vice President, Colorado Rockies
"Counter Mentor Leadership is a relevant, fun, and inspiring book that provides a practical approach for becoming a transformational leader. Reinventing your leadership style is not easy, and Robby and Kelly provide thought provoking techniques to help you with your journey. Definitely a must-read!"--Eric A. Dorne, Chief Administrative Officer and Chief Information Officer, UNFI
"Counter Mentor Leadership is the perfect guide for those who aspire to be great leaders, especially in the tricky four-generation workplace. While it is written in a light-hearted style, it gets to the root of what great leadership is, and how you can become a great leader. In my opinion, it should be on every leader, or aspiring leader's, desk."--David Brock, CEO, Partners In EXCELLENCE, and author of Sales Manager Survival Guide
"Counter Mentor Leadership offers a truly insightful perspective on the modern workplace in an extremely entertaining, often hysterical, read. Kelly and Robby teach the leadership skills and tactics you need to maneuver through this challenging situation and become a legit Counter Mentor Leader. It is an intuitive and easy-to-read format - you won't be able to put it down!"--J.R. Stewart, National Sales Manager, Filtrexx International
"Counter Mentor Leadership offers great tips to help you shift the way you think and act with other generations, so you can both succeed. This is absolutely a "must read" for any organization trying to stay competitive!"--Dolores Alonso, Senior Director of Membership & Business Development, FPSA
"An energizing and inspirational read, Counter Mentor Leadership is a requisite for every HR professional and business leader! Drawing you in with wit and humor, this book is a valuable strategic guide for engaging today's multi-generational workplace, providing many important lessons to create a more connected and collaborative organization."--Angel Stacy, Director of Human Resources and Administration, Explorer Pipeline
"As a leader, one of your greatest challenges is connecting multiple generations within your workforce and getting them to work together effectively. In this immensely helpful book, Kelly and Robby Riggs lay out a set of arguments and a blueprint for success that will sharpen your perspective and give you actionable advice."--Tim Sanders, New York Times bestselling author of Love Is the Killer App and Dealstorming
"Bridging across the span of generations is not an easy task to do, much less do well. Kelly and Robby provide a plan that any organization can apply today to stop the decline of productivity."--Teri Aulph, Sr. Vice President and Chief HR Officer, Tulsa Federal Credit Union
"Finally, a book on multiple generations in the workplace written by multiple generations. Counter Mentor Leadership will get you thinking, but more importantly it will get you listening to those older and younger than you."--David Burkus, Associate Professor of Leadership and Innovation, and author of Under New Management
"GREAT book! Counter Mentor Leadership is a reality check for anyone in leadership (young or old). It gives actionable leadership strategies using humor and wit to keep you highly engaged the whole way through. The modern culture in the workplace is evolving rapidly, and this book gives you everything you need to keep up!"--Jack Kosakowski, CEO (US Division), Creation Agency
"I found Counter Mentor Leadership to be a unique view of the constant struggle of how Baby Boomers interact with Millennials. The point-counterpoint between Kelly and Robby is not only hilarious, but insightful. The leadership tools needed to perform at a high level are all inclusive, and I am going to recommend that my entire Executive Team read this book to become better leaders in our company."--Robert E. Alger, President & CEO, Lane Industries, Inc.
"If you are in a leadership role today or want to be in one in the future, give yourself an unfair advantage in the marketplace by immediately buying this book. You will become immersed in a lively conversation between a Boomer and a Millennial in an honest, "no fluff' exploration of what works and what doesn't in real companies today. Not only do both authors have deep experience and credentials in this area, but they are also father and son. That creates a raw, honest, back-and-forth set of perspectives that is unique in a business book."--Miles Austin, President and Founder of FilltheFunnel.com
"Insightful, bold and cleverly written, this book addresses the complex dynamics of multi-generational workforce engagement, and describes what effective leaders MUST do to achieve extraordinary results. I highly recommend you purchase this book for yourself, your team and colleagues-it's a small investment that will achieve significant returns!"--Dana Birkes, VP, Business Strategies, Crossland Construction Company, Inc.
"Kelly and Robby do a masterful job of transcending 'the way we've always done it, ' while distilling the enduring principles of great relationships and effective leadership."--Nate Regier, PhD, CEO of Next Element Consulting, and author of Conflict Without Casualties
"Leveraging the skills and talents of the multi-generational workforce is a leadership imperative in the 21st century, and Kelly and Robby Riggs provide you with the tools, resources, and wisdom to tackle this job head on. Reading this book is just like having a conversation with Kelly and Robby - engaging, fast-paced, lots of laughs, and peppered with practical leadership insights. Put their ideas into practice and watch your leadership rise to the next level."--Randy Conley, V.P. Client Services & Trust Practice Leader, The Ken Blanchard Companies
"Shamelessly funny and brilliantly written; just don't let the laughs get in the way of the many important leadership lessons-for every generation!"--Tom Koulopoulos, Author The Gen Z Effect
"The Riggs boys have written a brilliant and timely leadership book. The business world is deep in a workplace clash between Boomers and Millennials and Kelly and Robby are playing referee. They've written a killer, how to, prescriptive, humorous, engaging and funny book with one purpose, to get everyone playing well in the sandbox. If you've ever even uttered the words "management effectiveness" then this book is for you."--Jim Keenan, CEO of A Sales Guy Consulting, and author of Not Taught: What It Takes to Be Successful in the 21st Century That Nobody's Teaching You
"This is a fantastic book, one of the very few I would call a MUST READ. Superb advice, actionable ideas, and fun. I will be strongly recommending this book to all of my clients and colleagues."--John Spence, author of Awesomely Simple, and one of the top 100 business and leadership experts in America
"When it comes to pinpointing the real issues facing the modern workplace, Kelly and Robby are spot on. What most have labeled simply as technology gaps or generational differences, they have identified rightly as communication and leadership challenges. The winsome Counter Mentor Leadership will help us coach up the right kinds of leaders for decades to come. You and I will be better leaders because of it, too."--Curt Steinhorst, Founder & CEO of Focuswise, and author of Can I Have Your Attention? Inspiring Better Work Habits, Focusing Your Team, and Getting Stuff Done in the Constantly Connected Workplace
You may also be interested in...
×
Download the Waterstones App
Would you like to proceed to the App store to download the Waterstones App?
Simply reserve online and pay at the counter when you collect. Available in shop from just two hours, subject to availability.
Thank you for your reservation
Your order is now being processed and we have sent a confirmation email to you at
When will my order be ready to collect?
Following the initial email, you will be contacted by the shop to confirm that your item is available for collection.
Call us on or send us an email at
Unfortunately there has been a problem with your order
Please try again or alternatively you can contact your chosen shop on or send us an email at