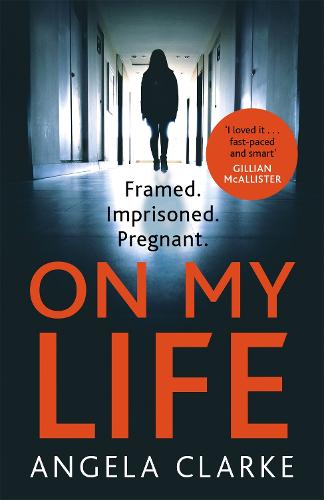 Paperback
384

Pages / Published: 11/07/2019
'Compelling, intense, and breathtakingly brilliant.' Angela Marsons, author of Dead Memories
Jenna knows she didn't do it. But she is running out of time to prove it...
A heartbreaking, compulsive thriller with a killer twist!
Framed. Imprisoned. Pregnant.
Jenna thought she had the perfect life: a loving fiance, a great job, a beautiful home. Then she finds her stepdaughter murdered; her partner missing.
And the police think she did it...
Locked up to await trial, surrounded by prisoners who'd hurt her if they knew what she's accused of, certain someone close to her has framed her, Jenna knows what she needs to do:
Clear her name
Save her baby
Find the killer

But can she do it in time?
Readers love On My Life!
'Great plot, brilliant writing as always. Highly recommend!' 5* Amazon review
'If you want a book you can't stop reading then this is the book for you.' 5* Amazon review
'I didn't see the twist coming! A truly excellent and memorable read.' 5* Amazon review
'A thrilling read that draws you in from the off and doesn't let you go!' 5* Amazon review
'The book was a tense, powerful read, and the characters leapt off the page. Brilliant.' 5* Amazon review
Publisher: Hodder & Stoughton General Division
ISBN: 9781473681521
Number of pages: 384
Weight: 254 g
Dimensions: 197 x 128 x 25 mm
---
MEDIA REVIEWS
An angry, powerful read - one of those rare crime novels with more to deliver than routine thrills. -- Mick Herron, author of London Rules
I loved it. A searing take on the treatment of women in prison as well as a fast-paced and smart thriller. -- Gillian McAllister, author of No Further Questions
What an amazing, roller-coaster ride and also a searing indictment of the way women are treated in prison. Highly recommended. -- Elly Griffiths, author of The Stranger Diaries
ON MY LIFE by Angela Clarke is a heart-rending mystery, and an unflinching study of life in the prison system. -- Stuart Neville, author of So Say The Fallen
Mesmerising and unflinching. Angela Clarke's meticulously researched book expertly captures the sense of fear and dog-eat-dog mentality that permeates our institutions. A propulsive, utterly compelling novel. -- Fiona Cummins
A compelling, vividly realised prison drama with a mystery at its heart. Hugely enjoyed it. -- Steve Cavanagh, author of Thirteen
It's her best yet. ON MY LIFE is a claustrophobic helter skelter that had me racing to the end to find out who was telling the truth! -- Katerina Diamond, author of The Promise
Intelligent, pacy thriller... Taut, claustrophobic, fast-paced, moving. An incredibly gripping read. -- Will Dean, author of Dark Pines
Compelling, intense, and breathtakingly brilliant. -- Angela Marsons, author of the DI Kim Stone novels
This book was so heaped with tension, threat and menace that I had to read it very quickly! Absolutely engrossing and entertaining as well as being a searing indictment of the penal system. This is an eye-opening, jaw-dropping read that will keep you up to the wee small hours. -- Liz Nugent, author of Skin Deep
From the very first chapter I was truly captivated... I cannot recommend this book enough. Angela Clarke is a force to be reckoned with. -- Caroline Mitchell, author of Silent Victim
Loved this... The pace never drops and the detail of prison life is so moving and brutal. -- Claire McGowan, author of the Paula Maguire series
In a word, brilliant... So engaging at times I found it hard to breathe! It kept me up well past lights out several nights in a row. -- James Oswald, author of the Inspector McLean series
An explosive story of murder, injustice and sheer survival instincts - the fear almost leapt from the page! -- Mel Sherratt
Angela has knocked it out of the park with this book - it's incredible. Dramatic, unputdownable, heart breaking, utterly compelling - and important. I read it in pretty much one sitting, with my heart in my mouth. Definitely in my Top 3 of the year! -- Louise Voss
A book to grip you by the throat and haunt your dreams after you have put it down. ON MY LIFE will stay with me for some time. -- Cass Green
A claustrophobic, character-driven tour de force from Angela Clarke. Powerful, affecting and utterly compelling, the plot twists and turns like a corkscrew digging into your brain. Unmissable... -- Neil Broadfoot, author of No Man's Land
A thrilling, terrifying novel... I was caught from the first frightening page and the unflinching look at prison life was shocking, addictive and, at times, very moving. The ending left me breathless. -- Kate Helm, author of The Secrets You Hide
Absolutely loved ON MY LIFE - a twisty, involving roller-coaster of a read with a powerful social message at its heart. -- Roz Watkins, author of The Devil's Dice
I finished Angela's book in one quick gulp. An absolute thrill-ride. I loved the prison setting and the entire cast. Fabulous pacing. -- Jo Spain, author of The Confession
Tense, touching and claustrophobic, Clarke nails the horror of being imprisoned for something you didn't do. A rollercoaster ride of a thriller. -- Ali Knight, author of Before I Find You
Angela Clarke has written a very sensitive, moving and sympathetic look at incarcerated women in ON MY LIFE. Empathy (and good research) on every page -- Sinead Crowley, author of One Bad Turn
This isn't just a smart, high-tension page turner, it's a book that shines clear bright light on contemporary prison life. -- William Shaw, author of Salt Lane
A fantastic story, brilliantly told...a great mystery, a high-stakes personal struggle, and a pile of massive twists. ON MY LIFE is a total triumph. -- Julia Crouch, author of Her Husband's Lover
Angela Clarke layers on the tension with this blistering, angry thriller which will change the way you think about women in prison. -- Tammy Cohen, author of They All Fall Down
The new thriller by Angela Clarke packs a powerful punch. An authentic and gripping account of an innocent woman trapped in the prison system. -- Anna Mazzola, author of The Story Keeper
A compulsive read with insight into women in the prison system; a mystery that is unpicked with pace and increasing tension. -- Lisa Ballantyne, author of The Guilty One
Compelling, sympathetic and tense, with some wonderfully drawn characters and a truly cinematic ending. -- Rod Reynolds, author of Cold Desert Sky
An unputdownable read about an ordinary woman's worst nightmare, ON MY LIFE is well researched, brilliantly written, scarily realistic and utterly heartbreaking. -- SJI Holliday, author of The Lingering
As dark and twisty as a tornado - Angela Clarke's best yet. -- Mel McGrath, author of Give Me the Child
ON MY LIFE is fast paced, twisty and nail biting, but it's so much more too. -- Holly Seddon, author of Don't Close Your Eyes
A gripping thriller with a shockingly searing insight into prison life for women. Couldn't put this down. -- Luca Veste, author of The Bone Keeper
A terrifying and moving story. You won't be able to look away, desperate to see if justice is done. -- Lucy Dawson, author of The Daughter
Tense, unflinching and heartbreaking. This one kept me up late in the night. Angela Clarke has excelled herself. -- Colette McBeth
Moving and compassionate... As well as being fast-paced and involving it's a thought-provoking, and at times very tender, read. I found myself hurtling towards the end as the tension ratcheted up. -- Amanda Jennings, author of The Cliff House
Pacy, addictive... couldn't put it down. Insightful, intelligent and moving with unforgettable characters and a brilliant twist. Stunning! -- Claire Douglas, author of Last Seen Alive
ON MY LIFE is truly special. On one hand a gut-punching psychological thriller and on the other a haunting exploration of the female prison system. It's a raw, honest and twisty novel about truth and bravery and I couldn't put it down. -- Fran Dorricott, author of After the Eclipse
Clever, gripping and powerful - Angela Clarke's ON MY LIFE is a great read. -- William Ryan, author of A House of Ghosts
Angela Clarke is an author with something real to say, and a grip that only tightens as she says it. -- Tony Kent, author of Marked For Death
Tense and heartbreaking, this is a beautifully constructed thriller. -- Lucy Ayrton, author of One More Chance
ON MY LIFE is an exhaustively researched, expertly-crafted and brilliantly-written prison story that places the reader firmly in the room. Angela Clarke movingly chronicles a woman's worst nightmare with a killer-twist at the end. A must-read. -- Howard Linskey, author of The Chosen Ones
An absolute page turner with excellently-realised characters and surprising humour. Even better, it has a huge heart. It will make you think differently about prisons and how pregnant women fare in them. -- Alex Reeve, author of The House on Half Moon Street
Reading this book was like being on an emotional rollercoaster: sometimes harrowing, sometimes heart-warming. I was enthralled from start to finish. -- Rachel Abbott, author of Come A Little Closer
Such an expertly executed novel and a thrilling page-turner too. -- Michelle Davies, author of False Witness
Authentic and bold, with a searing story and cracking characterisation. -- LV Hay
This is a fresh, smart and important novel that absolutely stands out from the crowd. Highly recommended. -- Catherine Ryan Howard, author of The Liar's Girl
A smart, fast-paced prison thriller with a ticking clock scenario that's at once novel, and as old as humanity. -- Mason Cross, author of the Carter Blake series
You may also be interested in...
Simply reserve online and pay at the counter when you collect. Available in shop from just two hours, subject to availability.
Thank you for your reservation
Your order is now being processed and we have sent a confirmation email to you at
When will my order be ready to collect?
Following the initial email, you will be contacted by the shop to confirm that your item is available for collection.
Call us on or send us an email at
Unfortunately there has been a problem with your order
Please try again or alternatively you can contact your chosen shop on or send us an email at