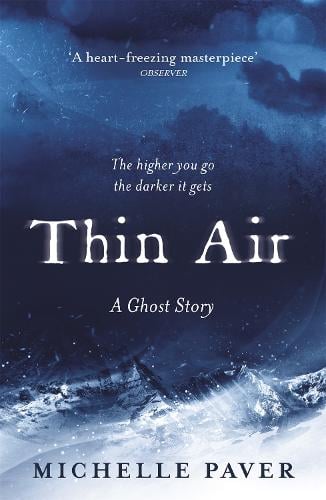 Paperback
240

Pages / Published: 05/10/2017
One of the very finest practitioners of the modern ghost story, Michelle Paver serves up another incredibly atmospheric supernatural chiller, set on the Himalayan mountainside of the 1930s.
But now, quite suddenly, it's real. I don't care that I can't see it. It sent these clouds, it's making its presence felt. I can feel its cold, clammy breath on my skin. 
We set off in three days. I can't wait.
The Himalayas, 1935.
Kangchenjunga. The sacred mountain. Biggest killer of them all.
Five Englishmen set out from Darjeeling to conquer the peak. But courage can only take them so far and the mountain is not their only foe.
As the wind dies, the dread grows. Mountain sickness. The horrors of extreme altitude. A past that will not stay buried.
And the higher they climb, the darker it gets.
Publisher: Orion Publishing Co
ISBN: 9781409163367
Number of pages: 240
Weight: 225 g
Dimensions: 129 x 196 x 18 mm
---
MEDIA REVIEWS
'A ghost story to chill and thrill...Like Touching the Void rewritten by Jack London, Thin Air is a heart-freezing masterpiece.' - Amanda Craig, The Observer

'The book transports the reader into cold, inimical terrain, forcing them to question the evidence of their over-stimulated senses' - The Metro
'Terror on a grander scale' -- Andrew Michael Hurley, The Guardian
'This one is a cracker' - The Daily Telegraph
'A wonderfully atmospheric and hugely enjoyable ghost story' - Anthony Horowitz
'Looking for a proper ghost story? Thin Air is a creepy, compelling tale of a Himalayan climbing expedition, where strange events on the mountain stir dread and panic.' - Good Housekeeping
'This vivid ghost story reads like a classic' - The Sunday Mirror
'There are no obvious shocks here but instead a sustained creeping dread as the likelihood increases that it's not all in Pearce's mind and that they are heading for tragedy just like Lyell and company. Subtitled 'A Ghost Story', this is very much the classic approach, concentrating on mood and subtllety to create chills in the reader.' - James Evans, Starburst
'Spellbindingly creepy' -- Eithne Farry, Sunday Express
'Michelle Paver's descriptions of Himalayan mountain-climbing are terrifyingly lifelike - the lashing winds, glittering ice: you can see it all...Paver's style is lively and clear; and the tale just rips along...Just fantastic' - Wendy Holden, The Daily Mail
'Chilling in every sense' -- Violet Hudson, The Mail on Sunday
'This haunting new novel and long-awaited sequel to the chilling Dark Matter certainly doesn't disappoint. The plot of Thin Air is undeniably gripping and a genuine page-turner. After finding herself mesmerised by the history, vastness and the terrifying solitude of the Himalayas, Paver used it as the setting for this undeniably gripping account of a 1935 expedition up Kangchenjunga.' - Kate Whiting, Glasgow Herald
'Paver's descriptions of the isolated and intimidating landscape create an eerie, unsettling atmosphere that gets under your skin' - The Daily Express
'There's just something about the bleakness, the sheer depth of the isolation and the unfamiliarity of this terrain to me that I love in this book. Put that alongside the fact that it's a mix of psychological thriller and ghost story , and you've got a winner.' - Rebel Angel Blog
'The scariest part of the story for me was the bit with the rucksack. I think the hair on the back of my neck stood up. Very macabre and creepy' - The Book Rest
'A hauntingly, spine chilling epic of a book!' - Mrs Bloggs Books
'I was surprised and delighted to find this an utterly absorbing tale that I think I would have read in one sitting regardless as once I began I didn't want to put it down' - Bookphace
'Thin Air is a wonderfully evocative and creepy story but it's more than that - it's a capturing of the awe of nature, the exhilaration of climbing and of a time during British colonialism which combined some noble endeavours but also an awful lot of ignoble behaviour. Of course, of course, of course, I recommend Thin Air to you.' - The Book Bag
'I loved her previous ghost/terror novel, Dark Matter. This is similar, the tension tightens slowly, with the turn of every page, until you cannot put the book down.' - Sandra Danby Blog
'It is rich in atmosphere, the environment stunningly described. Kangchenjunga is a formidable character in its own right and it is a deadly one. but it is also such a satisfying ghost story, so perfect for these darker evenings, and it is wrapped within a beautifully told and sad tale. Thin Air succeeds as an excellent ghost story and horror novel but it is also a wonderful piece of historical fiction and I thoroughly recommend it.' - For Winter Nights blog
'While comparable to Dark Matter, this is I think very much the better book - in a way which I can't explain in detail, the ecology of its horror is much more complete: while lacking none of the horror of the other book, it is all more satisfying.' Blue Book Balloon
'This book was both a fantastic description of the majesty of the Himalayas and a wonderfully creepy ghost story. In equal measures it showed why some are irresistibly drawn to these mountains and why, possibly, they shouldn't be. This would be a great read for Halloween (but make sure you know exactly where you left your rucksack...)' - Jane and Bex Book Blog
'A clever, chilling, compelling read' - Katherine Sunderland, Biblomaniac
'And my enjoyment and shiver mounted with the appearance of the terrifying object, deployed so brilliantly in one of the best and most shivery 'ghosts' I have ever read - W.W. Jacobs' The Monkey's Paw. Paver has an object, and I whimpered anxiously as it brought the added accretion of my memory of Jacobs' story into the room.' - Lady Fancifull
'If you have ever wanted to climb a mountain or to have some sort of insight into the preparation both mentally and physically, of the extreme effort it takes to even attempt something like this, then this is the book for you.' - The Book Trail
'The first thing that impressed me was the sustained recreation of the 1930s: male camaraderie and old pals. It is linguistically perfect, since you completely believe in the characters and hte mindsets of this group of climbers. The research is thorough and the descriptions so rich that you can imagine every step on the ice and rocks and every nuance of creating the base camps and additional camps during the ascent.' - Nudge
'If you've read Michelle Paver's previous ghost story Dark Matter, you'll know how well she can build a creepy, unsettling atmosphere - and she's done it again here, in a very different environment. I for one couldn't put the story down but needed to read on to the final resolution before trying to sleep!' - Our Book Reviews Online
'I cannot recommend this book enough. If you enjoyed Michelle's previous ghost story, Dark Matter, you'll love this one. If you love anything supernatural, a bit scary, ghostly, then you'll enjoy it too. It's a fantastic read thats absorbing and totally paralysing. Beautifully, lyrically written. A five star read if ever there was one!' - Empire of Books
'This is a slim book, and a simple story, but it has all the elegance of a classic ghost story' - Miriam McDonald, SFX
'After finding herself mesmerised by the history, vastness and the terrifying solitude of the Himalayas, Michelle Paver uses it as the setting for this undeniably gripping account of a 1935 expedition up Kangchenjunga...Step in with excitement, yet the greatest of caution...' - Aberdeen Press and Journal
'Paver's elegantly crafted ghost story holds you in a vice-tight grip until the end...Thin Air is an edge-of-your-seat reading experience that will leave your frosty-fingered and shivering as you hurriedly leaf through its pages to reach its startling climax' - Katherine McLaughlin, Sci-Fi Now.
'Atmospheric' - TLS
'This book is guaranteed to give you chills! Don't read it just before going to bed...' - Martin Belcher (blog)
'Paver constructs her narrative expertly. The human drama is engaging, while the scares are unfurled slowly but surely, to chilling effect.' - Catholic Herald
'Michelle Paver is one of my favourite writers at the moment...Terrify your loved ones this Christmas with some of Paver's best.' - Starburst
'Paver is superb at describing the Himalayan landscape...This is a finely wrought example of the classic, Jamesian ghost story...made extra special and disturbing by the bleak, wintery setting.' - Peter Tennant, Black Herald
'Paver's perfectly realises the quintessential priviledged gentleman-explorer characters - their casual racism and snobbery shocking to a modern reader, yet very authentic feeling' - school librarian
'Class, fortitude, morality and brotherly animosity are the major themes in this highly readable novel' - Attitude
You may also be interested in...
×
Download the Waterstones App
Would you like to proceed to the App store to download the Waterstones App?
Reserve online, pay on collection.
Or,
add to basket
, pay online, collect in as little as 2 hours, subject to availability.
Thank you for your reservation
Your order is now being processed and we have sent a confirmation email to you at
When will my order be ready to collect?
Following the initial email, you will be contacted by the shop to confirm that your item is available for collection.
Call us on or send us an email at
Unfortunately there has been a problem with your order
Please try again or alternatively you can contact your chosen shop on or send us an email at