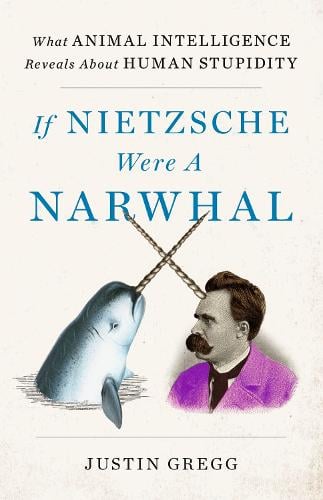 If Nietzsche Were a Narwhal: What Animal Intelligence Reveals About Human Stupidity (Hardback)
Justin Gregg
(author)
Hardback
320

Pages / Published: 26/01/2023
'I love the book and everyone should read it' Ryan Holiday

'Clever and provocative' New York Times

'Nothing less than brilliant' Wall Street Journal

What if human intelligence is actually more of a liability than a gift? After all, the animal kingdom, in all its diversity, gets by just fine without it. At first glance, human history is full of remarkable feats of intelligence, yet human exceptionalism can be a double-edged sword. With our unique cognitive prowess comes severe consequences, including existential angst, violence, discrimination, and the creation of a world teetering towards climate catastrophe. What if human exceptionalism is more of a curse than a blessing?

As Justin Gregg puts it, there's an evolutionary reason why human intelligence isn't more prevalent in the animal kingdom. Simply put, non-human animals don't need it to be successful. And, miraculously, their success arrives without the added baggage of destroying themselves and the planet in the process.

In seven mind-bending and hilarious chapters, Gregg highlights features seemingly unique to humans - our use of language, our rationality, our moral systems, our so-called sophisticated consciousness - and compares them to our animal brethren. What emerges is both demystifying and remarkable, and will change how you look at animals, humans, and the meaning of life itself.
Publisher: Hodder & Stoughton
ISBN: 9781399712460
Number of pages: 320
Dimensions: 240 x 156 mm
---
MEDIA REVIEWS
I love the book and everyone should read it -- Ryan Holiday
If Nietzsche Were A Narwhal makes some extraordinary and thought-provoking points. It is not only engagingly written, but its controversial thesis is worth taking seriously... some of the cognitive concepts introduced...are nothing less than brilliant. * Wall Street Journal *
Beautiful, thought-provoking, and often hilarious * BBC Science Focus *
Gregg's clever and provocative book is full of irreverent notions and funny anecdotes - the creative upside to being a human animal. But our ability to abstract from our immediate experience means we can take that creativity too far....undeniably entertaining * New York Times *
A dazzling, delightful read on what animal cognition can teach us about our own mental shortcomings. You won't just tear through this book in one sitting - you'll probably want to invite Justin Gregg over for dinner to spend more time inside his brilliant mind. This is one of the best debuts I've read in a long time, and I dare you to open it without rethinking some of your basic ideas about intelligence. -- Adam Grant
I defy you not to be interested by this book - it finds a novel way of getting at very deep questions about who we are and what it means, and does so with clear-eyed compassion and a certain humor that softens the conclusion a bit -- Bill McKibben
Combining first rate story-telling with the latest research on animal minds and cognitive psychology, If Nietzsche Were A Narwhal is the rare book that will cause readers to think deeply about big questions and moral issues and to laugh out loud on nearly every page. I loved it. -- Hal Herzog
If Nietzsche Were a Narwhal is a book full of observations as surprising and off-the-beaten-path as its title. It's scientifically very well informed. It's not a treatise - it's a pleasure. -- Carl Safina
I felt dumber after reading this book. Mission accomplished, Justin! -- David Grimm
We've heard that a mind is a terrible thing to waste, but have you ever considered that having a human mind is more a bane than a gift? Justin Gregg's delightful and provocative book melds science with anecdote to explore that question. Read it, have your preconceptions challenged, and feel some humility. It might do you good. -- Jonathan Balcombe
A highly original take on the nature of intelligence across life forms. Simultaneously thought -provoking and delightfully humorous, Justin Gregg guides readers into an essential re-thinking of human exceptionalism. This is a welcome upending of all we have been molded to believe about humans and other animal minds. -- Lyanda Lynn Haupt
This is an important book to read if you want to understand animals for what they are - not as cardboard cutouts, or as furry humans. Animal minds aren't in competition with us, although Gregg makes a good case that if they were, they would win hands down. The idea that human intelligence may be nothing more than a failed evolutionary dead end, gives humanity an important challenge to which we must rise. -- Arik Kershenbaum
What's it like to be a bat, a bee, or a bed bug? In this enthralling book, Justin Gregg offers a window into the minds of other creatures, and debunks many of the myths of human exceptionalism. He makes the provocative argument that human thinking may be complex, but it is by no means superior - and its unique qualities could even be the cause of our species' ultimate downfall. If Nietzsche Were a Narwhal is both a humbling and awe-inspiring read. -- David Robson
A funny, perceptive book that answers questions we've been told not to ask. Like many of the great sages, Justin Gregg uses animal stories to treat deep questions of consciousness and justice. The result is a deft field guide to the mixed blessings of intelligence and the real possibility that consciousness (and joy) exist perfectly well without it. -- William Poundstone
A sparkling and witty tour of the many minds we share this planet with. Nietzsche might be surprised to find himself contemplated in the company of beasts from narwhals to slugs - but the fascinating and detailed payoff of the cognitive lives of so many animals is immense. -- Clive Wynne
Enlightening! If Nietzsche Were a Narwhal is a hilarious and thrilling look at intelligence that asks: are humans really the best? Gregg will dazzle and sweep you off your feet with his detailed exploration of the animal kingdom and its many secrets. This is an absolute must-read. -- Wednesday Martin
If Nietzsche Were a Narwhal is an unusual, delightful, and entertaining book that will help us achieve a more precise understanding of human nature, counterintuitively by looking at our reflection in light of the clues of conscious behavior expressed by our fellow animals. I loved Dr. Gregg's book because I learned quite a few interesting things from each chapter. As a scholar, I can offer no higher praise. Highly recommended. -- One R Pagan
If Nietzsche were a Narwhal is a beautiful, thought-provoking and often hilarious exploration of this planet's different kinds of minds. Justin Gregg points out that while many of the hallmarks of human intelligence are also found, in some form, in animals from insects to narwhals, humans are by all means exceptional. But our intelligence is still constrained by our evolutionary history; we may be too intelligent for own good, and too stupid to look after our planet with a sufficiently long-term planning perspective. Gregg's magnificent book is a poignant reminder that if we don't raise our game fast, we might once again cede Earth to the rule of insects and other supposedly less intelligent creatures. -- Lars Chittka
[If Nietzsche Were a Narwhal] challenges deep-seated ideas about the superiority of human intelligence by contrasting it with stories of animals who've gotten along just fine without it * Publishers Weekly *
Wonderfully accessible and charmingly narrated, this is a fascinating investigation of intellect and cognition -- Publishers Weekly
A fascinating take on human intelligence. * Kirkus Reviews *
You may also be interested in...
×
Download the Waterstones App
Would you like to proceed to the App store to download the Waterstones App?
Reserve online, pay on collection


Thank you for your reservation
Your order is now being processed and we have sent a confirmation email to you at
When will my order be ready to collect?
Following the initial email, you will be contacted by the shop to confirm that your item is available for collection.
Call us on or send us an email at
Unfortunately there has been a problem with your order
Please try again or alternatively you can contact your chosen shop on or send us an email at