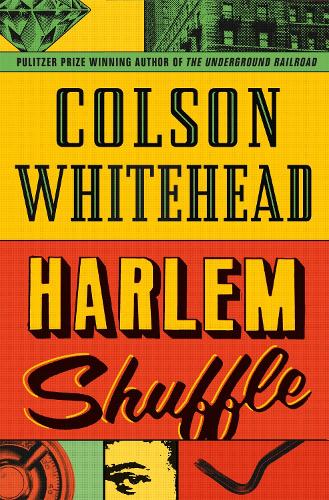 Hardback
336

Pages
Published: 14/09/2021
Set in a richly evoked 1960s Harlem, the award-winning author of The Underground Railroad and The Nickel Boys spins a meticulously plotted and paced tale of petty criminals and failed heists, which masks a deeper meditation on morality versus expediency and the difficulty of leading a good life in a bad world.
Ray Carney was only slightly bent when it came to being crooked...'
To his customers and neighbors on 125th street, Carney is an upstanding salesman of reasonably-priced furniture, making a life for himself and his family. He and his wife Elizabeth are expecting their second child, and if her parents on Striver's Row don't approve of him or their cramped apartment across from the subway tracks, it's still home.
Few people know he descends from a line of uptown hoods and crooks, and that his façade of normalcy has more than a few cracks in it. Cracks that are getting bigger and bigger all the time.
See, cash is tight, especially with all those instalment plan sofas, so if his cousin Freddie occasionally drops off the odd ring or necklace at the furniture store, Ray doesn't see the need to ask where it comes from.  He knows a discreet jeweller downtown who also doesn't ask questions.
 
Then Freddie falls in with a crew who plan to rob the Hotel Theresa - the 'Waldorf of Harlem' - and volunteers Ray's services as the fence. The heist doesn't go as planned; they rarely do, after all. Now Ray has to cater to a new clientele, one made up of shady cops on the take, vicious minions of the local crime lord, and numerous other Harlem lowlifes.
Thus begins the internal tussle between Ray the striver and Ray the crook. As Ray navigates this double life, he starts to see the truth about who actually pulls the strings in Harlem.  Can Ray avoid getting killed, save his cousin, and grab his share of the big score, all while maintaining his reputation as the go-to source for all your quality home furniture needs?
Harlem Shuffle is driven by an ingeniously intricate plot that plays out in a beautifully recreated Harlem of the early 1960s.  It's a family saga masquerading as a crime novel, a hilarious morality play, a social novel about race and power, and ultimately a love letter to Harlem.
Publisher: Little, Brown Book Group
ISBN: 9780708899441
Number of pages: 336
Weight: 560 g
Dimensions: 238 x 162 x 34 mm
---
MEDIA REVIEWS
'A sizzling heist novel set in civil rights-era Harlem . . . It's a superlative story, but the most impressive achievement is Whitehead's loving depiction of a Harlem 60 years gone, which lands as detailed and vivid as Joyce's Dublin. Don't be surprised if this one wins Whitehead another major award.' - Publishers Weekly
'Whitehead adds another genre to an ever-diversifying portfolio with his first crime novel, and it's a corker... Whitehead delivers a portrait of Harlem in the early '60s, culminating with the Harlem Riot of 1964, that is brushed with lovingly etched detail and features a wonderful panoply of characters who spring to full-bodied life, blending joy, humor, and tragedy. A triumph on every level.' - Booklist
Colson Whitehead: The Waterstones Interview
Description
Colson Whitehead, award-winning author of The Underground Railroad and The Nickel Boys spins a meticulously plotted and paced tale of petty criminals and failed heists in Harlem Shuffle. In our interview he told us more about the place where he grew up, his love of heists and prime time crime time.
Transcription
W: I wondered if you could start off by telling me a little bit about what makes Harlem, Harlem
CW: There's so many Harlems, you know there's the Harlem of my youth, you know, until I was age five I lived on 139th and Riverside and that's the early 70s so Harlem is a very dirty, crime-ridden place and that image stays with me. There's the Harlem now which is very gentrified. A lot of young people coming in, a lot of white people coming in, new restaurants, new stores. So that's the current version. A lot of places I describe in the book, which takes place in '59 and '61 and '64. have been demolished and now are big box stores like movie theaters and Nike stores and stuff like that. So the architecture has changed. There's the Harlem of 1860 which is farmland. Nothing's there. Most people still live downtown and then speculators started laying in subway lines to nowhere knowing that people would come. Builders started building tenements and townhouses. So there was the Harlem of the late 19th century which is a churn of Italians, Irish, Jews, German people all coming to New York finding a place in those old buildings, entering the middle class and leaving. And then there's the Harlem of the 1920s, where black folks from the south are fleeing Jim Crow and segregation and moving to the north, to New York City and Harlem becomes the center of black America. So all those different Harlems exist and fragments of them I think are in the book.
W: So could you explain a little bit about why you chose to write about this very specific period. As you say, the book begins in 1959 and it takes us up to the Harlem riots of 1964. What was it about that period that made you want to write about it in particular?
CW: I always make these decisions and then I have to sell them in the book and they become real, but often they're quite arbitrary. So in this case I knew I wanted to write a heist novel. I was thinking how much I love heist movies and you know gave myself permission to work in that genre. So I thought you know the criminals might use some big calamity in New York City as a distraction for their business. And so the sanitation strike of the early '70s or the blackout of '77, the anti-police riots of the early '40s or the anti-police riots of '64. So I picked '64. Mostly because it was closer to my New York. And then I have to sell it, you know, I have to do the research and make it real and so that was very fun. And I needed a hero for my heist novel started started doing some research and hit upon the idea of using a fence, you know a lot of these stories they steal the two million dollars in jewels they go through all this trouble half the gang is killed and then they stumble into the office of the fence who's like the intermediary between the criminal world and the more legit world and he says you know i'll give you 10 cents on the dollar. And it's always so appalling. So I decided that a fence would be a good protagonist and he became Ray Carney.
W: He's a man who has a sort of legitimate life and his past is that his father was very much involved in crime and he's tried to make a life for himself. And part of the novel is about his attempts to escape I guess that past and maybe his inability to do so. Why was that a theme that you wanted to look at? Because it's this idea of whether you can escape your roots.
CW: Well I mean it plays out in different ways in the book. You know a fence is an intermediary between a crooked world and a straight world. Someone like Ray Carney who has a real business, a furniture store, and also this side business, selling stolen goods - is in between, you know? He has one foot in a legit world and one foot in the crooked world. And I like that duality. Part of the novel is tracing his embrace and rejection of his criminal self, his dark side. And I think a lot of us have, you know, have less savoury parts of our personality that we learn to put in check because we're part of a society and have to function. And then some people don't learn how to keep their bad selves in check. So narrating that drama of being normal then also being kind of abnormal was compelling.
W: One of the things that I found really interesting about the book was this concept of what Ray calls 'dorvay', this idea of this time in the middle of the night when everyone else is sleeping, when you wake up and and achieve things, whatever that might be. Where did you come across this idea and I wonder whether it was something that you do creatively. Is that a time that you wake up and do any writing or are you fast asleep?
CW: When I was younger, definitely. I'll explain what it is, which is, you know before we had electricity a lot of people had segmented sleep and so you work on the farm all day, you get up at the crack of dawn, night time comes and there's no electricity and you go to sleep and your body rhythm is such that you wake up in the middle of the night for, you know, for a brief period and then go back to sleep. And so this was a common thing and it's written about in history and I came across an article about it and thought okay one day I'll use this and it occurred to me that you know the criminal life is dorvay. Dorvay comes from the French meaning wake sleep. It's prime time crime time. I wanted to put that in the book but it sounds too corny! But you know from 11 p.m to 1 a.m in that little bit of segmented sleep is when yes criminals are up and alcoholics and writers. And I've had overlap with various pairs of the subgroups. But it's a place where most of the world is asleep and you're awake. And the night is a canvas for that nocturnal life. So I used to, when I was younger in my late 20s, I did have a second shift of work at night like 10 to 1 and with my first two books I remember playing Radiohead and Underworld, it was like the late 90s and scribbling notes for the next day's work. But now I have kids, I'm just too tired so there is no second shift. Come 7pm I'm out for the day, just drinking wine and watching reality tv.
W: It's really clear that you're having a lot of fun writing this book. The dialogue, the characters, there's a vast array of characters and just the sheer sort of verve and energy in the plotting. Was this an enjoyable experience, the writing of this book?
CW: I mean it has its hard parts. I mean the fun stuff is what you just described. The hard part is the mechanics of plot, you know, revealing things to the reader, withholding, there's an actual heist in the first hundred pages, does it make sense or do I screw it up? And so it's not all fun it's you know the usual terror of writing a book. But my last two books you know dealt with institutional racism, Jim Crow segregation in the south, the criminal justice system and immediately and there was not much room for humour. And humour is part of my project. A lot of my earlier books have a lot of jokes and satire. And so the story of Ray Carney allowed me towork in that vein again and that was great. The characters of the Underground Railroad and Nickel Boys are very much controlled by these institutional pressures of racism, capitalism and it's hard for them to win and in Ray Carney I have someone who is winning, you know, he has agency and he's fighting back.
You may also be interested in...
×
Download the Waterstones App
Would you like to proceed to the App store to download the Waterstones App?
Reserve online, pay on collection


Thank you for your reservation
Your order is now being processed and we have sent a confirmation email to you at
When will my order be ready to collect?
Following the initial email, you will be contacted by the shop to confirm that your item is available for collection.
Call us on or send us an email at
Unfortunately there has been a problem with your order
Please try again or alternatively you can contact your chosen shop on or send us an email at