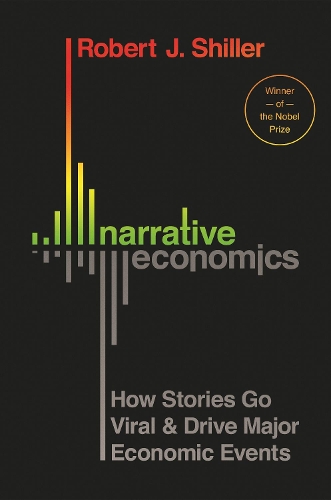 Narrative Economics: How Stories Go Viral and Drive Major Economic Events (Hardback)
Robert J. Shiller
(author)
Hardback
400

Pages / Published: 23/08/2019
From Nobel Prize-winning economist and New York Times bestselling author Robert Shiller, a groundbreaking account of how stories help drive economic events-and why financial panics can spread like epidemic viruses

In a world in which internet troll farms attempt to influence foreign elections, can we afford to ignore the power of viral stories to affect economies? In this groundbreaking book, Nobel Prize-winning economist and New York Times bestselling author Robert Shiller offers a new way to think about the economy and economic change. Using a rich array of historical examples and data, Shiller argues that studying popular stories that affect individual and collective economic behavior-what he calls "narrative economics"-has the potential to vastly improve our ability to predict, prepare for, and lessen the damage of financial crises, recessions, depressions, and other major economic events.

Spread through the public in the form of popular stories, ideas can go viral and move markets-whether it's the belief that tech stocks can only go up, that housing prices never fall, or that some firms are too big to fail. Whether true or false, stories like these-transmitted by word of mouth, by the news media, and increasingly by social media-drive the economy by driving our decisions about how and where to invest, how much to spend and save, and more. But despite the obvious importance of such stories, most economists have paid little attention to them. Narrative Economics sets out to change that by laying the foundation for a way of understanding how stories help propel economic events that have had led to war, mass unemployment, and increased inequality.

The stories people tell-about economic confidence or panic, housing booms, the American dream, or Bitcoin-affect economic outcomes. Narrative Economics explains how we can begin to take these stories seriously. It may be Robert Shiller's most important book to date.
Publisher: Princeton University Press
ISBN: 9780691182292
Number of pages: 400
Dimensions: 235 x 155 mm
---
MEDIA REVIEWS
"Shiller is one of the world's most original economists. . . . Stories allow human beings to make sense of an uncertain world. But they also drive economies into booms and busts. Armed with this understanding, we gain a far richer understanding of how economies behave."
---Martin Wolf, Financial Times
"Finalist for the Best Book Published by a University Press, Digital Book World Awards"
"
[A] highly readable introduction to narrative economics . . . . Readers can readily identify with the examples
given in this book and will gain a much better understanding of the role of stories, especially in view of the speed of modern contagions.
"
---David Lorimer, Paradigm Explorer
"What's surprising, perhaps, is that the gearheads in academic economics departments may finally be getting wind of all this. If they are, much of the credit must go to Robert J. Shiller, the Yale economist who won the Nobel Prize in his field in 2013. Shiller's iconoclastic new book,
Narrative Economics
, ranges across disciplines to explore the role of narratives in explaining (as the subtitle has it) 'how stories go viral and drive major economic events'."
---Daniel Akst, Strategy+Business
"
Narrative Economics
is an eloquent and accessible exposition of a seductive idea. It's a particularly compelling hypothesis."
---Tim Jackson, Nature
"Mind-opening Business Books of 2019"
"The book is . . . good fun to read. It is full of amusing and apposite quotations, and interesting detail."
---Charles Goodhart, Central Banking Journal
"Provocative . . . . Especially timely in the current social media-obsessed era, because narratives-both real and false-can spread globally with just a few swipes, affecting not just economic activity, but ultimately the balance of geopolitical power."
---Matt Schifrin, Forbes
"Economics is the study of people at work, but where are the people? Many a learned economist forgets all about them. Not Robert Shiller, the author of
Narrative Economics
, who believes that volatile human emotion counts for more than you think in the ostensibly objective valuation of stocks, bonds and buildings."
---James Grant, Wall Street Journal
"This book about the economic significance of viral stories has a great potential to become a viral story itself."
---Gabor Istvan Biro, Metascience
"A Project Syndicate Best Read in 2019"
"
Shiller has none of the salesman-like bluster of the stock pickers clamouring for attention on business
TV news . . . . As it is, he has only 40-odd years of being freakishly right about things. It will have to do.
"
---David Morris, Financial News
"Excellent."
---Gillian Tett, Financial Times
"This book alone should be enough to convince readers that assumptions about "given" preferences and "rational" utility-maximizing actors are totally inadequate for predicting economic and social events."
---Kemal Dervis, Project Syndicate
"Highly readable, compelling."
---Steve Levine, Medium
"Shiller's book is a spectacular effort at unifying distinct fields and encouraging the profession to be ever more capacious in its approach to phenomena and methodology."
---Mihir Desai, Times Higher Education
"One of the Financial Times' Best Books of 2019: Economics"
"[Shiller] explores how the public's subjective perceptions can shape economic trends. . . . A sensible and welcome escape from the dead hand of mathematical models of economics." * The Economist *
"One of Mint's Books of 2019 You Should Not Miss"
"This is a must read."
---Vivek Kaul, Mint
"
Many economists argue that the US housing market and economy are still on solid foundations, but ignore
Shiller's warnings at your peril. He rarely gets it wrong.
"
---Tom Rees, The Telegraph
"One of Prospect's Best Economics Books of 2019"
"The Nobel Prize-winning economist Robert Shiller defends the skills learned by English majors and other liberal arts graduates in his new book,
Narrative Economics
. Such graduates have highly developed critical-thinking and analysis skills in the narrative storylines that help people guide their way through complex personal and organizational relationships."
---C. Ronald Kimberling, The Hill
"Much of the book . . . . is an enjoyable and well-informed description of such narratives. I especially liked his discussion of bimetallism, wherein he shows that Brexit is not the first debate about an abstruse issue which triggered a culture war."
---Chris Dillow, Stumbling & Mumbling
"Shiller's thorough discussion and many examples are certainly convincing as to the importance of narratives in individual economic decision-making and aggregate economic phenomena."
---Sonia Jaffe, Science
"If we are going to win the war for reason and evidence, if we are going to stop humans from wiping out entire species and cities, economists and humanists are going to need to create more bridges across the disciplinary chasms. The proposal to focus on narratives and their powers is spot on. Robert Shiller gets us going."
---Jeremy Adelman, Public Books
"Any given scenario can allow for multiple narratives, both actual and potential. The question is why some prove more compelling than others. Shiller offers a range of answers, starting with the most obvious: a narrative is compelling when it is engaging and well expressed. Because his book is very well written, Shiller himself has satisfied this criterion."
---Barry Eichengreen, Project Syndicate
"An uncannily prescient book for the current moment."
---Chris Taylor, Reuters
"Winner of the PROSE Award in Economics, Association of American Publishers"
"Shiller argues forcefully."
---Chris Johns, Irish Times
"An Economist Book of the Year"
"Narratives are important and enduring, as Professor Shiller's entertaining book reminds us."
---David Smith, The Times
"Longlisted for the getAbstract International Book Award"
"A magisterial account . . . . In some ways . . . a bigger challenge to the foundations of economics than behavioral economics."
---Steve Denning, Forbes
"An engaging scholarly study of the stories we tell about economic events-stories that go viral, for better or worse . . . . Of immense value to economists and policymakers working on the behavioral side of the field." * Kirkus Reviews *
"Co-Winner of the Gold Medal in Economics, Axiom Business Book Awards"
"
The idea that human behaviour can exert its own influence in the market is something that most traders would
buy into. . . . But in Narrative Economics, Shiller goes much broader and deeper, looking at how the stories we tell ourselves about the world drive our behaviour. . . . Economists, he argues, need to study this if they are to have any hope of doing a better job than they have in the past of predicting major events . . . and how people react to them.
"
---Rana Foroohar, Financial Times
"
By emphasizing narratives, Shiller aims to mount a fundamental challenge to standard economic thinking-and to open up new territory for analysis. Narrative Economics was published before the novel coronavirus struck, but in a sense the
pandemic is an important point in his argument's favor. . . . Shiller is right to suggest that narratives can be uniquely memorable and influential, because they focus people's attention and move their emotions in ways that abstractions usually do not.
"
---Cass R. Sunstein, New York Review of Books
"[Shiller aims] to identify the enduring narratives that influence the way we think about the economy, and may influence our patterns of spending and saving, and therefore become self-fulfilling prophecies . . . the results are fascinating, and sometimes startling."
---Howard Davies, Prospect
You may also be interested in...
×
Download the Waterstones App
Would you like to proceed to the App store to download the Waterstones App?
Reserve online, pay on collection.
Please note that owing to current COVID-19 restrictions, many of our shops are closed. Find out more by
clicking here
.
Thank you for your reservation
Your order is now being processed and we have sent a confirmation email to you at
When will my order be ready to collect?
Following the initial email, you will be contacted by the shop to confirm that your item is available for collection.
Call us on or send us an email at
Unfortunately there has been a problem with your order
Please try again or alternatively you can contact your chosen shop on or send us an email at