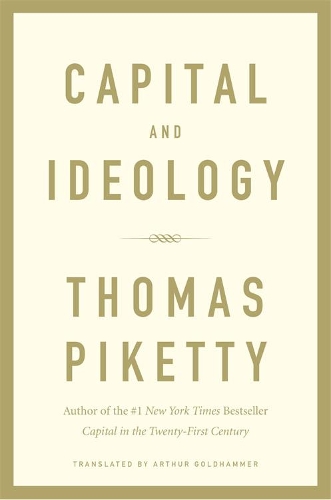 Hardback
1104

Pages
Published: 10/03/2020
Epic in scope and formidably ambitious in intent, Piketty's follow-up to 2013's bestselling Capital in the Twenty-First Century is nothing less than a wholesale re-examination of inequality since the dawn of humanity.
The epic successor to one of the most important books of the century: at once a retelling of global history, a scathing critique of contemporary politics, and a bold proposal for a new and fairer economic system.
Thomas Piketty's bestselling Capital in the Twenty-First Century galvanized global debate about inequality. In this audacious follow-up, Piketty challenges us to revolutionize how we think about politics, ideology, and history. He exposes the ideas that have sustained inequality for the past millennium, reveals why the shallow politics of right and left are failing us today, and outlines the structure of a fairer economic system.
Our economy, Piketty observes, is not a natural fact. Markets, profits, and capital are all historical constructs that depend on choices. Piketty explores the material and ideological interactions of conflicting social groups that have given us slavery, serfdom, colonialism, communism, and hypercapitalism, shaping the lives of billions. He concludes that the great driver of human progress over the centuries has been the struggle for equality and education and not, as often argued, the assertion of property rights or the pursuit of stability.
The new era of extreme inequality that has derailed that progress since the 1980s, he shows, is partly a reaction against communism, but it is also the fruit of ignorance, intellectual specialization, and our drift toward the dead-end politics of identity. Once we understand this, we can begin to envision a more balanced approach to economics and politics. Piketty argues for a new "participatory" socialism, a system founded on an ideology of equality, social property, education, and the sharing of knowledge and power.
Capital and Ideology is destined to be one of the indispensable books of our time, a work that will not only help us understand the world, but that will change it.
Publisher: Harvard University Press
ISBN: 9780674980822
Number of pages: 1104
Dimensions: 235 x 156 mm
---
MEDIA REVIEWS
In an election cycle where the political discourse has been thoroughly shaped by Piketty's work, his new book feels especially urgent. * GQ *
Ventures to trace the origin of inequalities and propose methods of eradication...Lands on the world's doorstep in the midst of an unfolding economic crisis, when the shutdown required to prevent the spread of the coronavirus is sending the world into a spiraling recession...Piketty has put forward proposals for long-term, permanent change, but impressively, they would also be immediately useful in speeding along the recovery. * New Republic *
Nothing less than a global history of inequality and the stories that societies tell to justify it, from pre-modern India to Donald Trump's U.S. * Wired *
Might become even more politically influential than the French economist's 2013 overview of inequality, Capital in the Twenty-First Century...Piketty explains why this could be the moment for a turn to equality, and which policies could make that happen. -- Simon Kuper * Financial Times *
Thomas Piketty's books are always monumental...In the same way that Capital in the Twenty-First Century has transformed how economists look at inequality, Capital and Ideology will transform the way political scientists look at their own field. -- Branko Milanovic * ProMarket *
An astonishing experiment in social science, one that defies easy comparison. In its ambition, obsessive testimony and sheer oddness, it is closer to the spirit of Karl Ove Knausgard than of Karl Marx...Will be impossible to ignore. -- William Davies * The Guardian *
A book of remarkable clarity and dynamism. Drawing lessons from a breathtaking survey of different historical experiences, it teaches us that nothing is inevitable, that there exist a whole range of possibilities between hypercapitalism and the disasters of the communist experience. It's up to us to make our future. Let's roll up our sleeves. -- Esther Duflo, Nobel Laureate in Economic Sciences
A believer in how capitalism can be used to eradicate inequality, Piketty argues for new taxation systems that might minimize the gap between the one percent and the underserved. Whether he's right or wrong, his dazzling intellect makes for thought-provoking reading. * Washington Post *
Boldly proclaims that inequality is ultimately rooted in ideology...Offer[s] a global history of how different political systems have justified inequality, and how these systems have been transformed over time. * The Nation *
A magisterial history of economic development as seen through the prism of inequality. It is breathtaking in its scholarship and sweep (almost no corner of the globe is left unvisited) and incandescent in its insights...[Piketty] casts his discerning gaze on history's sweep, not just to understand the world but also to transform it. -- Arvind Subramanian * Foreign Affairs *
Spenglerian in scope, Piketty's critique reaches far back in history and across the globe...It's an admirable corrective to the usual Eurocentrism of Western economists...Piketty has modified his thinking since his previous opus. Rather than imply that rising inequality is a problem inherent in capitalism, he now suggests that the levels of inequality we get are the ones we countenance-that they're entirely a matter of political and ideological choices. -- Idrees Kahloon * New Yorker *
Packed with fascinating detail and vast quantities of skillfully assembled data...A systematic examination of inequality across time and place, and of the ideas the powerful have used to justify it...We learn a good deal about the lengths to which the powerful will go to assert their privilege (and the often outrageous injustice this entails), and about the only things that have ever thwarted them: mass violence and progressive taxation...Whether or not his revolution without revolutionaries can get us where we need to go, his analysis of how we got here demands our attention. -- Geoff Mann * London Review of Books *
Seven years after the publication of his best-selling Capital in the Twenty-First Century, Piketty returns with a global overview to understand some of the most pressing economic and social issues of our time. * New York Times Book Review *
The breadth of Piketty's learning is extraordinary...Politicians who hope for more than a short duree in power would do well to digest the main thesis. -- Howard Davies * Literary Review *
Both a history of the world and a theory of history. Every society is unequal, and therefore constitutes an 'inequality regime' maintained not solely by force but also by ideology... Most of the book is a history of how those ideologies have helped bolster social structures characterized by extreme inequality, from feudal and slave societies through colonial regimes to the hypercapitalist world of today...The bleakly unequal impact of the coronavirus pandemic on rich and poor may reinforce that discontent. -- James Kwak * Washington Post *
A work of political economy in the broadest sense-a staggeringly ambitious effort attempting to synthesize centuries of history, economics, and politics into one grand picture...A fascinating, essential study both of where we came from and of two possible paths forward: how we might create a better future for all human society, and the dark possibilities should we fail. -- Ryan Cooper * The Week *
Mixes history and polemic-case studies from modern Sweden and Soviet Russia alongside a genuine political program to help mitigate, at least, the cruelest inequities highlighted in his first book. -- David Wallace-Wells * New York Magazine *
More like a history of the world than an economics book...An awe-inspiring breadth of data is tapped...And after dives into such detail, unlike the average data aficionado, Piketty always soars back up to the big picture. On occasion, a blistering insight can cut through reams of history. -- Tom Clark * Prospect *
Bears little resemblance to anything else written by contemporary economists, or even those of one or two generations past. The tendency in economics now-as well as in a great deal of public discussion-is to view the economy as a natural force, existing independently from our ideas about what it is and how it ought to work. This book systematically demolishes that self-serving conceit...Makes clear that a political and ideological revolution is necessary in order to achieve a new era of economic justice. -- Marshall Steinbaum * Boston Review *
[In] Piketty's magisterial survey of the central role that ideas and discourse have played in alternately justifying and questioning societies' inequities, we are reminded that political uprisings, financial collapses, and wars-think the French Revolution, the Great Depression, and World War II-are what drive change. -- Scott LaPierre * Harvard Business Review *
As in his previous book, Piketty's quest to quantify and track inequality is grounded in a rigorous analysis of data...In Capital and Ideology, he also seeks to better explain how systems of inequality persist and justify themselves...Ultimately as much a work of history as of economics...Piketty's latest work offers us plenty of valuable ideas. * The Nation *
[A] sweeping survey of the root causes of inequality...Loaded with rich comparative data, much of which has been compiled for the first time. This information includes not only standard economic fare, such as data on growth and, of course, inequality, but also political data on voting behavior, stratified by class. This allows Piketty to show how political alliances were forged in the 1980s and '90s in support of a global order that fostered inequality. -- Katharina Pistor * Public Books *
Just as powerful [as Capital in the Twentieth-First Century]. * Fast Company *
Has virtues that many post-Marxist critiques lack...Piketty's sweeping scholarship enhances, rather than obscures, his central argument. * The Economist *
[Has] the potential to start an important debate about how to restructure society in a more egalitarian and ecologically sustainable way. -- Ingrid Harvold Kvangraven * Nature *
Ranges widely across continents and centuries in its analysis of economic inequality and the ways it is justified. -- Matthew Reisz * Times Higher Education *
At its heart, Capital and Ideology seeks to understand why the less advantaged masses, who've seen their share of the economic pie drastically shrink in recent decades, don't unite to press for sweeping political changes that could bring economic justice...Given the starring role that inequality has assumed in today's political discourse-in no small part due to his previous book-Piketty's latest effort is very welcome. * Foreign Policy *
Thomas Piketty's magisterial global and connected history takes us on a whirlwind journey across the world during the past 500 years to show how shifting ideas and politics have shaped a wide variety of inequality regimes. Fully embracing the power of historical analysis, Capital and Ideology emboldens us to reimagine the possibilities of our present. Enormously rich in argument and evidence, this tour de force by one of the most influential thinkers of our age is a must-read for anyone grappling with the dilemmas of our present. -- Sven Beckert, author of Empire of Cotton: A Global History
Thomas Piketty's new book starts where Capital in the Twenty-First Century left off, revealing how inequality was allowed to develop into an acceptable condition, now and in the past, in the West and in the rest of the world. Still, not all is bad: if inequality is a social construct, that means it can also be undone. Based on monumental research, Capital and Ideology is an appeal to rethink capitalism-if not for today's politicians then perhaps for tomorrow's revolution! -- Reinier de Graaf, Office for Metropolitan Architecture, author of Four Walls and a Roof
[A] wide-ranging historical survey of 'inequality regimes'-dogmas that justify hierarchies of wealth and power...This ambitious manifesto will stir controversy, but also cement Piketty's position as the Left's leading economic theorist. * Publishers Weekly (starred review) *
A significant work. The author interrogates the principal forms of economic organization over time, from slavery to 'non-European trifunctional societies,' Chinese-style communism, and 'hypercapitalist' orders, in order to examine relative levels of inequality and its evolution...A deftly argued case for a new kind of socialism that, while sure to inspire controversy, bears widespread discussion. * Kirkus Reviews (starred review) *
Outlines a fairer economic system for the world. -- Claire Warren * Management Today *
The journey through this book is long but rewarding. Piketty's historical analysis of inequality around the world is fascinating, and even the wishful thinking underlying his 'participatory socialism' makes for interesting reading. -- Willem H. Buiter * Project Syndicate *
[Piketty] expand[s] his investigations across the globe and over long periods of history to reveal how ideologies fuel inequalities. -- Ashish Mehta * The Wire *
Focuses on the relationship between inequality and the way in which the concept of private property has evolved over time...Fascinating analysis. -- Thomas Fazi * American Affairs *
This is an immense work of scholarship on the history of inequality. It also contains a penetrating analysis of contemporary politics, especially the failures of what Piketty calls the 'Brahmin Left,' along with a radical new program of socialist egalitarianism. -- Martin Wolf * Financial Times *
A truly monumental work, reviewing trends in income and wealth inequality across of host of nations and eras, and attempting to find some overarching explanation for them. -- Charles Steindel * Business Economics *
A remarkable achievement. -- Geoffrey Wood * Central Banking *
An important contribution by Piketty. He has enlarged the scope of economic analysis appropriately to include political power and ideology. The historical record he presents is greatly enriching. -- Stephanie Seguino * Forum for Social Economics *
Adds something vital to the author's decades-old, impressively data-rich indictment of unequal wealth accumulation. This book proposes a lively, tendentious, debatable account of the ideologies that propel different property regimes-as well as a nuanced genealogy of how such ideologies can change. -- John Plotz * Public Books *
Worth the wait. Like Capital in the Twenty-First Century, it is an empirical tour de force that ends with a new policy proposal to reduce inequality...But bringing the issue of ideology and power into the debate over rising inequality is the truly great achievement of Capital and Ideology...Piketty has distanced himself from standard economics and provides a multidisciplinary, historical explanation of inequality. -- Steven Pressman * Dollars & Sense *
Piketty's own historical and cross-national analysis is deeply informed by his concern with contemporary injustices, notably income and wealth inequities but also the ecological crisis and resurgent, racist or 'social-nativist' populisms. -- Elaine Coburn * International Sociology Review *
His magnum opus...It is difficult not to agree with Piketty's compelling thesis-that inequality is a 'man-made' construct rooted in ideologies that have historically been dominated by the elite...Government officials and policymakers would find it useful in charting new economic policies for the future. -- Omar Darwazah * Arab Studies Quarterly *
The scope of Piketty's inquiry sets his book apart from most work by economists on inequality. -- Roger E. Backhouse * Society *
An encyclopaedic, rewarding work that merits thoughtful engagement...Piketty successfully puts forward a superb, data-driven normative defense of democratic socialism. The principles that Piketty proposes-fair tax, fair trade, clean air and, above all, a democratic economy-have a huge amount to commend them, and make this book an essential read. -- Ewan McGaughey * LSE Review of Books *
You may also be interested in...
×
Download the Waterstones App
Would you like to proceed to the App store to download the Waterstones App?
Reserve online, pay on collection


Thank you for your reservation
Your order is now being processed and we have sent a confirmation email to you at
When will my order be ready to collect?
Following the initial email, you will be contacted by the shop to confirm that your item is available for collection.
Call us on or send us an email at
Unfortunately there has been a problem with your order
Please try again or alternatively you can contact your chosen shop on or send us an email at