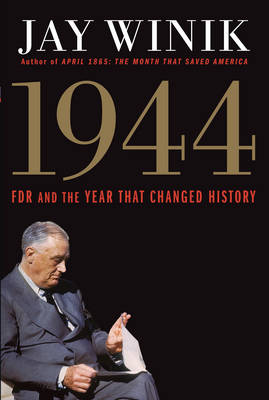 1944: FDR and the Year That Changed History (Hardback)
Jay Winik
(author)
Hardback
656

Pages / Published: 24/09/2015
It was not inevitable that World War II would end as it did, or that it would even end well. 1944 was a year that could have stymied the Allies and cemented Hitler's waning power. Instead, it saved those democracies-but with a fateful cost.

1944 witnessed a series of titanic events: FDR at the pinnacle of his wartime leadership as well as his re-election, the planning of Operation Overlord with Churchill and Stalin, the unprecedented D-Day invasion, the liberation of Paris and the horrific Battle of the Bulge, and the tumultuous conferences that finally shaped the coming peace. But on the way, millions of more lives were still at stake as President Roosevelt was exposed to mounting evidence of the most grotesque crime in history, the Final Solution. Just as the Allies were landing in Normandy, the Nazis were accelerating the killing of millions of European Jews. Winik shows how escalating pressures fell on an all but dying Roosevelt, whose rapidly deteriorating health was a closely guarded secret. Here then, as with D-Day, was a momentous decision for the president. Was winning the war the best way to rescue the Jews? Was a rescue even possible? Or would it get in the way of defeating Hitler? In a year when even the most audacious undertakings were within the world's reach, including the liberation of Europe, one challenge-saving Europe's Jews-seemed to remain beyond Roosevelt's grasp.

Winik provides a stunningly fresh look at the twentieth century's most pivotal year. 1944: FDR and the Year that Changed Historyis the first book to tell these events with such moral clarity and unprecedented sweep, and a moving appreciation of the extraordinary struggles of the era's outsized figures.
Publisher: Simon & Schuster
ISBN: 9781439114087
Number of pages: 656
Weight: 953 g
Dimensions: 229 x 152 x 43 mm
---
MEDIA REVIEWS
**New York Times Bestseller**
"To understand the 20th century, you need to understand 1944. With his usual great research and storytelling talent, Jay Winik makes that dramatic year come alive."
--Walter Isaacson, author of The Innovators and Steve Jobs
"Posing as a book on President Roosevelt in 1944, this extraordinary book is in fact a compelling, comprehensive history of the Second World War told from FDR's point of view, certainly, but also featuring profound insights into Churchill, Hitler, the ordinary soldiers and civilians, and the monstrous suffering of Europe's Jews. The width of the canvas is astonishing. 1944 might have been, as Winik calls it, 'The year that changed history', but 1944 is a book that will change history-writing."
--Andrew Roberts, author of Masters and Commander: How Four Titans Won the War in the West, 1941-1945
"A gifted storyteller with a proven talent for finding universal meaning in particular historical moments, Jay Winik has now turned his attention to 1944, an epochal year that shaped the way we live now. With grace and energy, he tells a vital story well, bringing those distant days back to vivid life. This is a terrific read."
--Jon Meacham, author of Franklin and Winston and the Pulitzer-winning American Lion
"Jay Winik is a master storyteller and in 1944 he has a horrifying, mesmerizing story to tell. FDR was a great hero of World War II, but as Winik shows, even the wisest of men can have moral blind spots. With drama, power, and passion, Winik brings to life a magnificent and terrible time."
--Evan Thomas, author of Ike's Bluff and Being Nixon
"Jay Winik is a master of the historical moment. His April 1865 distilled the Civil War and Reconstruction into a few fraught weeks. 1944 fittingly encompasses more time, as his canvas is larger, but it delivers the same insight and impact, in similarly vivid and compelling prose. A wonderful book!"
--H. W. Brands, author of Traitor to His Class: The Privileged Life and Radical Presidency of Franklin Delano Roosevelt
"Nimbly toggling between hemispheres, Winik knits familiar WWII headlines with surprising details from leaders' lives. . . . His recounting of concentration-camp logistics is haunting, and the tales of those who tried desperately to stop the mass murder have cinematic force. . . . Winik's vision of an alternate universe--in which an earlier end to Auschwitz creates a world that prizes goodness--is hard to buy yet easy to crave. But . . . there's no reason history can't change the future."
--Lily Rothman, Time
"Compelling. . . . This dramatic account highlights what too often has been glossed over-that as nobly as the Greatest Generation fought under FDR's command, America could well have done more to thwart Nazi aggression."
--The Boston Globe
"Gripping. . . . Winik tells [the story] well. . . . Haunting."
--New York Times Book Review
"Jay Winik is a master of the annus magnus school of history, in which the past can best be fathomed and told by ferreting out individual seminal years. . . . Winik is an effective storyteller. He expertly weaves together several strands of his narrative. . . . His riveting story of the abject moral indifference to what we now know was good enough evidence of what was going on at such places as Auschwitz and Treblinka makes his indictment all the more powerful."
--National Review
"Brilliantly constructed. . . . Winik is a masterful storyteller. . . . The book serves as a reminder of the dangers of demagoguery [and] may enlighten a generation."
--Buffalo News
"[Winik is] a lively storyteller with a nice eye for detail. . . . If you aren't familiar with the terrible tale of the Roosevelt administration's unwillingness to take decisive action to prevent the mass slaughter of European Jewry, you're likely to be shocked by much of what you read in 1944."
--The Weekly Standard
"An accomplished popular historian unpacks the last full year of World War II and the excruciatingly difficult decisions facing Franklin Roosevelt. . . . Winik asks whether, by focusing so wholly on winning the war, Roosevelt missed 'his own Emancipation Proclamation moment,' the chance to make the war about something bigger, specifically `the vast humanitarian tragedy occurring in Nazi-controlled Europe.' . . . The author's fair assessment of the evidence, detailed scene-setting, deft storytelling, and sure-handed grasp of this many-stranded narrative will inspire any reader to rethink this issue. Do we ask too much of Roosevelt or too little? A complex history rendered with great color and sympathy."
--Kirkus Reviews (starred review)
"Monumental. . . . 1944 is most successful in providing an overview of the political context in which Roosevelt's decisions were made. . . . This terrible story has been told before, but Winik tells it afresh, an articulate "J'accuse!" against State Department obstructionism. . . . Compelling."
--The Jewish Week
"Winik's juxtaposition of President Roosevelt's wartime leadership alongside the evolution of Hitler's Final Solution in 1944 will only reinforce his stature as a writer of popular history. . . . Riveting."
--Jewish Book Council
"An innovative & bold narrative regarding the last stages of WWII. . . Winik argues in a compelling and unequivocal manner that FDR squandered a historic opportunity."
--Schlomo Shamir, Maariv (Israel)
"Jay Winik puts his own mark on the events of 1944 with this new volume, building on his earlier bestsellers. . . . As he sets the stage for the events of 1944, Winik paints a very dark and unflattering picture of the Allied reaction to the increasing German discrimination and harassment of Jews in Germany and occupied countries, showing the incredible bureaucratic indifference to the plight of European Jews fleeing for safety. . . . A shocking spin on the usual historiography of 1944 as the year the Allies decisively turned the war toward victory."
--New York Journal of Books
"Covers the broad sweep of the war in one volume, with sprightly prose and a few literary touches. . . . 1944 also succeeds because Winik keeps the fascinating, poignant figure of Roosevelt in the spotlight."
--Miami Herald
"[Winik gives] a heartbreaking description of the horrors of Auschwitz. . . . An important book."
--Lincoln Journal Star
"Jay Winik's ambitious new book addresses the destruction of the Jews during the Second World War. . . . Powerful. . . . Winik admires FDR, but he tempers his respect with stern criticisms of a president famed for his humanitarianism who nevertheless failed to act decisively when presented with incontrovertible facts."
--Newsday
"[An] animated tale of how the Holocaust tragically shifted into highest gear, even as the Allies turned the tide in the second world war. . . . Mr. Winik [is] a talented storyteller."
--The Economist
"Vivid . . . memorable."
--The Wall Street Journal
"In his new book, 1944: FDR and the Year That Changed History, author Jay Winik wallops us with America's shortcomings under President Franklin Roosevelt in responding to the Jewish emergency."
--Chicago Tribune
"The author focuses on why the Allied nations were inept in taking military action to stop the transport of Europe's Jews to the Nazis' gas chambers and crematoriums at Auschwitz. . . . Here, Winik's talents as a researcher shine."
--Fredericksburg Freelance Star
"Many books have been written about World War Two. Many more about the Holocaust. But few, if any, have told both stories in parallel to such dramatic and awful effect. . . . in compelling detail and with a clear sense of how events seemed at the time."
--BookFilter.com
"Monumental. . . . Winik has the mesmerizing gift of broad analysis that culminates in a clear vision of those war years 70 years ago. . . . Read it and weep isn't the moral of 1944. Read it and learn, however, is the key."
--NBC2.com
"Winik . . . turns his attention to Franklin Delano Roosevelt in this fast-paced history of the year the world was at a crossroads. . . . 1944 is a bracing war story about an inspiring president who led the Allies to victory but missed opportunities to save countless lives."
--Jane Ciabattari, BBC
"Winik uses the same novelistic approach as he did in April 1865: The Month That Saved America (Harper, 2001), to draw readers into the high drama of that pivotal period of WWII."
--Publishers Weekly
"As he did so masterfully in April 1865, Winik focuses on one crucial period and illuminates the ways in which that time affected the course of American history."
--BookPage
"It's gratifying to hear someone called a public historian, as the Baltimore Sun said of Winik. . . . Here he follows up his New York Times best-selling The Great Upheaval: America and the Birth of the Modern World with a study of one crucial year in the wartime administration of Franklin Delano Roosevelt."
--Barbara Hoffert, Library Journal
You may also be interested in...
Simply reserve online and pay at the counter when you collect. Available in shop from just two hours, subject to availability.
Thank you for your reservation
Your order is now being processed and we have sent a confirmation email to you at
When will my order be ready to collect?
Following the initial email, you will be contacted by the shop to confirm that your item is available for collection.
Call us on or send us an email at
Unfortunately there has been a problem with your order
Please try again or alternatively you can contact your chosen shop on or send us an email at