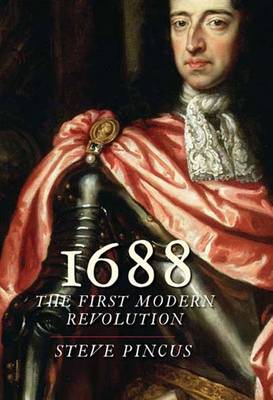 1688: The First Modern Revolution - The Lewis Walpole Series in Eighteenth-Century Culture and History (Paperback)
Steve Pincus
(author)
Paperback
664

Pages / Published: 04/03/2011
Based on new archival information, this book upends two hundred years of scholarship on England's Glorious Revolution to claim that it-not the French Revolution-was the first truly modern revolution

For two hundred years historians have viewed England's Glorious Revolution of 1688-1689 as an un-revolutionary revolution-bloodless, consensual, aristocratic, and above all, sensible. In this brilliant new interpretation Steve Pincus refutes this traditional view.
By expanding the interpretive lens to include a broader geographical and chronological frame, Pincus demonstrates that England's revolution was a European event, that it took place over a number of years, not months, and that it had repercussions in India, North America, the West Indies, and throughout continental Europe. His rich historical narrative, based on masses of new archival research, traces the transformation of English foreign policy, religious culture, and political economy that, he argues, was the intended consequence of the revolutionaries of 1688-1689.
James II developed a modernization program that emphasized centralized control, repression of dissidents, and territorial empire. The revolutionaries, by contrast, took advantage of the new economic possibilities to create a bureaucratic but participatory state. The postrevolutionary English state emphasized its ideological break with the past and envisioned itself as continuing to evolve. All of this, argues Pincus, makes the Glorious Revolution-not the French Revolution-the first truly modern revolution. This wide-ranging book reenvisions the nature of the Glorious Revolution and of revolutions in general, the causes and consequences of commercialization, the nature of liberalism, and ultimately the origins and contours of modernity itself.
Publisher: Yale University Press
ISBN: 9780300171433
Number of pages: 664
Weight: 891 g
Dimensions: 255 x 177 x 34 mm
---
MEDIA REVIEWS
"Mr. Pincus's cogently argued account of what really happened during England's revolution destroys many comforting notions that have prevailed for more than 200 years. . . . It leaves the reader with something much more exciting: a new understanding of the origins of the modern, liberal state."-Economist
"Pincus's marvellously learned book is the product of years of industrious archival labour."-Jonathan Clark,
Times Literary Supplement
"A masterful reassessment of the received wisdom of what we understand of modern British history and the concept of revolution. This is a well-researched, well-written and important book."-
British Heritage
"This is an important book and deserves to be widely read . . . What stands out in Pincus's work is his comprehensive use of manuscript sources and his determination to view events of 1688 afresh, these are the hallmarks of a true scholar . . . No historian of the Glorious Revolution - or the regime it established - will be able to overlook this remarkable work."-William Gibson, Archives
"An engaging read . . . this book will unquestionably become a major talking-point among all interested in Britain's last revolution."- Ted Vallance,
BBC History Magazine
"In this brilliant and provocative book, Steve Pincus creates a welcome stir that will enliven the study of the later 17th century . . . The result is a bracing, combative, highly stimulating argument, written in vivid and lively prose . . . A book that will be difficult for any student of the 17th century or of the revolutions to ignore."-Mark Knights, Reviews in History
"The result is a major contribution to our understanding of the Revolution of 1688...It is the great strength of this book that it addresses large and intractable issues with boldness, verve, and argumentative charity."-Philip Connell,
Notes and Queries
"Pincus's argument is a fascinating one, his study packed full of detail but never confusing or inaccessible."-Lesley McDowell,
The Herald (Glasgow)
"The sheer size of this impressively holistic study makes it hard to digest at one sitting. 1688 is a book to revisit and reflect upon, for there is so much to ponder here."-John Gibney,
Journal of Ecclesiastical History
Bronze Medal winner for the 2010 Independent Publishers Book Awards in the History Category
Winner of the 2010 Gustav Ranis International Book Prize, given by the MacMillan Center
Honorable Mention in the Non-Fiction category of the 2009 New England Book Festival sponsored by the Larimar St. Croix Writers Colony, The Hollywood Creative Directory; eDivvy, Shopanista and Westside Websites
A finalist in the category of Nonfiction for the 2010 Connecticut Book Award, given by the Connecticut Center for the Book
Winner of the 2010 Morris D. Forkosch Prize given by the American Historical Association
"Utterly extraordinary."-Don Herzog, University of Michigan
"We all know that the year 1688 is a milestone in England's history; now, thanks to Steve Pincus, the book 1688 will be a milestone in its historiography. Pincus transforms what once seemed a peaceful compromise among agreeable aristocrats into a fractious and all-encompassing crisis, the 'first modern revolution.' Provocative, erudite, and accessible, 1688 is a must read for anyone interested in seventeenth-century Europe and its possessions."-Cynthia Herrup, University of Southern California
"In this remarkable work of scholarship, vast in scope and profound in its implications, Pincus challenges Macaulay and the orthodox view that the Glorious Revolution was moderate, peaceful, and conservative, and reveals a violent transformational event that revolutionized England's state, church, and political economy, and introduced political modernity."-Bernard Bailyn, Harvard University
"A radical interpretation of a radical revolution. Steve Pincus's brilliantly researched account of the extraordinary events of the 1680s and 1690s mounts an insuperable challenge to the comfortable view that the Glorious Revolution was another instance of British consensus politics, pragmatism, and common sense.
1688
recaptures the revolutionary nature of the Glorious Revolution and its far-reaching and interconnected conflicts over foreign policy, political economy, religion, and the nature of the modern state."-John Brewer, California Institute of Technology
"A magnificent, fully documented, very well written study of how the first thorough-going modern revolution was achieved with effort and against substantial obstacles over several years. It was bloody and popular, not merely a palace coup achieved with little loss of life, as is commonly held. Taking a broader chronological view and considering more aspects of society than previous historians, Pincus convincingly shows how England had become a commercial society by the 1680s, and the race was on to harness new wealth-a race between the absolutist modernizing vision of James II and the more tolerant and liberty-minded vision of his opponents. What emerged was the first modern state, with independent financial institutions and a strong sense of national and civil, as opposed to confessional, interest. The triumph of William III and his supporters was a conscious re-ordering of the place of the three kingdoms on the European and world stage. Pincus's commitment to vigorous argument (in which he overturns many received views; his definition of revolution itself is bracingly refreshing) makes this book exciting reading, and will raise fascinated interest in the late 17th-century for many years to come. For anyone interested in modern liberal society, its origins, and why it is worth defending, this book is indispensable."-Nigel Smith, Princeton University
You may also be interested in...
×
Download the Waterstones App
Would you like to proceed to the App store to download the Waterstones App?
Reserve online, pay on collection.
Or,
add to basket
, pay online, collect in as little as 2 hours, subject to availability.
Thank you for your reservation
Your order is now being processed and we have sent a confirmation email to you at
When will my order be ready to collect?
Following the initial email, you will be contacted by the shop to confirm that your item is available for collection.
Call us on or send us an email at
Unfortunately there has been a problem with your order
Please try again or alternatively you can contact your chosen shop on or send us an email at