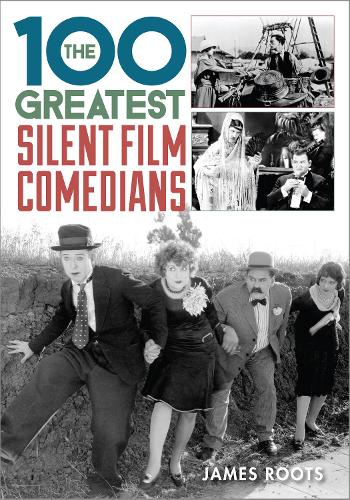 The 100 Greatest Silent Film Comedians (Hardback)
James Roots
(author)
Hardback
464

Pages / Published: 28/10/2014
The silent film era featured some of the most revered names of on-screen comic performance, from Charlie Chaplin and Buster Keaton to Harold Lloyd, Douglas Fairbanks, and Laurel & Hardy. Besides these giants of cinema, however, there are other silent era performers-both leading actors and supporting players-who left an enduring legacy of laughter. In The 100 Greatest Silent Film Comedians, James Roots ranks the greatest performers based on a scorecard that measures each comic's humor, timelessness, originality, and teamwork. Far more than just a listing, this is an idiosyncratic and entertaining review of the men and women who created the golden age of comedy. As a critic and deaf viewer, Roots brings a truly unique perspective to the evaluation of these performers and their work. He has viewed thousands of silent comedies and offers some assessments that run contrary to the standard list of performers. While many obvious names are placed in the top echelon, the author also champions performers who have been neglected, in part because their work has not been as visible. Each entry includes *a filmography *a scorecard *an evaluation of the artist's overall work *an assessment of representative films *DVD availability With the increased availability of films on DVD, as well as Internet access, more and more silent performers are being discovered by film fans. Supplemented by an appendix of comedians who missed the cut, as well as an annotated bibliography, The 100 Greatest Silent Film Comedians will be an invaluable resource to anyone wanting to know more about the brilliant entertainers of the silent era.
Publisher: Rowman & Littlefield
ISBN: 9781442236493
Number of pages: 464
Weight: 1134 g
Dimensions: 259 x 183 x 34 mm
---
MEDIA REVIEWS
Roots developed a highly personalized scheme of ranking comic actors of the silent film genre on such criteria as funniness, creativity, timelessness, and appeal, assigning numbers that culminate for each in a scorecard of 100 possible points (plus 10, allowing for 'intangibles'). Each entry provides an image (for most of the 100 comedians), a film list, and a career overview, with comments on individual films and their availability in DVD format. . . .Roots admits to having 'participated enthusiastically in Internet site chats' for over 20 years, which perhaps explains why his treatment is more an entertainment blog in print than a scholarly reference work. It's not so much about Roots's subjects as about his feelings about them and how humorously he can express those feelings. This may be amusing to some readers, mean-spirited to others, or-in true blog fashion-both. * CHOICE *
Roots' decidedly personal touch permeates his biographies cum filmographies cum critiques of silent-film comedy stars. He boldly arranges the entries in ranked order, from the top star (Charlie Chaplin) through the next 99. Frank assessments reinforce the chutzpah of the rankings, describing last-place Cliff Bowles' Weak Knees as 'absolutely forgettable. I can't even remember what Bowles looks like while he's still on the screen.' The total of scores on six criteria (e.g., funny, creativity, timelessness, intangibles) applied elastically generates the rankings. Most entries include a photo along with a list of the comedian's films, a biography critiquing his or her work, no-holds-barred capsule reviews of selected films, and a list of those available on DVD. . . .[F]ans of the format will enjoy Roots' sometimes quirky and consistently unabashed assessments of talent; part of the enjoyment may be in disagreeing. * Booklist *
In one of the most interesting and important books on film history to be released this year, author James Roots offers a fascinating look at the development, the substance, and the significance of 100 comedians who starred in silent comedies. In an era when so many of the more obscure comedians' work is readily available on DVD, a book like The 100 Greatest Silent Film Comedians fills a genuine need. The book is essentially a primer, introducing people to an era of film history that has received a lot of attention, but mostly focusing on comedy buffs that already have an initial interest and some background knowledge. Gathering 100 silent comedians, ranking them as to how funny, timeless, and substantial their work is, and listing them accordingly is the perfect starting point for anyone wanting to get an initial understanding as to how vast and versatile screen comedy's history has been. This is not to say that the book is limited to newcomers. Old, grizzled comedy buffs will also find a great deal of merit in Roots' study. Within the author's subjective opinions there lurks a great amount of historical detail that is especially interesting when discussing some of the lesser known comedians on the long end of the list. . . .The 100 Greatest Silent Film Comedians" is value packed with historical and critical information, not only stats and trivia, but enough assessment and discussion to make it an extremely effective primer for those with a developing interest in comedy film's rich history. This book is obviously recommended to silent film buffs, as even the most learned will likely gain even more knowledge, especially on the lesser known comedians. However, this book is an absolute must for any library or research center that attempts at being at all comprehensive. If a younger viewer moves past the master works of Chaplin or Keaton and discovers some of the lesser-known comedians on DVD or cable television, and it inspires a subsequent interest in knowing more about them, this book is the perfect introduction. The 100 Greatest Silent Film Comedians is an extensive, thorough, fascinating look at one of the most interesting periods, and genres, in screen history. It receives the highest possible recommendation. * The Examiner *
Most books about films are written by film critics, historians or theorists. `100 Silent Film Comedians' is different in that it is written by a self-confessed film fan. . . .Accompanying each actor is a (helpful) photograph acting as a reminder and a reference point as well as incomplete filmographies and comments on stand-out, representative or ill-judged films that they appeared in. As a reference book this is invaluable. * Filmwerk *
The 100 Greatest Silent Film Comedians now focuses the spotlight on many of the minor individuals and is clearly a labour of love on the part of author James Roots. Silent comedy film buffs will surely welcome this volume if only to study the rankings assigned to each performer and how Roots justifies his figures. The work is written in a style which will surely stimulate the interest of its readers. The volume is a pleasure to dip into and should be available in the reference departments of most public libraries. It should interest a considerable sector of the general public especially anyone addicted to quiz competitions. It will also make a useful Christmas or birthday present for anyone interested in the origins of the film industry. * "American Reference Books Annual" *
Roots' deep knowledge of, and appreciation of, these films allows him to address many controversial topics and counter several generally received opinions about these artists, their contributions, and behind-the-scenes controversies. He is well read in the field and is not afraid of taking on well-known critics and their opinions and uses an entertaining writing style to make his points. . . .Recommended for all libraries with film studies collections or interest in the history of film. * American Reference Books Annual *
You may also be interested in...
Simply reserve online and pay at the counter when you collect. Available in shop from just two hours, subject to availability.
Thank you for your reservation
Your order is now being processed and we have sent a confirmation email to you at
When will my order be ready to collect?
Following the initial email, you will be contacted by the shop to confirm that your item is available for collection.
Call us on or send us an email at
Unfortunately there has been a problem with your order
Please try again or alternatively you can contact your chosen shop on or send us an email at