​
William Hill Sports Book of the Year
We love a bit of sport. It makes us scream, it makes us cry, it makes us laugh. And the best sports writing does the same to us, all over again. Which is why the announcement of the William Hill Sports Book of the Year is so exciting!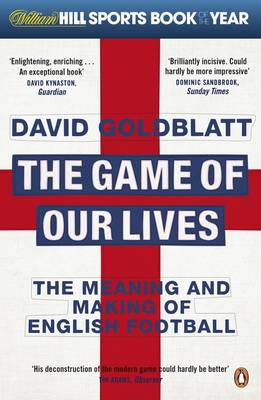 The Game of our Lives is the 2015 winner
The Game of Our Lives by David Goldblatt has been named William Hill Sports Book of the Year. The book comprehensively examines the changing face of English football and how it reflects the nation as a whole.
Goldblatt is an outstanding storyteller and the book has been described by the judges as "an exceptional winner". Meticulously researched, it is an account of the sport's evolution in post-Thatcher Britain, which seamlessly weaves pithy and amusing personal insights into a thoughtful treatise on the state of the nation.
Chairman of the judging panel, John Gaustad, said: "This is a serious, insightful yet compellingly readable book on a subject that affects the lives of everyone in the country, be they football fans or not."
"Goldblatt looks at football through the prism of its economic, cultural and reputational effect on the UK, and pulls no punches in his conclusions. The Game of Our Lives will become required reading for anyone studying the history of late 20th and early 21st Century Britain."
William Hill spokesman, Graham Sharpe, added: "Goldblatt expertly charts how football has changed, and the country with it, in recent years, and makes a convincing case that the sport is as much of a cultural and economic barometer for England's well-being as music, literature, film and television."
"It is an exceptional winner – it has to be, up against this incredible shortlist."
As he collected the £27,000 cheque, Goldblatt joined an illustrious list of past winners including Nick Hornby, Duncan Hamilton, and Donald McRae.
The absolute pinnacle in hi-octane, genre-defining, blisteringly revealing sports writing, is celebrated by the William Hill Sports Book of the Year award, and here are the best of the best - the previous winners.