​

The Baileys Women's Prize for Fiction
The Baileys Women's Prize for Fiction stands as one of the most significant literary prizes in the United Kingdom and is unique in considering only writing by female authors.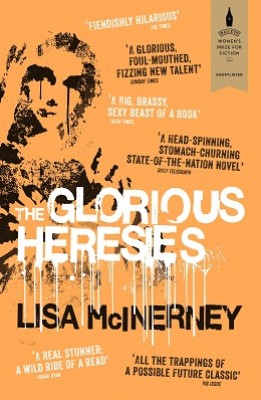 The Baileys Women's Prize for Fiction 2016 winner announced
We're pleased to confirm that Irish author Lisa McInerney has won the 2016 Baileys Women's Prize for Fiction with her incandescent debut, The Glorious Heresies.
Margaret Mountford, Chair of Judges, said: 'After a passionate discussion around a very strong shortlist, we chose Lisa McInerney's The Glorious Heresies, a superbly original, compassionate novel that delivers insights into the very darkest of lives through humour and skilful storytelling. A fresh new voice and a wonderful winner.'
McInerney first found a hugely receptive audience with her award-winning blog Arse End of Ireland, which for several years brought a sense of much-needed earthy realism to the hyped glamour of the Celtic Tiger.
These same uncompromising sensibilities have found their way into the pages of The Glorious Heresies, a frank and sometimes brutal descent into Cork's post-crash underclass. Enter Ryan, Tony, Georgie, Maureen and her psychotic gang-boss son Jimmy, five misfits who are about to be tragically united by a single unintentional murder. With virtuoso verve, McInerney, as The Guardian put it, '…has talent to burn… an irrepressible volley of unrehearsed words from a brand new throat.'
As Kate Mosse, novelist and co-founder of the Bailey's Women's Prize for Fiction noted, 'This year, the Prize comes of age. Since 1996, we have honoured novelists of exceptional talent, have promoted and celebrated fiction from all over the world, have brought together readers and writers, and supported literacy, research and reading initiatives. Now, as we celebrate the work of Lisa McInerney - our 21st winner - the list of those shortlisted and winning novels, past and present, stands as a tribute to women's talent, ingenuity, originality and imagination.'
We at Waterstones warmly congratulate Lisa on her win and welcome a powerful new presence on the fiction stage.
Buy the book
---
Following on from Ali Smith claiming victory in 2015 for the dazzling
How to Be Both
, Waterstones is proud to continue our long association with the Prize and it's our pleasure to unveil the shortlist for 2016.