Navigation
Search
Books

Dinosaurs Love Underpands

Claire Freedman, Ben Cort

Deep Sea Monsters

Igloo

Dinosaurs Love Underpands

Claire Freedman, Ben Cort

Deep Sea Monsters

Igloo
We regret that due to the technical limitations of our site, we are unable to offer eBooks or Audio Downloads to customers outside of the UK.
For further details please read our eBooks help.
Blog
Yorkshire gets Sherlocked
What's the collective noun for a group of Sherlocks? We're going to go with "a deerstalker". Kelly Smith, from our Leeds Bookshop, writes in anticipation of the Yorkshire Brain Research Centre's attempt to break the world record for the largest deerstalker of Sherlocks ever assembled.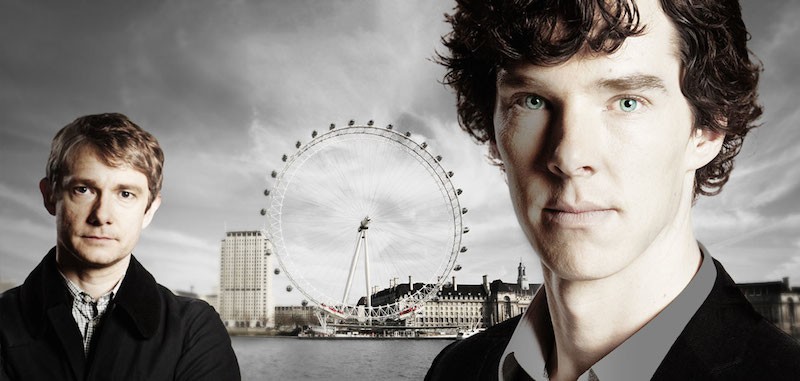 Growing up I never really took much interest in Sir Author Conan Doyle's private consulting detective - not the books, the TV series or even the movies. This all changed in 2010 when I read that the BBC were creating a modern day version, casting Benedict Cumberbatch and Martin Freeman in the roles of the legendary crime fighting duo, Holmes and Watson.
I was intrigued as to how successful this would be, but after hearing that Steven "Doctor Who" Moffat and Mark "League of Gentlemen" Gatiss were the brains behind the new series I thought I would give it a try. I was hooked within minutes. So much so that I went straight to the Crime section of my bookshop before my shift started and bought the full collection of Sherlock Holmes stories.
Four years and many Sherlock adventures later, imagine my excitement when I heard that my local stately home - Temple Newsam in Leeds - would be playing host to the Sherlock event to end all Sherlock events.
Yorkshire Brain Research chose the brainiest of detectives to inspire their fundraising drive to build a £2m brain research centre at Leeds Teaching Hospitals. Their plan is elemen... - simple. This Sunday 31st August they're attempting to break the world record for the biggest gathering of Sherlock-a-likes ever assembled.
I was thrilled, not only because my £15 donation gets me a free Deerstalker hat, pipe and magnifying glass, but also since it gives me and my fellow Sherlockians the chance to break a world record whilst helping the vital work of a great charity.
Yet why, you may ask, is this event not taking place in London? Sherlock lives in Baker Street after all. Well, the answer is elemen... *Ahem*, quite straightforward. Holmes was born in Yorkshire - at least according to Sherlock scholar William Stuart Baring-Gould's 1962 book Sherlock Holmes of Baker Street: A Life of the World's First Consulting Detective.
The organisers need just 250 people to turn up to break the record, and since Sherlock is one of the world's most beloved characters they expect many more than that will be there on Sunday. There's loads more going on besides the record attempt itself to keep fans entertained - from comedy to circus acts, though I hope they haven't hired that scary Chinese circus from The Blind Banker... There'll be prizes for the best dressed Sherlock, flash mob dancing, and the Flanagan Collective and Harts horn – Hook Productions in association York Theatre Royal will be performing a taster of their new production Sherlock Holmes "A Working Hypothesis". Meanwhile musical acts Re-Wired, Tom Donaldson Badger, Max-Massimo Restaino, Luzuli, Laura Erby and Area 40 will be keeping the crowds entertained, whilst experiencing the surreal sensation of looking out on a field full of Holmeses.
I can not wait for Sunday - and I'm really excited about the promised surprise guests...
Should you go? The answer is - ELEMENTARY. Yes, I went there.
Find out more about the event and buy your tickets at the Sherlock: The World Record website. And don't forget to tweet about the world record attempt if you're there using #sherlockrecord.
Kelly Smith, for Waterstones.com/blog
For more information follow @sherlockrecord