Blog
Writing Fiction is an Act of Faith
Elif Shafak is a an award-winning Turkish novelist and political activist. Here she shares her experiences both as a writer and as one of the judges of this year's Baileys Women's Prize for Fiction.
Elif Shafak is one of Turkey's most popular contemporary writers. Blending Eastern and Western storytelling traditions, she writes sweeping narratives that take in broad themes such as religion, philosophy, Sufism and politics to tell the stories of women, immigrants, minorities, and subcultures: 'Shafak's heroes are often marginalised figures in societies governed by rigid class, race and gender hierarchies' The Telegraph. Shafak, who was awarded the Chevalier de l'Ordre des Arts et des Lettres in 2010, is one of this years judges for the Baileys Women's Prize for Fiction.
'When life itself seems lunatic, who knows where madness lies? To surrender dreams - this may be madness,' says Cervantes in his wondrous Don Quixote.
Writing fiction is an act of faith. You have to believe that the seed of a story planted in the valley of your mind—if only given a chance to grow—will someday in the near or distant future, bear magical fruits. You must believe that the story you are working on--day in, day out for months, years--will someday connect with people you have never met, and probably never will. Like all acts of faith, this, too, is a journey that ventures beyond the boundaries of the self.
But writing fiction is equally an act of doubt. You will disbelieve and question and challenge yourself at every step along the way. You will be pelted with anxieties and panic attacks that come out of nowhere. It makes no difference whether you are writing your first book or fifth or tenth, you will still watch your soul bleed on the whiteness of the page. You will find yourself doubting not only your characters, but also your own skills. You might even ask why on earth are you doing this, plunking away at a computer keyboard or holding a leaking pen as though your life depended on it--though it won't stop you, the darkness of your thoughts, you will continue writing, for how can you not continue breathing.
Writing is the waltz of faith and doubt. Both are sorely needed.
And you must dance this waltz, night and day, for as long as it takes.



When you finish your story, you will realize that it has changed you somewhat. It has shifted something deep inside your soul; you are not the same person anymore. When it is ready, you will hand the manuscript to your agent who will then send it to your editor. From a distance you will watch your story find its feet. It will have its own journey. You will never be the master of its destiny.
It doesn't matter that you have cut yourself open and put your heart on display for everyone to see.
You will accept that, in truth, novels belong less to their writers than to their readers.


Nonetheless, one day you will receive a letter or an email or a postcard from a reader who lives in this town or perhaps miles and miles away in another part of the world, telling you how much s/he loved the story and what it meant for her or him. At festivals, readings, book signings, panels, you will meet people who will explain to you how they have embraced your book, perhaps even more faithfully than you ever could. You will be surprised, humbled. The extrovert in you will want to spend more time with the readers, the introvert in you will want to run away and hide.
For a writer, it is a blessing when the book one creates in the solitude of one's room reaches out to other people: crossing distances, bridging cultural gaps, making kindred spirits out of pure strangers.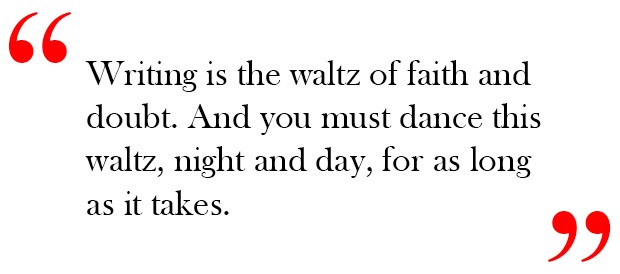 Every title on the Bailey's Women's Prize 2016 shortlist is full of creativity, courage, craftsmanship and chutzpah. These books are witty, tender, funny, brave. They are storytelling at its finest.
Judging the Baileys this year has been an amazing experience and a true honour. Beautiful, intense, inspiring from the very start. I remember the day I went home and sat next to a tower of freshly nominated books, knowing that they hid marvels inside. Which one shall I read first? What a joy that was.
As judges we all came from separate backgrounds. As such, we each had a different literary taste, perhaps a different expectation as to what a good novel should provide. Yet we also shared one fundamental thing in common: our love and respect for literature.
Hence we approached each and every title with the same openness of mind and openness of heart. At our meetings we discussed energetically. We agreed and disagreed; but we always listened to one another carefully, and we laughed a lot together. It was clear from the very beginning how each judge enjoyed and valued their responsibility. Sometimes when we had to let go of a book we had personally grown fond of, it hurt. There were beautiful stories on the longlist that could not make it to the shortlist. This was painful for we had loved them all.
At no stage we paid any attention whatsoever to the race, nationality, age or fame of the author. Both debut authors and well-known names were given an equal chance. As a result, this year we had one of the most diverse longs lists, and then, one of the most diverse shortlists.
I hope all of the titles on our long and short lists will be translated into many languages around the world and find those global souls, East and West, who refuse to surrender dreams.
×
Download the Waterstones App
Would you like to proceed to the App store to download the Waterstones App?
Reserve online, pay on collection


Thank you for your reservation
Your order is now being processed and we have sent a confirmation email to you at
When will my order be ready to collect?
Following the initial email, you will be contacted by the shop to confirm that your item is available for collection.
Call us on or send us an email at
Unfortunately there has been a problem with your order
Please try again or alternatively you can contact your chosen shop on or send us an email at