Blog
William Hill Sports Book of The Year 2016 Shortlist: Q & As (Part Three)
Over the past 28 years, The William Hill Sports Book of the Year Award has firmly established itself as the benchmark for brilliant sports writing; its long- and shortlists filled, every year, with the most inspiring and passionate reads the genre has to offer. To celebrate this year's shortlisted contenders, Waterstones Online's Matt Gardiner has interviewed the writers of the books dubbed 'The Magnificent Seven'. In our third and final instalment, he interviews Diana Nyad, William Finnegan and Oliver Kay.
Diana NyadIn the 1970's, Diana Nyad was the greatest long distance swimmer in the world holding many world records including those for circling Manhattan and swimming between the Bahamas and Florida. There was however one record she seemed destined never to achieve. The terrifying ordeal of swimming between Cuba and the Florida Keys without a shark cage seemed out of her reach until, at the age of sixty-four, Nyad finally completed the crossing following a mind-blowing 53 hours of consecutive swimming.
Find a Way
is a memoir of the record breaking crossing and a call to live life with a fearless passion.
This is the second memoir you have written – after the first, you did not swim competitively for many years. Does this book draw a line under your swimming career, or are there still challenges ahead?
The Cuba Swim was a lifelong journey, the dream of a lifetime. Back in my twenties, in the 1970's, I swam many of the major marathon swim crossings but in this modern era, in my sixties, I didn't come back to become a distance swimmer again. I came back to chase the perhaps impossible star that would demand every fibre of my potential. That was the Cuba Swim. It was a grand story, one that I lived out loud for 35 years. Now that it is at long last achieved, I can't look at the globe, this blue jewel of a planet of ours, and find inspiration at the idea of crossing some other body of water. Cuba was everything. And it's done.


You finished your record-breaking swim between Cuba and the Florida Keys on your fifth attempt. What kept you getting back in the water to try again?
I came around to the age-old debate between the journey and the destination. The Florida shore appeared more and more elusive as I chased it. But the journey toward it was constantly replete with noble friendship, the thrill of one of the grand adventures of our time, a steep learning curve of science and technology, and the depth of making history.
Before the fifth attempt, our team was still bringing fresh protocols to the journey. How many people have said it better than I? Far better to try and fail than not to try at all? How will we ever know the limits of the body and the human spirit unless we push up against those limits, rather than sit comfortably on the sofa at home?


You write frankly about the horrifying abuse you suffered as a young woman, including from your swimming coach. Have things changed in the sport – do you think young women are safer now?
Sexual abuse of young people by role models in their lives (teachers, preachers, coaches, parental figures, et al) occurs at crisis epidemic numbers in our American society. I can't speak for the other cultures of the world, but we now throw out the statistic here in the U.S. that one in four girls, one in six boys, are molested by someone they know by the age of 18. And those stats come from the few brave enough to speak out. No, we are not in a better place than we were during my youth. It continues as a heinous crime. A crime that often plays out in lifelong ramifications for the innocents.


Long-distance swimming must be a very solitary sport – what do you think about when you are out there?
This is of course chronicled in great detail in the book. I go from long counting numbers in various languages to a playlist of 85 songs. No headphones, just me singing in 4/4 time the Beatles, Neil Young, Simon and Garfunkle, Bob Dylan, et al, in part to count time accurately, with the grooved metronomic rhythm of my stroke, and in part to keep as close to reality as possible, to remind myself who I am, what I'm doing, and why I'm doing it.
But the extreme solitude of the sensory deprivation, very little audial or visual stimulation for 53 hours, leads to vibrant and consuming hallucinations, as well as dreamlike scenarios wafting across the brain. I'll miss all that extremity, frankly.


If you win the WHSBOTY, part of the prize is a free £2,500 bet. If you had to place that bet today, what would you be putting money on?
Well, that's a fascinating proposition. I could go with something facile from the sports world, such as betting that Roger Federer unfortunately won't win another Grand Slam tournament. But, more interesting, let me say that Donald Trump being impeached during his four-year tenure as President of the United States is a pretty good bet. Believe me, at least half of our 320 million people are reeling right now, crying to the heavens: What Have We Done?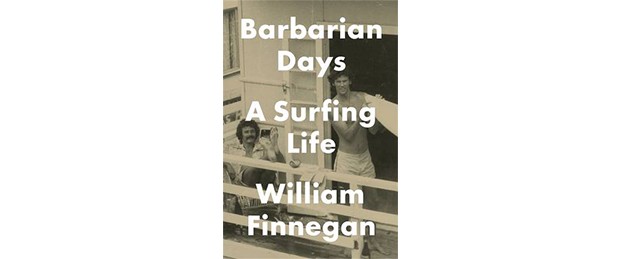 William Finnegan
Already a Pulitzer Prize winner for
Barbarian Days
, William Finnegan is a writer at The New Yorker and the author of the first surfing book to be shortlisted for the William Hill. Finnegan first started surfing as a boy and his book is a memoir of his travels, chasing the world's most famous and challenging waves. Barbarian Days is a study of the brotherhood which develops among the wave riders of the world.
Like baseball, surf culture has long been a part of the mainstream – the surf movies of the '50s and '60s, the Beach Boys, surfer fashion, movies like Big Wednesday and Point Break – but unlike baseball it does not seem to have left its mark in fiction. Do you have any thoughts on why this might be (or any tips on great surfing novels to check out?).
The language to describe surfing is strangely hard to get right. Not for surfers, who live and breathe it, but for anyone else. There's a rich tribal literature, but it's impenetrable to outsiders because surfers make basically no effort to translate for those outside the tribe. Brave mainstream novelists and filmmakers who've tried to incorporate surfing into their stories nearly all fall flat. Technically, they're quickly out of their depth, struggling to get even basic things right. But there's also something about surfing that tends to drown its fictional treatments in corniness, melodrama, softcore porn, and kitsch. A distinguished exception to this rule is Breath by the Australian novelist Tim Winton.


Crime writer Agatha Christie surfed back in the 1920s do you know of any other writers who have paddled out into the surf to catch a wave?
Yes. Many have, most of them seemingly at Waikiki, the same break where Agatha Christie first got to her feet. Jack London gave it a try in 1907, and wrote a long enthusiastic article about it, which ran, in England, in Pall Mall Magazine, and was later included in The Cruise of the Snark. London was thrilled by the experience in a chest-beating he-man sort of way. Mark Twain had less success when he visited Hawaii, in 1866. He paddled out, got worked, as we say, and turned that into a funny story in Roughing It. But the topsy-turvy ineptitude of Twain's account is a good example of how difficult it is, when the topic is waves and surfing, for the non-initiate just to see and describe what's in front of his nose.<


Professionally you've been an editor and a journalist for most of your career, but you wrote a lot of fiction when you were a young man, especially on your travels. Are you ever tempted to revisit that work?
Funny you should ask. My old surf travel partner, the writer Bryan Di Salvatore, recently ordered me to re-read the manuscript of a novel I wrote about the world of railroad workers in California (I worked on the railroad for a few years after university). He had discovered a copy, and generously decided that it was worth touching up and finally publishing. This was a novel that I began back when he and I were bumming around the South Pacific, camping and searching for waves. Publishers had asked me to tone down the railroad jargon, which I declined to do, in a misguided belief that the dense, demotic poetry of the work language was essential and inviolable. So, on Bryan's instructions, I recently tried to re-read the thing. But I found I couldn't understand it. The technical jargon was too thick. I had forgotten what it all meant, and couldn't even follow the story. Maybe (though I doubt it) that novel is worth revising, but the advice I got from publishers back in the day was definitely spot-on.


You started surfing as a boy and still do it now you are in your '60s. How old is too old?
That dire question shall be answered in the fullness of time. I'm surfing a bit worse with each passing year, and really should get a longboard soon—they're much easier for old guys to ride. But I'm still fighting against the inevitable, still trying to surf good waves well. It can be frustrating, and humiliating, but occasionally it's still glorious, and I often feel lucky just to be out there. I've been lucky with injuries, and with all the other bodily damage inflicted by fifty years in the water and sun. So maybe another decade or two.


Newquay in Cornwall is the place most people associate with surfing in the UK, but have you discovered any great swells elsewhere in the country?
I have surfed a couple of nice, lesser-known spots in Devon and Cornwall. But the code among surfers is to never, ever kiss and tell. If I did, the locals would come and find me and kill me. That's a joke (I think), but it makes the point. The tribal code is very strict. Crowds in the water are a problem, even in the U.K. Knowledge is jealously guarded.


If you win the WHSBOTY, part of the prize is a free £2,500 bet. If you had to place that bet today (this question was asked before the ATP World Tour Finals), what would you be putting money on?
Last week I would have put it on Hillary Clinton, if that were allowed. It was impossible to think about anything else here in the U.S. Now I'd lay it on Andy Murray to win the ATP World Tour Finals. He's looking so strong, and the dominance of Djokovic seems to be finally on the wane.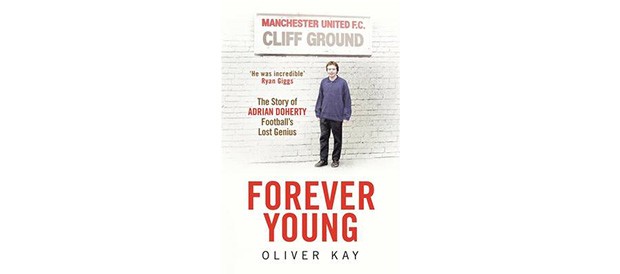 Oliver Kay
Oliver Kay, Chief Football Correspondent for
The Times
, discovered the little known story of Adrian Doherty while researching a book on Ryan Giggs' career at Manchester United. Doherty's name was a recurring theme in Giggs' contemporaries' interviews and Kay was so struck by what he heard that he began to research the man from Northern Ireland. What evolved from the research was
Forever Young
, a wonderful study of incredible talent and ultimate tragedy.
You are a sports journalist. What makes you look at a subject and think "This isn't an article. It's a book"?
It hadn't happened before and it hasn't happened since. As a journalist, the thought process is always about trying to do a job for the newspaper. That was my initial thought back in 2011, when I stumbled across the story of Adrian Doherty, which to my amazement had never been covered in the slightest detail before. I travelled to Strabane in Northern Ireland to meet his family, hoping to write a 2,000-word feature for The Times on this remarkable and pretty much untold story of a former Manchester United prodigy who had drifted out of football and had sadly died at the age of 26. His family told me they didn't want anything to be written at the time, because they felt there would be no benefit in doing so, but I spent a lovely afternoon chatting to them as they reminisced about Adrian, how he had grown up in The Troubles and become not just a brilliantly talented footballer but an aspiring poet and songwriter and a fantastically quirky character. I promised them I wouldn't write a word without their blessing and we stayed in touch. As time went on, both Adrian's family and I came around to the view that a book might be the way forward – in their case because they preferred the idea of something more enduring than a newspaper article, in my case because the deeper I dug, the more I realised that, to tell the story properly, I was going to need an awful lot more than 2,000 words …
You call your subject, Adrian Doherty, "football's lost genius". How can someone that talented slip through the cracks?
It happens in sport, for a variety of reasons. The most frequent reason is injury. That's not the whole story with Adrian Doherty, but it is certainly the reason why he didn't make United's first team. He certainly had the talent to play for United– Ryan Giggs shares the common view that the two of them were neck-and-neck when they were 16/17 – but he suffered a terrible knee injury the week before he was due to make his first-team debut. Giggs made his debut the following week and his and Doherty's careers and lives went in very different directions. Doherty's knee didn't recover and, having suffered one setback after another, being the type of guy he was, he threw himself into his other interests.
Doherty seemed to be a deeper thinker than most of his contemporaries. Do you think being intellectually curious will have adversely affected his prospects as a footballer?
To be honest, yes I do. This wasn't just an "intelligent footballer"; there are more of those than people might imagine. This was a guy whose enormous passion for music, poetry, philosophy and spiritual learning meant there were so many other things going on in his mind and in his life, beyond football. To use the popular cliché, he didn't eat, drink and sleep football. He had done so in his youth, but, as he moved to Manchester and began to broaden his mind and his interests, his priorities changed. That wouldn't have stopped him playing in United's first team; he was still a fiercely competitive and brilliant footballer who would have made his first-team debut at the age of 17 had injury not struck at the worst possible time. Wearing second-hand clothes and going busking in the city centre wasn't going to stop him making the first team. Only the injury stopped him. What I would say is that, because of his character and his other interests, he didn't look upon the prospect of a football career in anything like the same way as Giggs, Beckham and Neville did. He had a totally different outlook on life. And it is that outlook, that personality, that made it such an appealing story to research and tell.
How do you think his career might have looked had he not suffered the injury when he did?
Hypothetical, of course, but among all the United players and coaches I spoke to from that period, there was an overwhelming consensus that Adrian Doherty would have been strong enough – mentally and physically – and more than good enough to be a first-team player for United, certainly in the short term. But would he have had a Giggs-like career? No, I'm not saying that for an instant. When people write about the book and suggest that he might have had a better career than Giggs, Beckham etc, I can't help thinking they didn't read it properly. This is just my hypothesis, but I do feel that sooner or later, whether after five games, ten games, 50 games or 100 games, he would have walked away from football, even if he had been starting regularly in United's first team. He wasn't remotely interested in the money or the fame and I do believe he would have found most aspects of "stardom" to be thoroughly at odds with his outlook on life. He was far too interesting, with far too much going on in that fascinating mind of his, to be another Giggs or Beckham
If you win the WHSBOTY, part of the prize is a free £2,500 bet. If you had to place that bet today, what would you be putting money on?
Oh, I've no idea. I would definitely stick to football rather than racing, tennis, X Factor or anything like that, but bitter experience tells me that covering football for a living doesn't make me an expert tipster. William Hill have done very well out of me down the years …
×
Download the Waterstones App
Would you like to proceed to the App store to download the Waterstones App?
Reserve online, pay on collection


Thank you for your reservation
Your order is now being processed and we have sent a confirmation email to you at
When will my order be ready to collect?
Following the initial email, you will be contacted by the shop to confirm that your item is available for collection.
Call us on or send us an email at
Unfortunately there has been a problem with your order
Please try again or alternatively you can contact your chosen shop on or send us an email at