Blog
William Hill Sports Book of The Year 2016 Shortlist: Q & As (Part One)
Reaching the shortlist of the world's longest-running and richest sports writing prize is a great achievement in itself. The William Hill Sports Book of the Year Award has established itself as the true measure of the best the genre has to offer; their long- and shortlists teem with cracking reads that inspire lively debate. To celebrate 2016's shortlisted contenders, Waterstones Online's Matt Gardiner has interviewed all seven writers of the books the award's chair has dubbed 'The Magnificent Seven'. We will be posting the interviews over the next week. To kick-off, we have Rory Smith and Rick Broadbent.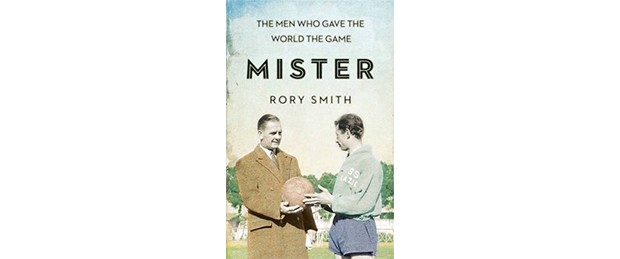 Rory Smith

Seasoned sports writer Rory Smith, who previously wrote for The Times, has recently moved to The New York Times. His shortlisted work, Mister, portrays England's legacy as a kind of football missionary due to its many coaches who, for a variety of reasons, found their calling abroad; these men inspired an array of footballing talent around the globe, arguably eclipsing the reputation of England's own football players.

You are a sports journalist and this is your first book. What made you look at this subject and think "this is more than just an article?"
It sounds slightly ridiculous, but it just seemed to fall into place. A few years ago, I bought a book by George Raynor in a second hand shop in London. It wasn't a story I knew – and it wasn't a story I thought anyone else knew – but it was fascinating, and it spoke to a lot of things I believe about English football: the resistance to coaching, the refusal to countenance new ideas. When England played Sweden – the game when Zlatan scored four goals – in 2011, I remembered the book and did a piece on it. Around the same time, a bit later, a friend of mine mentioned that he'd met a guy called Alan Rogers, who'd led this incredible life coaching around the world. It struck me that there was a story here, involving but expanding beyond both, and one that was worth telling.
You make the case that English managers helped make world football the phenomena it is now, yet we have not had a wholly successful manager of our national team for decades. What went wrong and when?

That's a big question, and could be answered in loads of different ways, but the one that I became most convinced of while researching and writing the book – I find that writing leads to clarity; if you don't have a clear idea when you start, you do by the time you finish, so you have to go back and start again – was that we never acquired the habit of learning. Football landed to us, fully formed, whereas other countries had to learn about it. We looked at it as teachers, and they handled it as students. That worked to our advantage for a while, but not for long. And it led to another problem: a lot of our best thinkers, the people who could have helped us develop the game, had to go abroad to spread their message. It's a double loss: we didn't want to learn, and because of that we helped accelerate the process everywhere else.
Our managers took the game to the world, but what did they bring back with them? How did their experiences abroad change our own game?

The thing I didn't realise while writing the book – that only became clear once I was about 50,000 words in – was that there is a direct line that takes you back from the football played now, according to the principles of Johan Cruyff, all the way to Jimmy Hogan, an Englishman who first went abroad in 1910. It takes in Bobby Robson and Terry Venables and Vic Buckingham and Arthur Rowe, the doyen of Tottenham's great team in 1951, who studied in Hungary, where Hogan was so influential. Hogan, at least in part, invented football as we all know it. The sad thing is that England had to be taught that, initially reluctantly, by foreigners, who absorbed his lessons rather better than we did.
Football inspires countless books on the sport – indeed, there was a book on managers on last year's WHSBOTY shortlist as well. Why do you think it is so fascinating to read (and write) about?

Because it's so wide, so sprawling, so rich in characters and texture, and there are so many different aspects to it. It's true of all sports, of course, but I love writing and reading about football in general because there is such a broad range of starting points. I love Jonathan Wilson's Inverting the Pyramid and Simon Kuper's Football Against the Enemy, and I love Forever Young – though I'll rescind that if it wins – and This Love Is Not For Cowards and Thirty-One Nil. They're all ostensibly about the same sport, but they couldn't be more different books. Football can hook you because of the strategy, because of the spectacle, because of the people, because of the history, because of the prism it offers on society. There are so many books, basically, because there is an almost endless supply of things to say.
If you win the WHSBOTY, part of the prize is a free £2,500 bet. If you had to place that bet today, what would you be putting money on?

I am, by some distance, the worst gambler I've ever met. Not in the sense that I do it a lot, but in the sense that I do it rarely and badly. I'd put it on as a sure a thing as I can find: a Real Madrid home win, a Celtic title victory, England not to win a major tournament. One of those.
Rick Broadbent

Rick Broadbent has been a sports writer for The Times since 2001 and has previously been shortlisted for the William hill Sports Book of the Year Award for his book on MotoGP, Ring of Fire. His shortlisted title this year is Endurance: The Extraordinary Life and Times of Emil Zátopek, which captures the life of this complex, forgotten icon of the running world. Zatopek was lauded and admired in his lifetime but ultimately fell into obscurity after his involvement in the Prague Spring of 1968.
You are one of our most renowned sports writers, having worked at The Times for 15 years and had two previous books shortlisted for the WHSBOTY. What makes you look at a subject and think "that's not an article, it's a book."?
They have to be on a subject that go beyond sport or, at the very least, involve unique characters. The last time I was on the list was with 'That Near-Death Thing' which dealt with a dangerous motorcycle race on the surface, but was really about how and why racers chose to deal with something that might kill them. I tried to get inside their heads. With 'Endurance', it was a book about a man who won the distance treble at the 1952 Olympics, but it was also about how he overcame a brutal regime, his friends' struggles, politics, sacrifice and ostracism. When you start looking at secret police files, you know the subject is more than just a runner.
You wait ages for a book about Emil Zátopek and two come along at once (another title, Today We Die a Little by Robert Askwith was longlisted for the WHSBOTY). Why all the interest in Zátopek now?
Sheer chance. There is no anniversary, nothing to peg it on, merely two writers fascinated by a subject and timing things very badly.
Investigating the years Zátopek spent outside running, tormented by the Communist government, must have been different from the usual investigations you would do for a book on a sporting subject. What particular challenges were there?
The language barrier was the hardest and so, for the first time, I employed a couple of thrusting young journalists to help with some of the interviews, logistics and scrolling through archives. That made it more fun, however, and meeting some of Zatopek's peers was a thrill. There was also some suspicion about why an Englishman should be writing a book about a Czech legend and some initial reluctance to speak out about the regime and, indeed, Emil's flaws. In the end we found enough people willing to help to build up a rounded picture.
Zátopek was voted 'greatest runner of all time' in 2013. Can you see anyone currently running who might one day challenge him for that title?
Nobody will do the 5000, 10,000 and marathon treble at an Olympics, but it is feasible others will have the same range. Mo Farah has a chance. He is the king of the 5000 and 10,000, the European record holder at 1500, and has dabbled (so far unsuccessfully) with the marathon. He is the best bet.
If you win the WHSBOTY, part of the prize is a free £2,500 bet. If you had to place that bet today, what would you be putting money on?
The last time I won a free bet I put it on the All Blacks to beat Ireland. I thought it was a safe bet. This time I would probably go for Leeds United to win promotion.


×
Download the Waterstones App
Would you like to proceed to the App store to download the Waterstones App?
Reserve online, pay on collection


Thank you for your reservation
Your order is now being processed and we have sent a confirmation email to you at
When will my order be ready to collect?
Following the initial email, you will be contacted by the shop to confirm that your item is available for collection.
Call us on or send us an email at
Unfortunately there has been a problem with your order
Please try again or alternatively you can contact your chosen shop on or send us an email at