Blog
Review: When Breath Becomes Air
It is impossible to read this book and not be moved by the intimacy and eloquence of Dr. Paul Kalanithi's writing.
It is impossible to read When Breath Becomes Air and not be moved by the intimacy and eloquence of Dr.Paul Kalanithi's writing.
The book opens with the devastating opening image of Kalanithi, a highly intelligent and remarkable neurosurgeon, reading his own CT scans showing, inexorably, the cancer that would eventually kill him. What follows is a mixture of beautiful and moving reflections on his life, as well as candid reactions to, and explanations of, his illness and treatment. The ending is a profoundly moving epilogue written by his widow; from start to finish, When Breath Becomes Air will have a deep and lasting effect on every reader.
To say this book is about death, would be inaccurate. It is a book about an extraordinary man: Kalanithi, a man who was passionate about literature and existential philosophy, a man who trained for 10 years to become a neurosurgeon, and, sadly, a man who, at the age of only 37, died of lung cancer. It is, of course, written by a man facing his mortality, but that description does not capture the vitality and the grace of this book. As Atul Guwande says, When Breath Becomes Air shows us that :"the dying are the ones who have the most to teach us about life."
From his recollections in the book, his life reads like an exceptional quest for the meaning of life. At first, this quest led Kalanithi to study literature and philosophy at Stanford University, where he excelled, writing his dissertation on the writing of Walt Whitman. It was later, when approaching post graduate study, still driven by a desire to fully appreciate human existence, that he decided the only way to truly do so was by becoming a neurosurgeon, working every day with the human brain: the organ that allows us to contemplate the meaning of life in the first place. His was a life full of good humour, astonishing achievement, and driven by a fiercely inquisitive mind.
It is also impossible to write about this book without stressing just how finely it is written. Kalanithi's poetic, seamlessly flowing sentences, coupled with his striking use of literary quotation, show he never lost his love of words; it is also clear from his biography that he was man who could achieve anything he put his mind to, which is what makes his story, and his loss, all the more poignant.
With so many books out there that tell you to feel 'in the moment', to 'stress less' and 'enjoy life more', nothing will inspire you to make the most of your life, worry less, be happy and show how much you love the people around you more than this illuminating book.
Here is a short, very moving video of Paul Kalanithi discussing his diagnosis and spending time with his baby daughter:


Related books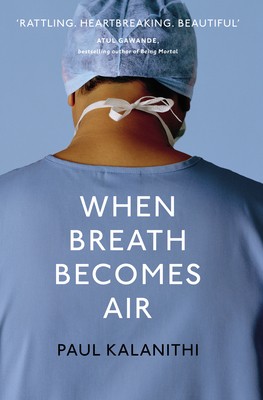 'A stark, fascinating, well-written and heroic memoir.' - The Times