We regret that due to the technical limitations of our site, we are unable to offer eBooks or Audio Downloads to customers outside of the UK.
For further details please read our eBooks help.
Blog
What we're reading: 16th March, 2014
Our booksellers share some of their favourite books of the moment...
The Chimp Paradox by Dr Steve Peters
Reviewed by Colm McCrory
Stevie Gerrard, Ronnie O'Sullivian, Olympic cyclists and now me. Dr Steve Peters' enlightening book on understanding and managing your emotions has become the go-to book for many world class sportspeople.
Its scientific, practical approach to, 'self-improvement' (for want of a better term) is easy to follow and, most importantly, applicable to my life. I don't usually read this kind of book, so was pleasantly surprised by The Chimp Paradox's accessibility and its useful techniques and advice on understanding and improving yourself.
Irène by Pierre Lemaitre
Reviewed by Greg Eden
A follow-up to the brilliant Alex, (one of our 2013 Book of the Month selections) which sees the return of Parisian murder detective, Camille Verhoeven, of the Brigade Criminelle.
In another tightly plotted, brutally descriptive and, quite literally, visceral police procedural, Lemaitre takes us on the trail of a serial killer who dispatches his victims using methods based on scenes from classic crime novels.
Verhoeven's motley crew of detectives are a small cast of brilliantly drawn characters, sketched with humour and pathos amidst the carnage, and the Parisian setting, crackling dialogue and sense of pace all combine to make this a really compelling thriller.
The Son by Philipp Meyer
Reviewed by Daniel Lewis
I was thrilled when this was chosen as a Waterstones Book Club title as it gave me the chance to re-read my favourite book of 2013 - or perhaps all time.
A sweeping epic - intricately researched and subtly told, which explores the creation myth of modern America, and Texas in particular, through the lives of three generations of the McCullough family. Worth reading for the sheer power of the voices on the page let alone the quality and power of Meyer's storytelling.
The Red House by Mark Haddon
Reviewed by Emma Grinter
Mark Haddon's rhythmic style of writing and insightful account of the dynamics of the modern family make The Red House feel more like a really enjoyable and interesting train journey than a book.
There is no narrator or leading character in this book and the points of view change between the 8 different voices within the story. This makes for a fascinating insight into each of the characters' lives and perspectives.
Haddon's charm and talent lie in his amazing insight into human thought and behaviour. He is able to present to the reader even the most un-likeable characters at the beginning of the book and by the end you cannot help but feel a sense of sympathy and empathy for them.
A most enjoyable read.
Money by Martin Amis
Reviewed by Jonathan O'Brien
I'm almost disappointed that Money is as good as everybody had always told me. I read The Rachel Papers years ago and hated it. Whenever friends went on about Martin Amis I always argued back, said he was overrated and slowly, surely, I lost all my friends. And it was all for nothing!
Money is brilliant. John Self is amazingly realised as the worst excesses of the 1980s in one annoyingly funny character. I'm only about 150 pages in, I'm enjoying it hugely and I just know that I'm going to have a few reluctant conversations with friends who I now realise were right all along.
A Map of the World: The World According to Illustrators and Storytellers by Antonis Antoniou
Reviewed by Paul Fox
This book is a compelling argument for big being beautiful. On the surface it seems like a simple collection of maps of various corners of the world, but it's so much more than that. Each page is a sumptuous delight, the book crammed with examples of fun, unconventional and highly informative designs that make you smile as often as they teach you something.
If maps are your thing, or even if you just take pleasure from gorgeous graphic design, this book is an absolute treat, one you'll want to lock yourself away with so that you can pore over every last opulent page, before turning eagerly back to the beginning to start again.
Astonish Me by Maggie Shipstead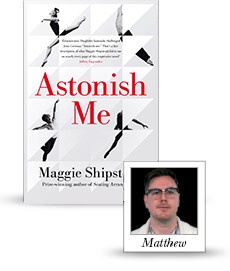 Reviewed by Matthew O'Donoghue
Maggie Shipstead's previous novel Seating Arrangements became one of those books that I pressed into the hands of friends at every opportunity. The balance of tone in Seating Arrangements is incredible, flitting confidently between farce, melodrama and romance, and the prose is rich and crisp. I was very much looking forward to Astonish Me.
I'm only a handful of pages into Astonish Me and it's already whisked me through Studio 54, a ballet performance, a failed love affair and two continents. Joan, the novel's protagonist, finds herself facing the end of her ballet career due to an unplanned pregnancy and fielding off thoughts of her former lover Arslan Rusakov, a man she helped defect from the Soviet Union in the mid-70s. However, as the synopsis explains, Joan may be done with ballet but ballet is not done with her.
I've enjoyed every word of the book so far, every excursion through the body, every flush of adrenaline from dancing, every hormonal rush caused by the cluster of cells in Joan's uterus, every move from year to year, space to space, body to body. Maggie Shipstead writes defiantly embodied characters who experience their surroundings sensually as well as intellectually, something that is difficult to pull off and hence something we see far too rarely. I'm excited to see where this novel takes me next.
Little Failure: A Memoir by Gary Shteyngart
Reviewed by Kerry Meech
I've been looking forward to reading this book ever since I was sent a link to the book's trailer a few months ago. If you haven't seen it, stop what you're doing and relish in the sight of Gary Shteyngart and James "erotic journey" Franco in matching pink dressing-gowns.
Taking its name from the Shteyngart's affectionate childhood nickname, Little Failure describes his childhood in Leningrad, his family's emigration to New York, and the struggles that followed. A fearless and hugely funny memoir, this is Shteyngart's own 'super sad true love story', and it's every bit as good as his fiction.
After Auschwitz: A Story of Heartbreak and Survival by the Stepsister of Anne Frank by Eva Schloss
Reviewed by Dominic Kennerk
Eva Schloss's account of surviving Auschwitz and the affect this weaves through the rest of her life is one of the most moving books I've ever read. The straight-forward telling of Schloss's story - and of her indomitable mother Mutti's - coping with the horrors of the concentration camp and its aftermath is a beautiful record of the love and strength between a mother and daughter.
Truly inspirational.