We regret that due to the technical limitations of our site, we are unable to offer eBooks or Audio Downloads to customers outside of the UK.
For further details please read our eBooks help.
Blog
The Waterstones Children's Book Prize shortlists
Isabel Popple introduces the shortlists for the 10th Waterstones Children's Book Prize...

Today we're excited to announce the shortlists for the 10th Waterstones Children's Book Prize. Voted for entirely by Waterstones Children's Booksellers, the prize consists of three categories - Best Picture Book, Best Fiction for 5-12s, and Best Book for Teens - with an overall winner chosen from the category winners.
"Given the success of former winners," said Waterstones MD James Daunt, "we can be sure our Booksellers have once again identified the stars of the future."
The winning books and authors will be announced on 3rd April when the category winners will receive £2,000 and the overall winner an additional £3,000.
But enough with all that - here's a run down of the best children's books of the year...
Best Picture Book Nominees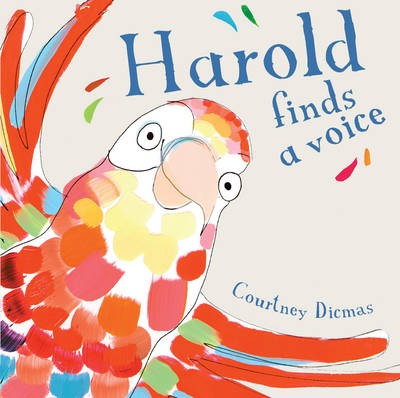 Harold Finds a Voice, Courtney Dicmas
Harold loves to copy the sounds he hears in the world around him, but he can't help but wonder: does he have a voice of his very own? What will it sound like and what will happen when he finds it? Bright and colourful, and with so many different noises to make it's great fun to read, Dicmas putting across the idea of being yourself in a simple and beautiful way.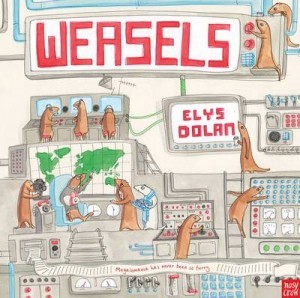 Weasels, Elys Dolan
The weasels are planning to take over the world and today is the big day. But just as everything is ready to go, disaster strikes: the machine is broken. Can they fix it? With pictures packed full of detail, quirky asides and tongue-in-cheek references, Weasels is funny, witty, and has a nicely ambiguous ending. They are weasels, after all.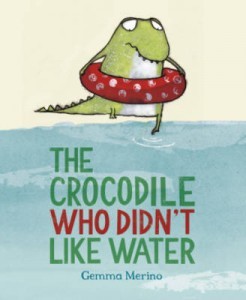 The Crocodile Who Didn't Like Water, Gemma Merino
This little crocodile isn't afraid of water, he just. Does. Not. Like it. He wishes he did, so he makes a plan. It's a good plan… But maybe there's a reason why he doesn't like the water? This lovely story says it's good to try and overcome your fears, but ultimately it's ok to be different. The illustrations are incredibly endearing, and its ugly duckling-type twist was so wonderfully unexpected I laughed out loud.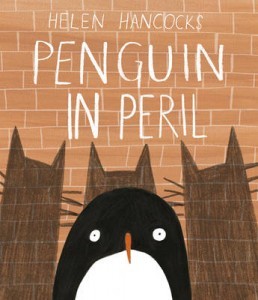 Penguin in Peril, Helen Hancocks
Three hungry cats hatch a cunning plan to make themselves a fishy feast. Step one: capture a penguin. Step two: recapture the penguin. But finding an escapee penguin on the city streets is easier said than done… especially when he blends in so well with nuns and policeman and waiters. A quirky addition to the shortlist; will the cheeky kitties getting their comeuppance in the end?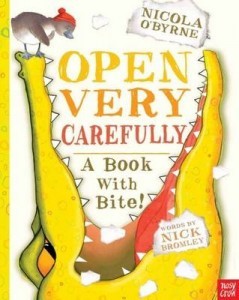 Open Very Carefully, Nick Bromley & Nicola O'Byrne
You should do as the title here suggests: open very carefully, because what you find inside might surprise you – a crocodile! What is he doing there? Oh, no! He's eating the letters of the story - we can't have that! I love the interactive nature of this book – we're encouraged to shake and rock it to help the crocodile on it's way - and it's a fun, original idea with lovely, bold illustrations.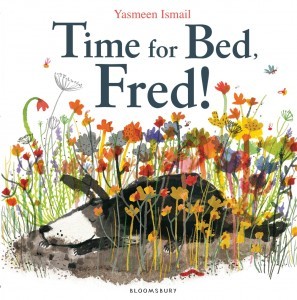 Time For Bed, Fred!, Yasmeen Ismail
On hearing those three innocent words, "Time for bed!" Fred the dog's instincts kick in. Where can he hide? Among the flowers? Up a tree? What about under the rug? Fred's mischievous personality really shows through in the illustrations – along with ears that are just asking to be tickled. The pictures are full of movement and activity, the story so simple and fun you're sure to get asked for it again and again – especially, perhaps, at bedtime.
See our exclusive illustration and activity sheet from Yasmeen Ismail
Best Fiction for 5 -12s Nominees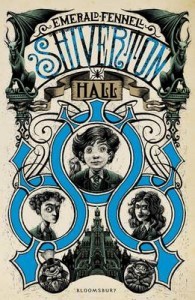 Shiverton Hall, Emerald Fennell
When Arthur joins his new school, he gets more than he bargained for: not just the bullying Forge triplets, but tales of curses, long-held enmities, and plenty of ghostly goings on. Alternating between past and present, the speckled history of Shiverton Hall is gradually revealed – but what does it all have to do with Arthur? Guaranteed to send a shiver down the spine, by turns thrilling, creepy and mysterious, it's definitely a book to be read during daylight hours!
Read Emerald Fennell on the inspiration for Shiverton Hall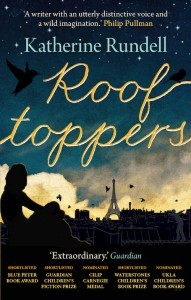 Rooftoppers, Katherine Rundell
Sophie's guardian Charles always says, "Never ignore a possible," so when Sophie uncovers a clue to her mother's identity, they go to Paris in search of her. Befriending Matteo, a homeless boy living on the rooftops, and persuading him to help her, they run across the roofs, dive in the Seine, feed birds from a tightrope. But will Sophie succeed in her quest? A timeless and enchanting story about never giving up no matter how hopeless a quest might seem.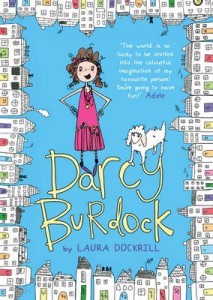 Darcy Burdock, Laura Dockrill
Darcy is a regular kind of girl just trying to negotiate her way through life and the annoying, embarrassing things it throws out. Accompanied by best friend Will, her eclectic family, and pet lamb Lamb-Beth, she gets caught up in all sorts of hilarious situations, often working out those awkward moments through her own unique stories, which are included in the book. Imaginative, mischievous and fun, it's a great choice for fans of The Dork Diaries or Clarice Bean.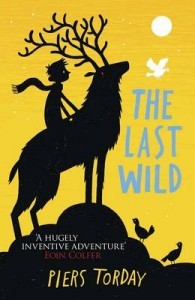 The Last Wild, Piers Torday
When Kester discovers he can talk to animals, they're sure he's been sent to save them. Are they right? Kester and his animal friends embark on a pilgrimage, encountering enemies both natural and manmade, searching for someone who can help save the Last Wild from extinction. It's a captivating animal adventure with an environmental twist, led by a young boy looking for answers and a place to belong, with lots of ups and downs to keep readers enthralled.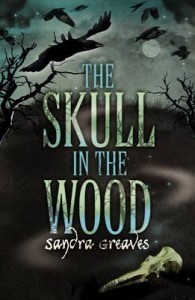 Skull in the Wood, Sandra Greaves
Have you ever been somewhere so old and ancient, it feels like the trees and the rocks around you, the earth beneath your feet, are somehow alive? Welcome to Dartmoor, home of the Gabbleratchet. When quarrelling cousins Matt and Tilda awaken this ancient curse, it begins to exert a strange sort of power over them... An incredibly atmospheric, edge-of-the-seat tale full of tension. Can the two children outrun this ancient hunt?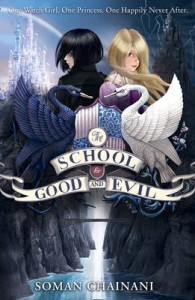 The School for Good and Evil, Soman Chainani
In a world where fairytales are all too real, a terrible mistake has been made: kidnapped at midnight, blonde, beautiful Sophie has been sent to the School for Evil, while reclusive, witchy Agatha has gone to the School for Good. Can the two friends find a way to swap places? And should they? An amusing and clever story built around the traditional fairytale arc of good versus evil, but with a cunning twist guaranteed to capture the imagination.
Read more about The School for Good and Evil 
Best Book for Teens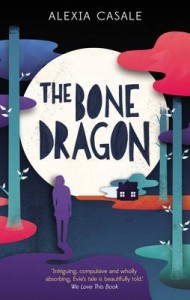 The Bone Dragon, Alexia Casale
After Evie has a broken rib removed, she carves it into a dragon, a creature to protect her from the horrors of her past. The dragon comes alive in her dreams, taking her out to explore the nighttime world, but what is his true purpose: to help her heal or help her find revenge? Or are they the same thing? Alexia Casale's debut is a magical blend of poetical storytelling and psychological drama, considering emotional concerns with a surreal and ambiguous edge that left me debating the nature of reality, grief, and retribution.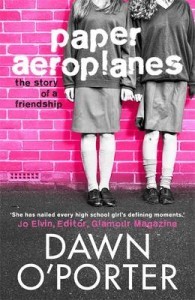 Paper Aeroplanes, Dawn O'Porter
A candid story of friendship and growing up that completely and compellingly captures the angst of being a teenage girl. Set in 1994, Renee and Flo's friendship is cemented by their unhappiness and difficult family lives, their experiences and worries by turns funny and heart-wrenching. The book contains some swearing, adult content, and difficult issues, but all are dealt with adeptly while the British setting and the ups and downs of the girls' lives and their relationships really get under the skin.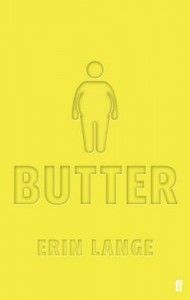 Butter, Erin Lange
Butter has always been an outsider at school, only able to really be himself when talking to people anonymously online. Bullied or ignored at school, he cooks up a plan to get some attention – and it works. But is attention the same as friendship? Or is this a whole new form of bullying? This is a hard-hitting look at bullying in the age of social media. While at times it makes for uncomfortable reading, it's extremely accomplished, quite chilling, and heart-breakingly real.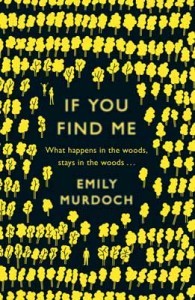 If You Find Me, Emily Murdoch
Carey and Jenessa have spent most of their lives living in the woods fending for themselves. But when social workers arrive and send the girls to live with Carey's estranged father, they not only have to adapt to 21st century living, but are forced to question and confront their past. An utterly gripping story full of dark secrets and with characters who leap right off the page - the adult themes make it unsuitable for younger readers, but Emily Murdoch tackles these difficult subjects with sensitivity and care.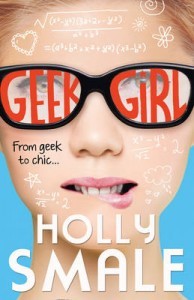 Geek Girl, Holly Smale
By far the lightest teen title on the shortlist, self-proclaimed geek Harriet is the last person who expects to be scouted by a top modeling agency, but the opportunity to be someone else is hard to turn down, especially if it's her chance to finally fit in. But is it all it's cracked up to be? Harriet is bubbly and charismatic, her story refreshingly lighthearted, and quietly considers the importance of not being afraid of who you are or changing for others' benefit, whilst capturing the inherent awkwardness of being a teenager human being.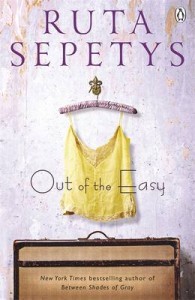 Out of the Easy, Ruta Sepetys
Jo's life in 1950's New Orleans is a messy tangle she's desperate to escape. She dreams of college, high society and of walking down the street unrecognized, but when businessman Forest Hearne is murdered she's dragged deeper and deeper into the underworld, caught up in a web of secrets and lies, the mob's black hand on her door. Sepetys effortlessly conjures this gritty yet vibrant city in an unusual but highly enjoyable novel that weaves tighter and tighter as the story progresses, keeping readers on the edge of their seats.
Isabel Popple, for Waterstones.com/blog