Blog
Waterstones Book of the Year Shortlist: The Fox and The Star
Eight titles have been nominated for the Waterstones Book of The Year Award and we will be profiling one title a day for eight days. Our seventh profile: The Fox and The Star by Coralie Bickford-Smith
If ever there was a book lover's book, this is it. From the moment you first see The Fox and the Star you won't be able to resist picking it up to feel the beautiful midnight-blue cloth cover and run your fingers over the swirly design and silvery white fox.
Created by graphic designer Coralie Bickford-Smith, it just asks to be touched and held and appreciated. And it's a book that has a little bit of everything, a new children's fable that adults will appreciate as much as the kids, every page offering up a little wonder.
Fox lives in a big, dark forest with tall trees that stretch up so high he can barely see the sky. Waking up late at night, he is guided by Star, who shines down through the leaves and chases away Fox's fears. They play and prance and dance together through the night. But when, one dark dark eve, Star is missing, what will Fox do? Hunker down and sleep in his den until Star comes back or venture out into the forest in search of his lost friend?
It's a charming, otherworldly sort of tale with hints of magic and the overarching idea of facing your fears, but where Bickford-Smith has really excelled herself is in the fabulous illustrations that dominate every page, balancing out the simplicity of her words and extending the grace of the cover throughout the book. Every page is unique, from Fox chasing rabbits through thorny thickets to starlight shining down through leafy trees. You could take any page and frame it and hang it on your wall and it would be perfect.*
Undoubtedly one of the most beautifully and carefully created books of 2015, it's very easy to see why The Fox and the Star is on the shortlist for the Waterstones Book of the Year. It stimulates the senses, awakens the imagination, and invites you into a world of rustling leaves, scurrying beetles, and starry skies. A book of delights.
(*Um, not that I'm condoning the wanton destruction of books...)
Related books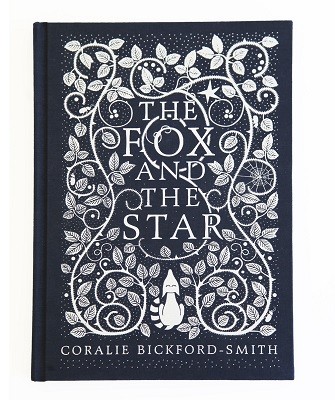 Once there was a Fox who lived in a deep, dense forest. For as long as Fox could remember, his only friend had been Star, who lit the forest paths each night. But then one night Star was not there, and Fox had to face the forest all alone.