Blog
A Book & A Bite: Warming Winter Recipes from The Roasting Tin's Rukmini Iyer
Rukmini Iyer, the creator of 2018's bestselling cookery books The Roasting Tin and The Green Roasting Tin, offers exclusive time-saving tips for Christmas and shares two delicious recipes to keep the cold at bay.
Rukmini Iyer's Tips for quick-cooking at Christmas
If you have a food-minded family, one of the nicest things to do together in the lead up to Christmas is to make a big pot of tea and sit down with your favourite cookbooks, food magazines and Sunday supplements. You encourage/strong-arm everyone into choosing dishes that they like the look of, and delegate days of the holiday where other people will do the cooking. Because we have a vegetarian Christmas at home, we do this every year to find that new and elusive dish that will be the vegetarian centrepiece on the day itself - Ottolenghi has won out for the past few years, the runner-up dishes get cooked on Christmas Eve or Boxing Day.
The caveat is that you want to pick dishes that don't involve a lot of prodding, stirring, or multiple component parts. You'll have enough to do over the holiday without making dinners that require three saucepans, six garnishes and your undivided attention.
Efficiency is key: what can you shove in a pot or in the oven after about 10-15 minutes prep, that will feed 4-6 people and not require any further work from you?
Unsurprisingly, I'm going to come down heavily on roasting tin cooking. A bit of chopping, which you can delegate, and let the oven do the work. As long as you pick dishes which deliver on flavour and texture, you and your guests will be happy, and none the wiser that you haven't spent hours in the kitchen. My tips: if you have fridge space, most traybakes can be prepped, put in the tin, and then go from fridge to oven with a minor adjustment on cooking time. If you're short of fridge space, pop your chopped ingredients into Tupperware or plastic freezer bags instead. Some dishes will taste even better if you make them in advance, then cool, refrigerate and reheat as needed - I'd recommend the leek and puy lentil gratin with feta, or quick-cook broccoli & blue cheese quiche from The Green Roasting Tin as fridge standbys. The potato gratin from the same book is similarly delicious on re-heating, and makes enough for a small army.
However, Christmas Day, with the variety of things that absolutely have to go in the oven - the bird, roast potatoes, pigs in blankets, honey roasted carrots and parsnips - is a day where I might shove a few things on the stovetop to save a bit of precious oven space. My favourite brussels sprouts with pancetta from The Roasting Tin gets adapted with feta and pumpkin seeds, and made in a pan - and instead of roasting carrots, we do Heston's stovetop glazed carrots with cardamom – easy to make in advance and warm up at the last minute. Roast potatoes are non-negotiable and must of course go in the oven - it's always Delia's recipe, although there have been, shall we say spirited discussions about whether olive oil can be replaced with butter, and whether Desiree or King Edward are really any better than the stalwart Maris Piper (yes to the former, no to the latter).
With oven space at a premium, the biggest thing you can do to save time on and around Christmas when there's loads of people milling around, is to get the said people to help you in the kitchen. We always write a master list of everything that needs doing in the morning before any actual cooking can start - potatoes to be peeled, par-boiled and left to dry out, vegetables to be chopped, the table laid, running out to the shop for ice or last-minute wine. The list goes on the kitchen counter, and everyone gets assigned their first job. After that, they refer to the list for the next thing that needs doing - that way there's no excuse for vague offers of help, which end with people slinking off to an armchair with the newspaper. Then you, the cook, can swan in once everything is neatly chopped in bowls like on cookery shows, and mastermind the cooking without exhausting yourself over the grunt-work. My final tip - do as restaurant kitchens do, and don't stop the list-making at just prep. A well-designed list, working backwards from when you want to serve to what time everything needs to go in and come out of the oven is game-changing. I always make one, and at the slightest hint of frazzle, will refer to it and feel restored by ticking things off, and seeing at a glance that everything is under control.


Warming Winter Recipes


CRISPY TAMARIND SPROUTS WITH PEANUTS & SHALLOTS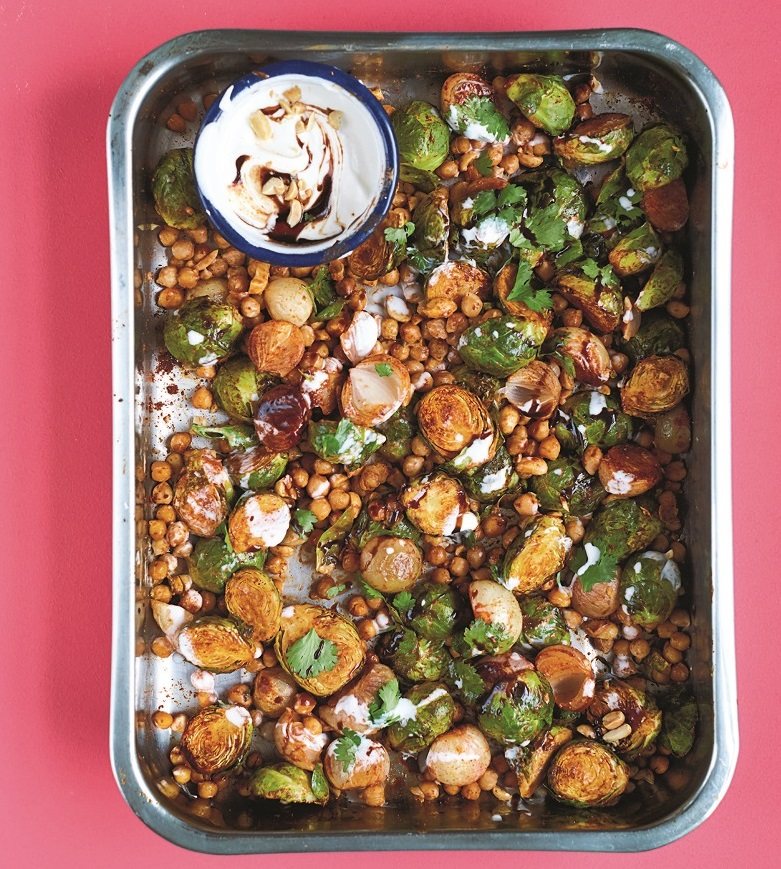 From The Green Roasting Tin by Rukmini Iyer (Square Peg)
This Indian street food inspired dish combines crispy chickpeas with sprouts and a tamarind dressing. You could go down the full chaat route by adding puffed rice and making it more of a snack, but for a filling meal add some flatbreads or naan along with the yogurt.
Serves: 4
Prep: 10 minutes
Cook: 25 minutes


500g Brussels sprouts, halved
200g banana shallots, peeled and halved
1 x 400g tin of chickpeas, drained and rinsed
1 teaspoon ground cumin
1 teaspoon ground coriander
1 teaspoon chilli powder
1 tablespoon vegetable oil
2 teaspoons sea salt


DRESSING
1 tablespoon vegetable oil
1 tablespoon tamarind paste
1 teaspoon brown sugar


TO SERVE
20g salted peanuts, chopped
A handful of fresh coriander, roughly chopped
1 teaspoon each of chaat masala and/or mango powder (optional)
4 tablespoons coconut yogurt
Flatbreads or naan


1) Preheat the oven to 180°C fan/200°C/ gas 6. Mix the sprouts with the shallots, chickpeas, spices, oil and salt in a roasting tin, then transfer to the oven for 25 minutes, until the vegetables are crisp and browned.
2) Meanwhile, mix the oil with the tamarind paste and sugar. Once the vegetables are cooked, toss with the dressing, then scatter over the peanuts, fresh coriander and the chaat masala and/or mango powder, if using. Serve with the yogurt, piled into flatbreads or naan.
Note: The tamarind paste used here is the kind you get at the supermarket in a small own-brand jar - not the very concentrated paste that you get at Asian grocery stores. If using the latter, halve the amount.


BEETROOT, CHICKPEA & COCONUT CURRY
Roasted spiced beetroot and chickpeas form the base for this dish, while the coconut milk reduces down quickly in a hot oven to make a simple and delicious curry sauce. Serve with rice or naan bread to create a filling meal.


Serves: 2
Prep: 15 minutes
Cook: 50 minutes


1 onion, roughly chopped
600g beetroot, peeled and cut into small wedges
1 x 400g tin of chickpeas, drained and rinsed
2 cloves of garlic, crushed
5cm ginger, grated
1 red chilli, roughly chopped
1 heaped teaspoon ground cumin
1 heaped teaspoon ground coriander
1 heaped teaspoon ground ginger
½ teaspoon ground turmeric
1 tablespoon vegetable oil
1 teaspoon sea salt
1 x 400g tin of coconut milk


TO SERVE
Basmati rice or naan breads
A handful of fresh coriander Coconut flakes (optional)
1) Preheat the oven to 180°C fan/200°C/ gas 6.
2) Mix the onion, beetroot and chickpeas in a roasting tin with the garlic, ginger, chilli, spices, oil and salt, then transfer to the oven and roast for 40 minutes.
3) Give the coconut milk a good stir, then pour it over the beetroot and mix well. Return the roasting tin to the oven for 10 minutes.
4) Taste and season with more salt as needed and serve with rice or naan, scattered with fresh coriander and coconut flakes, if using.
Note: You might want to use gloves while you're preparing the beetroot, to avoid stained hands.

Simply reserve online and pay at the counter when you collect. Available in shop from just two hours, subject to availability.
Thank you for your reservation
Your order is now being processed and we have sent a confirmation email to you at
When will my order be ready to collect?
Following the initial email, you will be contacted by the shop to confirm that your item is available for collection.
Call us on or send us an email at
Unfortunately there has been a problem with your order
Please try again or alternatively you can contact your chosen shop on or send us an email at