Blog
Vic James on creating Gilded Cage
As a current affairs television director, V

ic James has had unique access to some of the world's most prominent and influential political figures. A lover of story-telling in all its forms, s

he is also a two-time judge of the Guardian's Not The Booker Prize. It is unsurprising therefore that her debut young adult novel,
Gilded Cage
, is underpinned by politics; the book is a dystopian fantasy set in
an Orwellian Britain where the aristocracy are endowed with magical powers and the 'commoners' are poised on the edge of rebellion. Here, James explores five key experiences that inspired
Gilded Cage
, the first instalment in the
Dark Gifts
series.
Photo: The Vatican Museum Library (c) Chris Wee


Where do books come from? Well, they say 'write what you know'. When you're writing a book about magic, there are obviously some limits to that! But as well as magic, Gilded Cage is about politics, and wealth and class inequality, and mysterious libraries, and British history. And luckily I know a bit about all the rest of those…
So here are some experiences that helped shape the world of Gilded Cage – an alternate contemporary Britain that looks a lot like our world, with a few crucial differences.
1. Talking to billionaires
My day job is TV current affairs. I started off in news, then moved to documentaries. The inspiration for Gilded Cage came when I was making a BBC2 series called The Superrich and Us. One day I was filming in the London mega-mansion of British billionaire John Caudwell, the next chatting to American Nick Hanauer, one of the founding backers of Amazon, and then sitting in the owner's box at Queens Park Rangers with Malaysian Tony Fernandes, who made half a billion off his no-frills airline. These men are all very different, but the one thing they share is a sense of how their money enables them to make things happen. I realised that their super-wealth was a lot like magic in that respect – and that connection was the light-bulb moment of the books.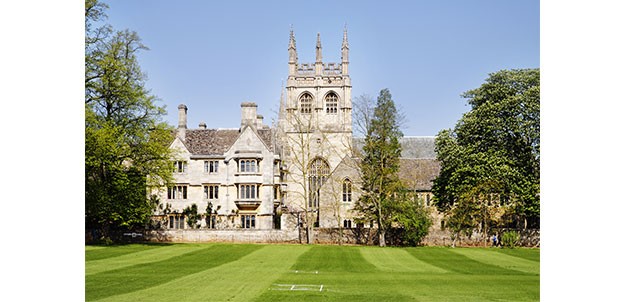 Photo: Merton College, Oxford

2. Being a working-class girl at Oxford
In the world of Gilded Cage, smart eldest sister Abi is sent to the heart of the world of the Equals, the glittering stately home of Kyneston. She must adapt quickly to a world unlike any she's known before. I felt much the same when I went up to Oxford age 17. I come from a working-class home – my father left school with no qualifications, and worked in a factory his whole life, and my mum dropped out of education to marry him when still a teenager. But the college I'd chosen was one of Oxford's oldest and its most academically demanding, beautiful Merton. While Oxford continues to work hard at widening access, many of my new peers were from public schools, some had titles, others were the children of billionaires and philanthropists. It was thrilling and challenging all at once, and Abi's experiences at Kyneston draw on that period of my life.
3. The Vatican Secret Archives and Duke Humfrey's Library
Like most writers I'm both a book buyer and a library lover. Because I studied History and English, I've spent a lot of time in libraries – I even worked in one to support myself while doing my doctorate. Two libraries feature in Gilded Cage, and discoveries made in them echo throughout the trilogy. There is the cozy, opulent library of Kyneston, where we encounter a mysterious relic, and the lost library of Orpen, where family secrets are locked away. Helping me conjure up the atmosphere were two incredible libraries where I've been privileged to spend time: the Vatican Secret Archives, where even the catalogues are handwritten and centuries old, and Oxford's magnificent Duke Humfrey's, still with chained medieval books. (Incidentally, as a first-time author, one of the things that blows your mind is knowing that your book is going into libraries around the world! Gilded Cage is a Top 10 pick for February by US public librarians, which left me speechless.)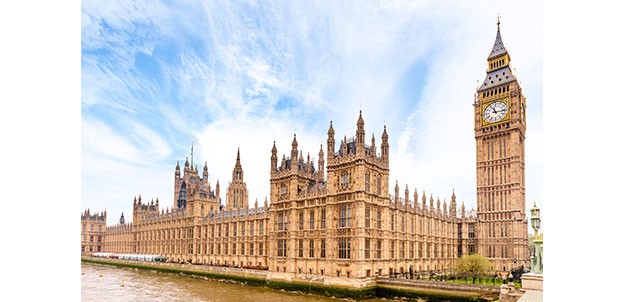 Photo: The Houses of Parliament, London

4. Politics, power and sex
Channel 4 News – for whom I made investigations for 5 years – asked me to work with a brilliant young producer who had spent months gathering testimony from parliamentary workers about the climate of sexual harassment at Westminster. From the women we also heard about the prevalence of casual misogyny. The resulting report, 'Sexminster', grabbed the front page of the Daily Mail. There's a fair bit of parliamentary intrigue in Gilded Cage and its sequels, and suffice to say personal and sexual relationships mix up the politics. But who is really using who? What goals are worth pursuing at any cost? One character is Bouda, an ambitious and attractive young woman determined to be the first female leader of this alternate Britain. Many readers report loving to hate her, but more than a few also confess a sneaking admiration. My time as a journalist has sharpened my instincts for how politics work.
5. A mysterious wall

All through my childhood, driving down to camping holidays in Devon, we'd pass an extraordinarily long wall on the A31 on the approach to Dorchester. It encircles an aristocratic estate so large that you can't see the great house that sits at the centre of it. (The property is Charborough House, home of Richard Drax MP, or Richard Grosvenor Plunkett-Ernle-Erle-Drax, to give him his full name.) The wall always fascinated me. Who was it designed to keep out … or in? Once the idea of Gilded Cage came to me as a world of the wealthy, magical elite, and everyone else, it connected with the Drax wall. That's why the opening scene of Gilded Cageis a young woman who has been doing her slavedays, fleeing from the great house of Kyneston toward the estate wall. Does she make it out? You'll see!
×
Download the Waterstones App
Would you like to proceed to the App store to download the Waterstones App?
Reserve online, pay on collection


Thank you for your reservation
Your order is now being processed and we have sent a confirmation email to you at
When will my order be ready to collect?
Following the initial email, you will be contacted by the shop to confirm that your item is available for collection.
Call us on or send us an email at
Unfortunately there has been a problem with your order
Please try again or alternatively you can contact your chosen shop on or send us an email at