Blog
Unlocking Ness
Patrick Ness is the multi-award-winning author of
The Knife of Letting Go
,
The Rest of Us Just Live Here
and
A Monster Calls
, which has been adapted for the screen and will be released later this year.

To many, his is the gold-standard of Young Adult fiction, beloved by a legion of fans. We asked his editor, Denise Johnstone-Burt at Walker books, and bookseller (and self-confessed Ness-devotee) Sarah Whitbread to explain what is it that marks Patrick Ness's work out for such unique affection
Receiving a new novel from Patrick Ness and reading it for the first time is always a thrilling experience. You never know what you are going to get. He is so inventive and every time he submits a new story to me he does something different and new which makes it exciting. The thing that never changes though is the quality of his prose and the brilliance of his storytelling. It is such a pleasure to read his prose for the first time. I remember when I received the first 40 pages of The Knife of Never Letting Go. This was the complete submission from the agent and the writing was so arresting and compelling that I could not stop reading. I made an offer for the whole Chaos Walking trilogy on the spot and that's how I became Patrick's editor.


When he sent in The Rest of Us Just Live Here, he did something different again. It was a much shorter novel than his previous one, More Than This, and felt more obviously YA. I loved reading it – there were so many jokes to enjoy and such wonderful characters with real human problems. I must have read it about ten times now but I still enjoy it, every time. In a month or so I am going to receive a new novel from him for publication next year. Who knows what he will send this time?

Denise Johnstone-Burt
Walker Books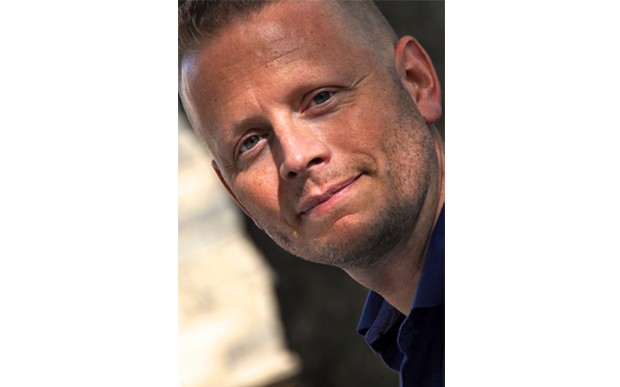 Image: Patrick Ness (c) Helen Giles


There is the argument, that as long as our children are reading anything it is something to be celebrated – but I have never quite held sway with this. I understand the difficulties, complexities and guilt which accompany much of being a parent in the modern world. If left to his own devices – literally - my fourteen year old son would undoubtedly be happy locked into his phone or in front of his Xbox from the moment he steps off the bus to brushing his teeth before bed.
As a child and teenager I lived for reading, the characters' varied woes and mishaps mirroring my own, and I found solace and exhilaration in equal measure between the pages of my favourite books. That my son did not appear to naturally inherit this trait, despite my best intentions, made me feel a complete failure. That was before we both discovered the marvel that is Patrick Ness.
Witty, erudite, sparse, emotive, Ness is a brilliant writer. From the opening line, 'Here is the boy, drowning,' my son barely glanced up from the pages. More Than This is constructed in four parts, at once bewildering, claustrophobic – another dystopian narrative, but with depth of character and illusion. When I asked Tom what set this apart from other series in this genre he considered, 'it feels completely possible.' This is Ness's gift to the reader - his originality, his great creativity, the stylish structure at once challenging and relatable. The unraveling of each character's backstory is a complex joy, whilst a juxtaposition of the post-apocalyptic alongside perfectly nuanced observations of teenage angst slackens the tension.

As a teenager I adored Paula Danziger's writing. Each time I find myself with a bag of those salted green nuts, still bizarrely exotic to me, I am transported back to The Pistachio Prescription, and that eerie feeling of displacement familiar to those difficult years. The Rest of Us Just Live Here, prompted the same reaction, every word as transformative as a Proustian madeleine. Ness matter-of-factly weaves a converse narrative – a world without organised religion, but Gods inhabit human form; where 'indie-kids' refuse to accept the proposed narrative, whilst the central protagonist's mother runs for a political position with ruthless ambition. From my first introduction to Ness I was hooked by the sophisticated themes for our children to unravel in a relatable language, alongside the familiar territory of unrequited love, sexuality, of finding one's place in the world. The reader is confronted with searching questions - which narrative is more plausible? Which is perpetuated by the media and which version of the truth will we choose to believe?
Truly great fiction will never date, and Patrick Ness will be read and measured for generations. He is a perfect bridge to adult fiction, to the likes of Haruki Murakami, Neil Gaiman, J. D. Salinger or Kerouac. But, further, he is a window to truth, illusion and a mirror for the world of today's young adult. Since discovering him together my son and I have animated discussions about books, but more than that, I am regressed, I able to view the world as his young eyes, and those of his peers, see it and I cannot think of a greater gift in literature than that.
Sarah Whitbread
Waterstones Maidstone
×
Download the Waterstones App
Would you like to proceed to the App store to download the Waterstones App?
Reserve online, pay on collection


Thank you for your reservation
Your order is now being processed and we have sent a confirmation email to you at
When will my order be ready to collect?
Following the initial email, you will be contacted by the shop to confirm that your item is available for collection.
Call us on or send us an email at
Unfortunately there has been a problem with your order
Please try again or alternatively you can contact your chosen shop on or send us an email at