We regret that due to the technical limitations of our site, we are unable to offer eBooks or Audio Downloads to customers outside of the UK.
For further details please read our eBooks help.
Blog
Twauthors - The best authors on Twitter
It's no surprise that authors have taken to Twitter, an almost entirely text-based medium. With Stephen King joining Twitter the other day and taking all the attention, we thought it only fair to take a moment to highlight some of our favourite authors who have been tweeting long before King decided it was time to further enrage Jonathan Franzen. And, it should go without saying, #ff.
Obviously we haven't included everybody on this list, so use the comments section to tell us about anyone you'd particularly like to give an #ff for.
Stephen King - @stephenking
Joined: 6/12/2013
Followers: 178,336

Don't worry Stephen, it gets easier with practice. It won't be long until you're sharing photos of your #awesome lunch each day like the rest of us.
Neil Gaiman - @neilhimself
Joined: 26/12/2008
Followers: 1,927,327
No author Twitter list would be complete without Neil Gaiman so we may as well get him out of the way immediately. With almost two million followers, Gaiman is one of the closest things publishing has to a lead singer.
Joanne Harris - @joannechocolat
Joined: 9/4/2010
Followers: 13,944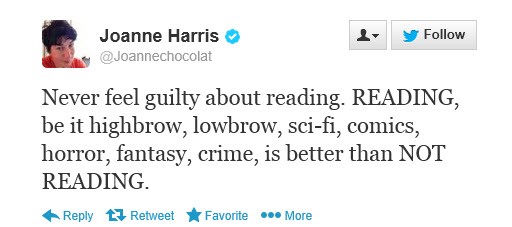 Joanne Harris has mastered the ability to cram a sense of time and place into Twitter's 140-character limit. If she has more to say, she links her tweets together into little pictures of the world.
Maureen Johnson – @maureenjohnson
Joined: 14/6/2008
Followers: 93,963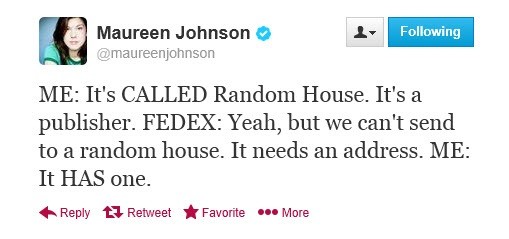 Maureen Johnson, American YA author and one of the most excitable people on Twitter there is. Her enthusiasm seems to know no bounds, even when her teeth are crumbling. Expect lots of justifiable defence against criticism of YA and even more about her dog. Occasional quiet moments just before a writing deadline needs to be met.
Ian Rankin - @Beathhigh
Joined: 7/5/2007
Followers: 67,250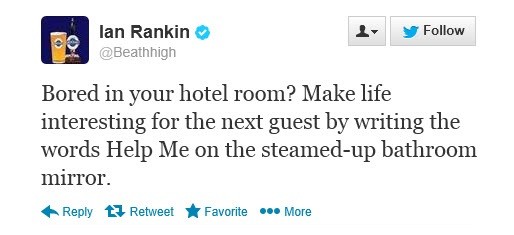 According to Twitter, Ian Rankin seems to spend his life on trains to various events or at music gigs. In fact, a lot of his Twitter feed seems to be about music. It's nice to see a writer writing about something other than writing.
Margaret Atwood - @MargaretAtwood
Joined: 8/7/2009
Followers: 453,553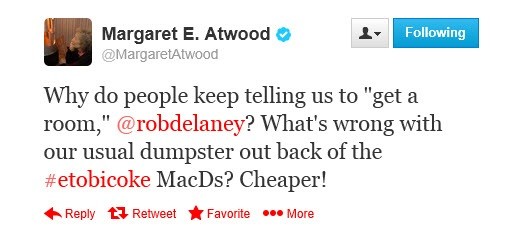 One of the best writers of her generation, flirter with American comedians and one-woman Reddit, it's possible to get lost in Atwood's Twitter feed and the many links within it for hours. It's amazing that she has the time to write considering the amount of interesting things she either finds or gets sent her way.
Joe Hill - @joe_hill
Joined: 4/1/2009
Followers: 186,962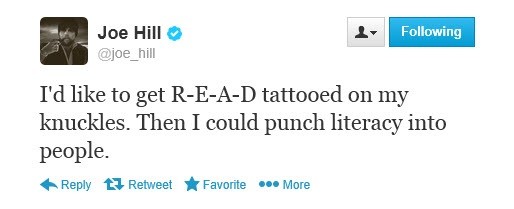 We have to mention, because it's unfortunately unavoidable, that Joe Hill is Stephen King's son. We're hoping this leads to some awkward Twitter-based family situations later down the line. He's also a fantastic novelist (and an even better comic writer, pick up Locke & Key, it's wonderful). Hill is also one of those people who've taken to Twitter near perfectly. Funny, interesting and suitably crude.
R.L. Stine - @RL_Stine
Joined: 5/12/2009
Followers: 104,908

There's an entire generation of readers who grew up reading R.L. Stine's Goosebumps or Point Horror series. Just the mention of his name starts nostalgic conversations of things that terrified them when they were young. It's no surprise to find that the same generation now follow him on Twitter. Probably the funniest author on our list, Stine knows his reputation and plays up to it a little, even writing short horror stories as tweets.
Salman Rushdie - @SalmanRushdie
Joined: 14/9/2011
Followers: 660,775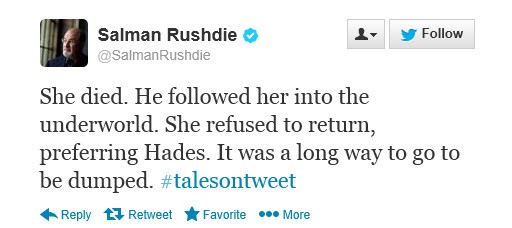 As we write this, Salman Rushdie has just quit Twitter so he can concentrate on finishing something called a "book". No idea what that is, probably isn't as good as Twitter. Rushdie was one of the more surprising sign ups in recent years but one that rarely failed to entertain. Oh well, he'll be back. No matter how much they try to quit, they all come back in the end.
Jonathan O'Brien, for Waterstones.com/blog