We regret that due to the technical limitations of our site, we are unable to offer eBooks or Audio Downloads to customers outside of the UK.
For further details please read our eBooks help.
Blog
Top tips for writing
Struggling to get your ideas down on paper? Or have you already written your magnum opus and wonder what to do next? Best-selling author Cathy Glass shares some top tips for writers...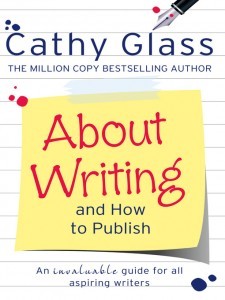 Develop a writing routine: a place and time set aside for you to write and write each day, even if it is only a few lines.
Start small and grow big. A novel is a huge undertaking for a novice writer. Try starting with a short story, an article or a few diary entries and then go on from there.
Believe in your story, listen to your imagination and write from your soul. In return you will have your readers' unfailing loyalty.
Read widely in the genre in which you wish to write. No training is better than seeing a master at work.
Revise, check and edit your work until it is your personal best. It won't be perfect – nothing is – but don't ever be tempted to submit something for publication that is second best.
If you are not computer-literate then learn the skills you need. Use the spell checker but be wary; it is far from infallible.
Submit your work only to those literary agents and publishers who deal in your type of writing and follow their submission guidelines. They are there to help you.
Learn how to write a proposal – most literary agents and publishers ask for one. There is a template for a proposal at the end of my book.
Don't become downhearted if you start collecting rejection slips.  All published writers have had to face rejection at some point in their writing career.
If you are going to self-publish, employ an editor to revise your work before you publish. You may also consider using a designer for the book jacket too. They aren't expensive and, as the saying goes, books are judged by their covers.
Last but not least, enjoy writing. The creative process is truly marvellous and should be cherished.
Cathy Glass, for Waterstones.com/blog
You can buy About Writing and How to Publish online at Waterstones.com (http://bit.ly/1kG9nfV) or download it in ePub format (http://bit.ly/1kG9B6H)